The sun never sets in Twitter land. There is a constant, unending stream of conversations flowing every second of the day/night that you simply cannot keep up with it. In fact, you're guaranteed to miss many of the best stories from your friends and followers even if you stay tuned to the channel 24×7. If that's something that troubles you, we have a tool that can help you. Its called Nuzzel and its a free web service that curates the best Twitter news feeds on the dashboard so you never miss another big story ever again. Let's check it out!
How Nuzzel Helps Curate the Best Twitter News Feeds for You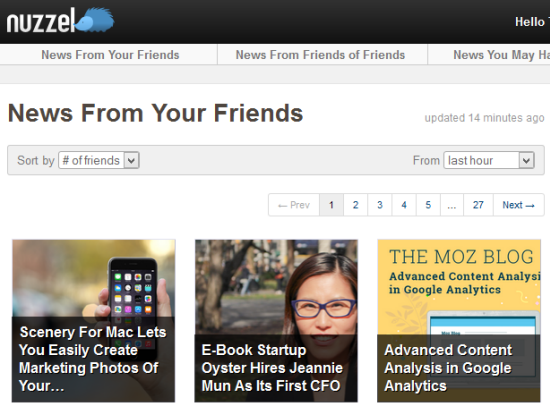 Twitter News feeds on Nuzzel dashboard Once you sign up to Nuzzel with your Twitter credentials, it scans through your Twitter stream and picks out the stories that are most popular among your friends. This is displayed on the dashboard in your News From Your Friends section.
You can sort the data on the dashboard by #of friends or by time. You can further filter the stories down to the ones that were shared in the last hour, last 2, 4, 8 or 24 hours. Nuzzel also lets you view the best Twitter news feed from friends of friends, news you may have missed as well as recently read news stories.
The right sidebar displays a list view of your recently viewed feeds and your custom feed lists.You will also be able to see your most interactive friends as well as featured feeds. If you find something worth sharing, you can tweet or email the stories from the dashboard.
Nuzzel's Best Feature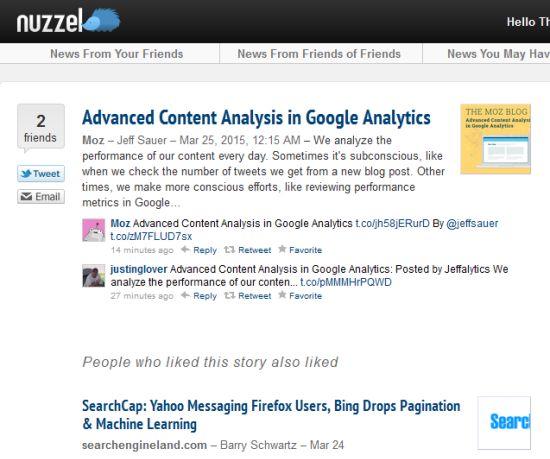 Nuzzle Twitter News Feeds While Nuzzel does a great job at streamlining your feeds and bringing you only the best and most popular stories from your stream, you may want to discover more stories from topics that are outside your business interests as well. For instance, if you have an interest in social media and blogging, your Nuzzle Dashboard is most likely to show up feeds related to your niche.
However, you may also want to know what's happening in other areas such as the latest political news or stuff about animal pets or even music. This is where Nuzzel's best feature, Custom Feeds, comes into Play. Custom Feeds makes use of the almost forgotten Twitter Lists feature.
Now you can create lists on any topic that interests you… music, food, religion, cricket… and start viewing feeds on those topics in the Custom Feeds section. Although initially this feature will work based on lists, the company is considering other data sources in the future.
Ease of Use
All you need to do to read the best Twitter news feeds on your Nuzzle dashboard is sign in to the app. Nuzzel does the rest for you. It tracks all your lists automatically although you do have to wait at least 24 hours to get the tool to show up a meaningful list of feeds. If you have no particular lists of your own Nuzzel offers its own recommendations… such as Awesome B2B Marketers from Andrew Angus, CEO of Switch Merge and Top Yoga Experts from marketing technologist Travis Wright among others.
Nuzzel is also available as an iOS app, which is ideal when you're on the go and have time to spare to do some quick Twitter catch up. I haven't checked out the iOS app, but the web service itself looks very promising and I've already picked on some great content that I would have otherwise missed.
If you are interested in streamlining your Twitter News Feeds and make them more personalized, check out the cool web app Nuzzel. Visit Nuzzle website Download the Nuzzel app for iOS P.S: You can also connect your Facebook account to access personalized news feeds from Facebook.
?If you found this post useful, be sure to check our archives for more Twitter tips and tricks.
Cheers,Adeline