Twitter is a powerhouse of information, but with so much happening, it is hard to keep up. And it goes without saying that often, you simply don't have the time to follow up on a story when you are browsing through your timeline. All that's going to change now, thanks to the new bookmarking feature that Twitter has introduced. Here's a quick guide on how to bookmark tweets for reading later.
The Bookmarks feature is available on the mobile platform as well as on the Android and iOS apps. Twitter hasn't added a new Bookmarks button, which is what you were probably expecting when the feature was announced.
However you will notice a new Share button, sitting to the right of the Favorites. If you don't see it yet, have a bit of patience as the feature is still in the rollout stage. You can however instantly see it on the mobile platform.
If you are planning on bookmarking a tweet, here's what you need to do.
How to Bookmark Tweets on Your iOS or Android Device
1. Open up the Twitter app.
2. Tap the share icon under the Tweet you want to bookmark. That's the icon to the right of the Favorite button.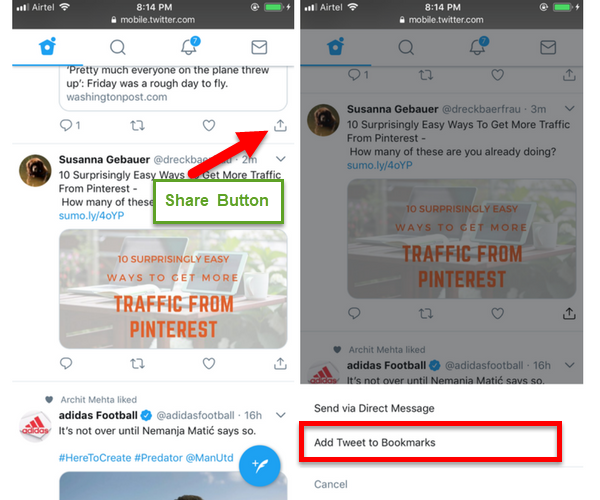 3. Select Add Tweet to Bookmarks.
That's It!
You can find all your bookmarks by tapping your profile icon menu.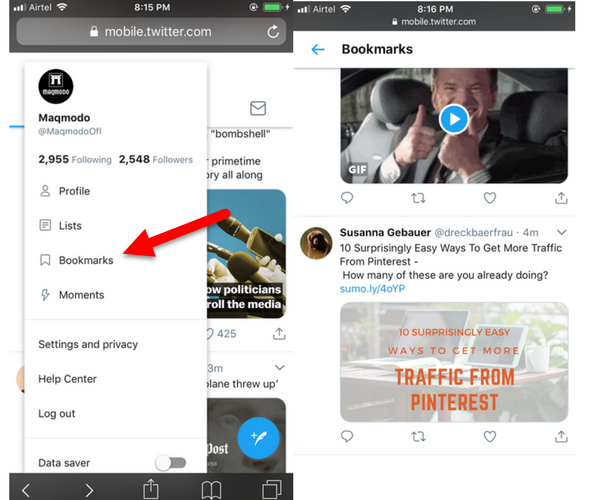 All bookmarked tweets can be seen only by you. They are completely private. And you are free to remove the Tweets from your Bookmarks at any time.
That said, your bookmarked tweets won't remain bookmarked indefinitely. If the tweets ends are removed by the creator, it will not be available in your bookmarks.
Bookmarks are definitely a much needed feature on the Twitter app. Users no longer have to use the Favorite feature to heart tweets they want to come back later on to read in more detail.
Have you started using the Twitter Bookmarks feature? What do you think of it? We'd love to hear your thoughts.
Cheers,
Adeline