Anyone who uses a computer or laptop knows the dangers of losing important files. No matter how careful you are, there's a good chance you've trashed an important file or document and then stressed yourself to no end on recovering it. Windows is a great operating system, but it does not offer an intuitive option to restore the recycle bin that has been emptied out. For that, we need to rely on third party data recovery tools. Thankfully, there are many professional tools in the market to help you out during such times. In this post, we take a look at one such data recovery tool Disk Drill for Windows.
Chances of Successful Recycle Bin Recovery
When you delete a file or folder, it sits inside the temporary storage area on the computer – what we call the Recycle Bin. But we cannot keep deleted files in the Bin forever, because it takes up space on the storage drive. Once emptied, Windows allows other applications to overwrite it with other data.
So as long as your files stay in the Recycle Bin, you can restore it easily to its original location. But when the Bin is emptied the chances of recovery are reduced. The recovery in such cases depends on how much you use the computer and how big a drive you have.
Let's say you have a large drive, like a 1TB Hard Drive and write abut 10GB of data onto it every week. In such a situation, it may take a long time before the deleted files are overwritten. However, if you have just a 256GB Drive and write about 50GB of data onto it every week, there's a good chance for the deleted files in the Recycle Bin to be overwritten sooner.
So, the sooner you realize you deleted a document, the better the chances of a successful Recycle Bin recovery. The more delay in attempting a recovery, the slimmer the chances of recovery.
How to Restore Recycle Bin Using Disk Drill for Windows
Disk Drill for Windows is one of the more easy-to-use tools that helps in recovering files that are emptied from the Recycle Bin. It makes use of a powerful Deep Scan algorithm that looks for file signatures on the Drive to recognize and recover them. If you have tried other data recovery solutions unsuccessfully, I suggest you try Disk Drill for Windows. Its huge database has over 200 file signatures that can recognize and recover almost every popular file format in existence.
If you only lost your file recently, you can use the Quick Recovery method to recover the file. If you want to recover files that have been deleted some time back, it is best to use the Deep Scan method. To restore recycle bin:
1. Launch the application.
2. Select the storage device from which you want to recover the deleted data.
Note: Disk Drill supports standard hard drives, solid-state disks, memory cards, and external USB drivers among others.
3. Click Recover.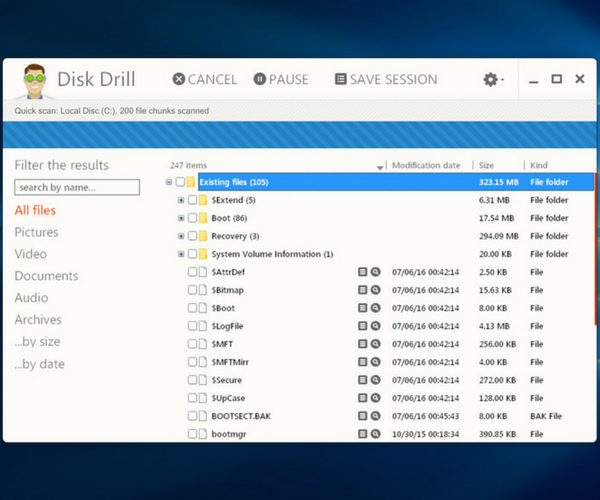 4. Use the various filter options in the tool to narrow down the search results.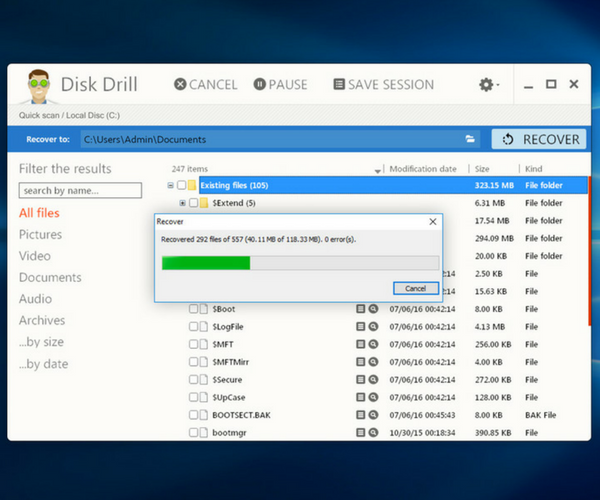 5. Once you've found the file you lost, select it and click Recover.
The application also offers some advanced settings but, for the most part, the single click option should help you easily get back your lost files.
One of the special features that comes with Disk Drill is the Recovery Vault. It is like a digital safe that protects all your files and folders in a secure manner. Knowing your data is under the protection of the Recovery Vault will put your mind at ease the next time you have a problem with data loss.
Also Read: Recover Deleted Files With Free Undelete Software for Mac
Disk Drill & Data Recovery
Human error is one of the most basic causes of data loss. For the most part, data lost this way can be recovered. However, today, we are facing bigger threats like malware and ransom ware that can strike anyone, anywhere, anytime. Sometimes, the malware is so severe, even the best tools don't help. Then, let's not forget hardware failure. Even the best modern electronics fails.
Today, more than ever, we need to take precautions and be better prepared to protect ourselves from such frequently occurring unfortunate situations. Having a a comprehensive data recovery solution at hand is the best way to do it.
Final Takeaway
Disk Drill has good data backup tools and file recovery solutions you can rely on. It is super simple to use and has over 10 million downloads to its credit. Plus, you don't have to buy the software right away. Download Disk Drill and run a scan. Check for yourself the results of the scan. If you found the files, you can do a recycle bin recovery free of cost, within a file size limit of 100 MB of data. If your file is bigger, you can buy the software after personally seeing the results yourself.
You can get more info about Disk Drill on the official website.
Be sure to download the free file recovery software windows edition and let us know how it worked for you.