Hill Stone Animation Studios, developers of apps such as Bewilder Flowers, Mehandi Designs and more, have added yet another iOS game to their kitty. This one's called Dragon Dance and is a mystery game set in Asia. In this post, I'll do the Dragon Dance iPhone App Review and giveaway 5 promo codes to the lucky participants of the simple contest. Be sure to participate in this contest and collect you copy of the Dragon Dance.
Dragon Dance iPhone App Review and Giveaway
The game starts off with a mysterious letter from China informing the hero of the game, Edward about the mysterious Dragon Dance treasure. His father's pursuit of the treasure resulted in his death and it is now left to Edward to undertake the dangerous and dark journey through strange and mysterious lands to fulfill his father's final wish and discover the mysterious treasure of the Dragon Dance.
As Edward embarks on his quest, you must help him discover hidden objects in his home, solve cryptic puzzles, collect inventory and find the map that will lead to the treasure.
The game takes you across six different exotic locations in Asia and the excellent graphics make you want to dig deeper into the game. There are several hints to help you along the journey, including a journal that records your various activities, and one you can turn to when you need some guidance. The glowing objects in the game are entrances to various places where lie hidden clues and objects. There's also a well designed strategy guide and tutorial to help you get an understanding of the game.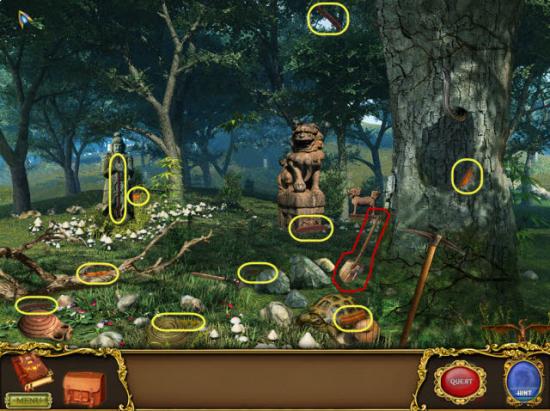 Dragon Dance is priced $3.99, which might be a tad too expensive, as such games go. The game could have been a little more interactive in terms of inventory usage and background music options. Also the textual content could have done with some proofing. If you can overlook these little annoyances, you will enjoy this exotic journey to discover the hidden treasures of the Dragon dance.
Download Dragon Dance from iTunes and share your thoughts on the game with other users by leaving your comments in the iTunes App store.
Dragon Dance iPhone App Giveaway : 5 Promo Codes
And here's your chance to win a copy of the Dragon Dance iPhone App. Just tweet out this post and leave a comment using the form below. We will select 5 winners using Random.org, if there are more than 5 responses. Contest ends 20th January 2012.
Want us to review your iPhone or Android app? Send us your details using the Submit for Review page.