Nintendo is going great guns with the launch of many highly anticipated games launching in 2023 for its Switch console. If you love open-world adventures, sims and strategy games, you're in for a good gaming season ahead. Here are six exciting Nintendo Switch games to look forward to in 2023.
Exciting Nintendo Switch Games Launching in 2023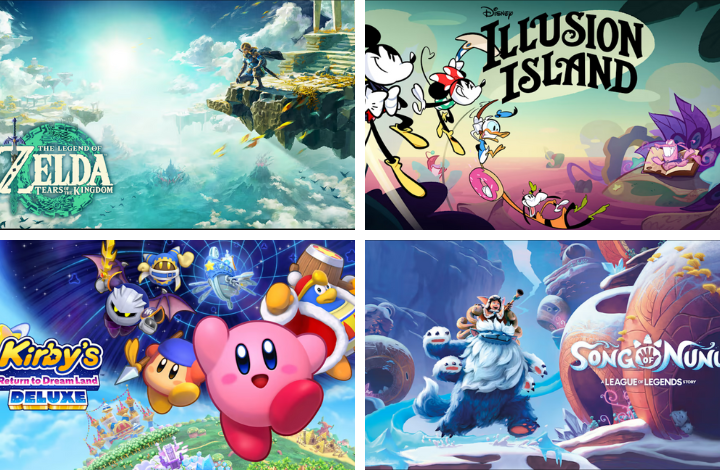 Kirby's Return To Dreamland Deluxe
Popular platforming adventure game Kirby's Return to Dreamland is getting a Deluxe version in 2023 where up to four players can play together from one Switch console. Players can copy enemy abilities and can make use of swords and whips for attacks as well as float with a parasol.
A new Mecha Copy Ability that lets you laser blast enemies is making its debut in this series. You'll go on plenty of exciting adventures including finding missing pieces for Magolor's ship, which crash landed on the Planet Popstar. Players can control another Kirby or one of his friends like King Dedede, Meta Knight, and Bandana Waddle Dee.
Kirby's Return to Dreamland Deluxe will release on February 24, 2023 for $59.99.
Buy/Preorder : Nintendo
Endless Dungeon
Endless Dungeon is a rogue-like tactical action game set in the lethal Endless universe. In the game, you recruit a team of shipwrecked heroes to protect your crystal against a never-ending wave of monsters.
All the action takes place in a long-abandoned space station that is almost impossible to get out of. You need to team up with some long marooned castaways and find a way to survive the new storyline.
Endless Dungeon is set for release in Feb 2023.
See details: Official site | Nintendo
The Legend of Zelda: Tears of the Kingdom
The Legend of Zelda: Tears of the Kingdom is one of the most highly anticipated games of the year. It is the sequel to The Legend of Zelda: Breath of the Wild. The game will take Link and Zelda to the vast expanse of the Hyrule Castle and beneath to save it from the powerful force lurking in the dark. The game will also head to the skies to discover the ancient ruins left by the Zonai.
Tears of the Kingdom will launch on May 12, 2023.
See details: Official | Nintendo
Story of Seasons: A Wonderful Life
Story of Seasons: A Wonderful Life is a cozy action-adventure sim where you play a young person who takes up farming to fulfil your father's legacy. As the seasons go, you raise crops, tend animals, find a life partner, and even raise a child together.
Every farming day brings tons of enjoyable activities such as fishing, hunting for ancient treasures at the local dig site, and chatting with your friends in town.
The developers have not set a launch date yet, but expect a launch in the summer of 2023.
See Game Details: Official | Nintendo
Disney Illusion Island
Mickey and his friends take you on a quest to explore the mysterious island of Monoth. Why? To recover three mystical books needed to save the world from disaster. Yikes!
You can pick your favorite character and unlock special abilities to solve puzzles and take on epic boss battles. This is a delightful platformer, letting you enjoy the full swing of action from running, jumping and swimming your way across the beautiful mysterious island of Monoth. You can play the game solo or go co-op with 3 extra friends for more fun and entertainment.
Disney Illusion Island will release sometime in 2023. We are yet to get a specific date.
See details: Nintendo
Song of Nunu: A League of Legends Story
Song of Nunu is a single-player adventure game where you take on the role of Nunu a young boy on a quest to find his lost mother. The game is set in the gorgeous world of the Freljord.
You won't be alone on your adventures. Your trusty friend Willump the yeti will join you as you discover hidden secrets and unearth myths, and legends that are buried deep in the frozen tundra.
The song of Nunu has a beautifully crafted storyline and enjoyable puzzles to solve but you'll have to wait for some time yet as the game doesn't have an exact release date yet. See details: Riot Games | Nintendo