Microsoft Outlook 2013 isn't the prettiest looking application you've seen from Microsoft, but the application has quite a bit of new features that should help you organize your stuff more efficiently. I love Outlook 2010 and wasn't particularly keen on migrating to Outlook 2013, but I was delighted when I did. Simply because the migration was automatic and all I had to do was close Outlook 2010 and launch Outlook 2013. All my email messages were synchronized and I didn't lose any time or effort in moving over. The application also looked cleaner and more efficient with functions akin to what you would see in web mail clients. Now that my upgrade is done, it's time to see what's new in Outlook 2013 and how it stacks up against previous versions.
New Features in Outlook 2013
Attachment Reminders
We all have, at some point of time in our emailing career, left out attachments we intended to send along with messages. Outlook 2013 recognizes the need for us to be reminded of this. So it scans messages and identifies if you have failed to add an attachment and pops in a reminder to alert you if the attachment is indeed missing.
Unread Mail Filter
Outlook 2013 offers a really cool way to stay on track of unread mail. Just click Unread at the top of the Inbox to instantly see only your unread messages. This simple feature makes a whole lot of difference and helps improve productivity.
Email Preview
Another great feature in Outlook 2013 is that you can preview between 1 to 3 sentences of your email message right inside the Inbox view itself. This way you can quickly scan messages that are most important and need to attend right away. To set the email preview, navigate to View tab. In the Arrangements group, click Message Preview and choose an option.
Reply and Forward from the Reading Pane
The Reading pane should be renamed now because you can do a hell of a lot more on it. Once you've read the message, you can reply, reply to all, or even forward the message to other contacts. And that's what an efficient application should do! Of course, if you prefer to attend to the email the old fashioned way, just click the pop-out link in the reading pane view and action your email from a new window.
Zoom into Your Conversations
While this feature may not have you beaming in joy, it is great for people who have always struggled reading text in different screen resolutions. The Zoom slider makes its way to the bottom of the Outlook 2013 application, enabling easy screen viewing. The downside to this feature is that it is only like a temporary view and can be sen only on the current message you're viewing. Once you navigate away from the message, the zoomed view disappears.
Delete Items from Inbox
Navigating to the Ribbon every time you needed to do something with an email is somewhat annoying. Keeping that in mind, Outlook 2013 makes it easier for users to action an email right from the Inbox view itself. Now just hovering over an email will bring out the Delete option making it easier to delete messages you no longer want to retain.
Marking Messages Read or Unread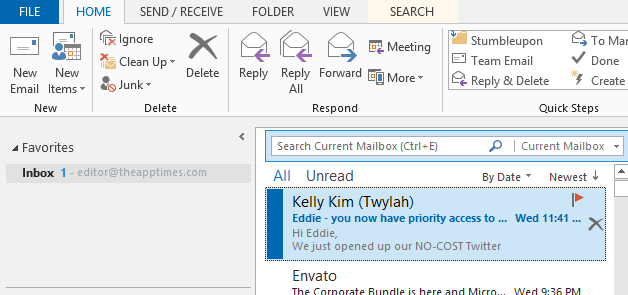 There's also a simple feature that lets you mark messages as read or unread. Just click to the right of the message in your Inbox to toggle between read and unread status.
Smart Tabs Preview
The Navigation links at the bottom of the left pane in Outlook lets you switch to your calendar appointments, tasks, mail and contacts, but now an added feature called smart previews lets you catch a glimpse of activities in each such views without having to click to that view. Just hover over your calendar to see the latest appointments, or hover over tasks to see important tasks currently due.
Improved Search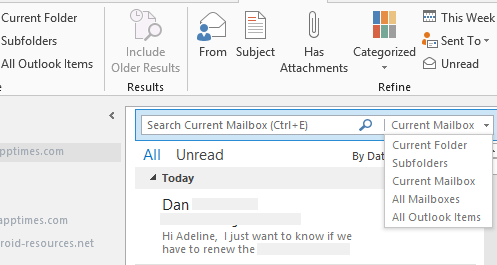 The search feature in Outlook 2013 sports a location filter so that you can search the current folder, the subfolders, current mailbox, all mailboxes, or all Outlook items.
Contact Cards in the People Hub
The Contacts pane in Outlook 2013 is the People Hub. The People Hub displays neat little contact cards that contain every conceivable information about your contacts; phone number, email address, company info, social media updates and more. You can do a host of activities right from within the contact card itself, such as schedule a meeting, send an email, call, fax, or IM.
Weather bar
Wondering what the weather will be like on Monday next for an outdoor meeting you're planning to schedule? The Outlook 2013 Calendar View displays a Weather Bar that offers a 3 day weather forecast in your city. When you launch Outlook 2013 for the first time the weather bar sets the default location where the application is installed. You can add additional locations and configure how you want the temperature to be displayed too! (in Celsius or Fahrenheit )
Rearrange Folders
Outlook 2013 lets you rename folders and rearrange them in any order you like. Unlike the default arrangement of folders in alphabetical order, you can drag and drop folders to arrange them more conveniently.
SharePoint Integration and Outlook 2013 Exchange ActiveSync Support
Outlook 2013 also offers better SharePoint integration and support and SharePoint groups have access to their own mailboxes now. Exchange ActiveSync lets you connect to services such as Outlook.com so that you can access all your web email in Outlook 2013.
If you are moving from a previous version of Outlook to Outlook 2013, you may not be impressed with its pale colors and design, but feature-wise, the application has come a long way. There are still things that could be better, but Outlook has crossed over from being an application that we had to live with to an application that works for us.