Hot on the heels of Google announcing the Gmail redesign, Microsoft has unveiled a slew of new features for its Outlook desktop app, Outlook mobile app for iOS / Android and Outlook.com. And just like the Google, Microsoft is aiming these new changes towards its business customers. Want to know what to expect with the latest update? Here is the complete list of all the New Features in Outlook you can start using right away.
New Features in Outlook (April 2018 Update)
Bill Pay Reminders in Outlook Calendar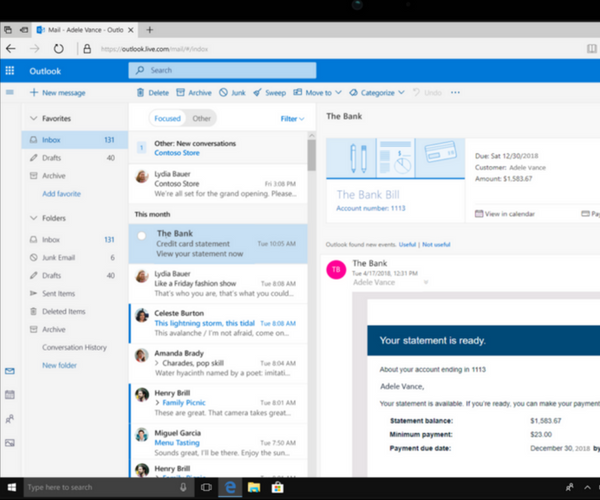 Managing bills is kind of taxing. Especially when you have bills with different due dates. If you receive a bill on your Outlook.com email, then you'll appreciate the new Bill Pay Reminders update. Outlook can now identify a bill, show you a summary of it at the top, and automatically add a calendar event on the due date. This is similar to reminders that Outlook offers for travel reservations or package delivery tracking. Outlook.com will also send you an email 2 days before the bill is due so you can pay it on time.
Event location and Meeting Room Suggestions
Another feature you'll find useful in the new update is the suggestions for holding your meetings. Once you start to type in the Location field, Outlook will immediately throw up suggestions. This could include recently used and available conference rooms, it could be other common locations such as your office or even public locations.
Based on your current location, destination address, and traffic updates, Outlook for iOS will even notify you when you must leave to make it to that meeting. Outlook for Windows currently does not have this feature but will get it in a future update.
All of these suggestions are based on machine learning models. This will get better with time as the models learn your preferences. Eventually, you should even be able to reserve a meeting room from Outlook for iOS/Android.
Outlook Meeting Tracking
Outlook calendar is also getting better RSVP and tracking features. If you attend or organize meetings, you may want to keep track of the attendees. This can be cumbersome. Outlook now lets you to see the tracked responses and RSVPs for any meetings you are part of. This helps invitees better manage their time based on the plans and availability of others. And, if your meeting is a huge one, Outlook can still track the responses of everyone in the attendee list, as may as 500.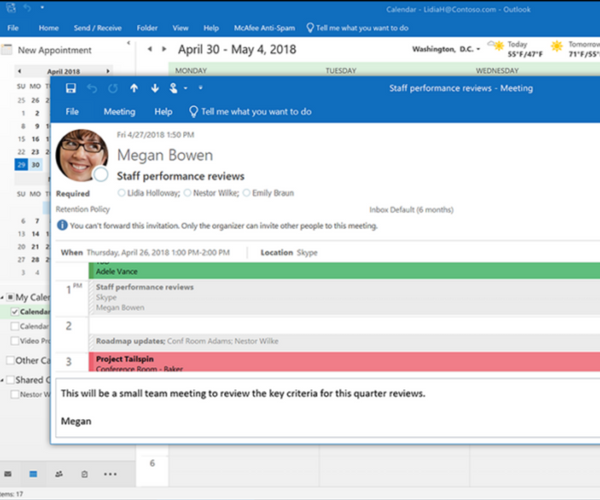 Plus, if you are planning a meeting that requires a stricter control of the attendees list, Outlook gives you the option to allow or prevent the forwarding of your calendar invitation. This feature is expected to become available in Outlook for Windows and Outlook.com.
Multiple Time Zones
Managing meetings across time zones can be tricky. Outlook's latest update lets you set the start and end times of these meetings easily across different time zones. You can also set up a travel event with your departure in the time zone of the departing location and arrival in the time zone of the landing destination.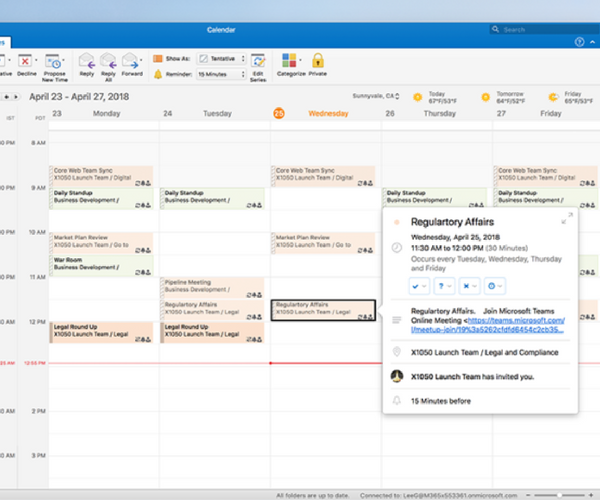 Plus, on the main calendar grid, you can show multiple time zones. In Windows, you can add up to 3 time zones (File –>Options-> Calendar Time Zones.) In Mac, you can add 1 additional time zone (Outlook-> Preferences->Calendar Time Zones.) For Outlook.com, you can add 1 additional time zone (click the Time Zone drop-down arrow in the Calendar meeting invite.)
Improved Contact Card (iOS)
Outlook now shows details of your organization directory to your Outlook contacts. This makes it easy for anyone in the company to know about coworkers and their roles in the organization. If the company data is connected to Azure Active Directory, you can see details such as who a contact reports to, their chain of command, and colleagues they work with most. Just open the contact card of a person to see the organizational information.
Proxy Support (iOS/Android)
Some companies have adopted the use of proxies to block direct access to the Internet from mobile devices. Outlook supports companies that use SOCKS proxies for added protection between their company data and the internet.
BCC Warning
There are times when you are blind copied on an email and you go out of your way to respond to the mail. Just in case you did not notice the addressing, and to avoid unnecessary embarrassment, Outlook alerts you that you were only BCC'd on that email. You can then choose to avoid replying to all and instead just reply to the sender.
Syncing Draft Folders
Although syncing of draft folders is already available in Outlook for Windows, Mac and Android, it is yet to become available on iOS. Later this month, iOS users will be able to draft a message in Outlook on one device and finish it on another device.
Office Lens in Outlook
If you use email, chances are you often attach a screenshot such as a whiteboard or document. Later this month, you will be able to start a message in Outlook for Android and tap the new photo icon to capture screenshots and have them embedded in the email automatically. This is possible with the integration of Outlook with the popular Office Lens technology.
Quick Reply
Just like Gmail's Smart reply feature, Outlook will throw up a few quick replies at the bottom of an email reply window to let you continue the conversation with the email sender. Stuff like, "Sure, let's go". Or, "Monday works for me".
Favorite people
There are some people you keep in touch with more than others. Outlook is making it easier for you to access these people on your mobile. Outlook will tag these people as favorites so that they will always be front and center on top of message folders so you can reach out to them quicker. This feature will become available in iOS and Android versions in June 2018.
Office 365 Groups
If you are part of Office 365 Groups, Outlook is making it easier to view your group events and access the group's OneNote Notebook. You can track events in the group's contact card and launch OneNote from Outlook to access the group notes. This feature will become available in iOS in June 2018.
Block External Content
Digital marketers and certain vested interests tend to track email sent to their recipients via images embedded in their email messages. If you don't want to be tracked, Outlook can protect you by blocking this external content. This feature will become available on Android later this month.
That's a list of the major improvements and new features in Outlook for desktop, web and mobile devices you'll start seeing in the coming days. If you've been missing one or more of these features, look out for the latest update.