If you share your computer with other users or if you are concerned about Outlook mail privacy, you can protect your account with all its contents including calendar items, tasks and notes by setting up a password. This password is not intended to prevent a person from opening Outlook itself. The way this works is that although a user who accesses your computer can open and use Outlook, he or she will not be able to access the accounts for which you have set the password. Let's now check out the steps on how to secure your Outlook Data Files with a password.
How to Secure Your Outlook Data Files with a Password
Before you start the process of setting up a password for your Outlook Data Files, just remember that the password will apply for the entire account or data file. You cannot password-protect individual folders in an email account. This activity was performed on Outlook 2016.
1. Open Outlook.
2. On the left navigation pane, right-click on the name of the account you want to password-protect and select Data File Properties from the contextual menu.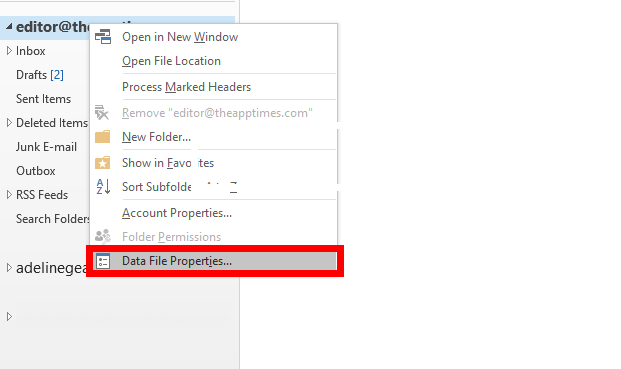 3. In the Outlook Today dialog box that opens up for the respective email account, click Advanced.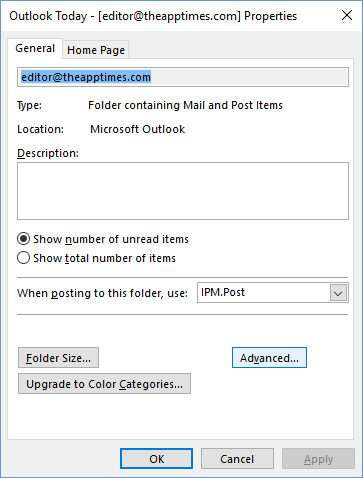 4. In the Outlook Data File dialog box, click Change Password. (You can learn more about the need for strong passwords and how to create them here.)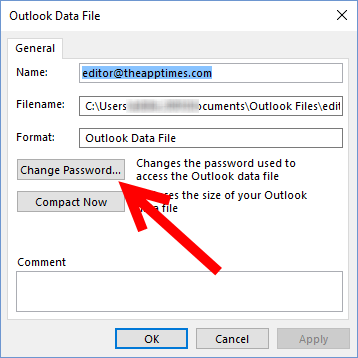 5. In the Change Password dialog box, enter a password for your data file in the New Password text box and then re-enter the password again in the Verify password text box. If you previously setup a password for your Outlook PST files, you will have to enter that in the Old password dialog box. In this case, it's a first time setup, so I'm ignoring the old password field.
If you don't want to enter the password every time you open Outlook, enable the Save this password in your password list check box. Obviously, you will not want to do this if you share a computer with others. If on the other hand, you don't share your computer with others and you have a password protected Windows user account, you can enable this option.
6. Click OK 3 times to close the Change Password dialog box, the Outlook Data File dialog box, and the Personal Properties dialog box after that.
The next time you open Outlook, the Outlook Data File Password will pop up, asking you to enter your password before you can access your account. Applying a password to your Outlook data files also helps to protect them when you archive and back up the data files to an external storage device or in the cloud.