Photos are an essential ingredient for any presentation. Finding them however is the toughest part. If you own a Windows 10 mobile or PC, you can check out Pickit Photo Finder, an app that promises to offer free images for all your presentation needs and blog posts (with some limitations of course!). If you don;t find a photo of your choice, you can request the photographer community for one that matches your requirements. Let's take a closer look at what pickit Photo Finder has to offer.
Pickit Photo Finder App for Windows 10
Pickit is a photo curation service that lets you find photos for your various needs for free. The photos on Pickit are submitted by photographers registered with the service and while you as a user can get access to all the images for free, there are restrictions on the resolutions that are available for use and limitations on requests.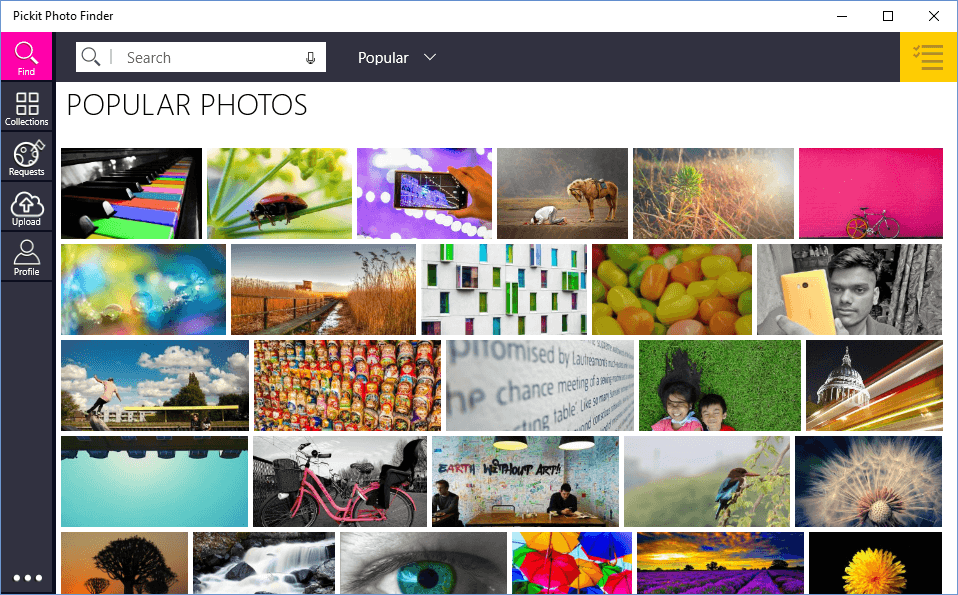 In the free subscription service, if you request a photo, it will reach the community after a 24 hour delay. If you subscribe to the premium services that cost $9.99 a month, your request is instantly shared with the photographer community.
Pickit Photo finder is now a universal app for Windows 10, which makes it so much more easier to find photos for your needs and place requests for specific images. In fact, the app integrates perfectly with Microsoft Office, so if you own the office suite, you can make use of the Word, PowerPoint, or Sway add-in to directly incorporate photos from the task pane onto the documents.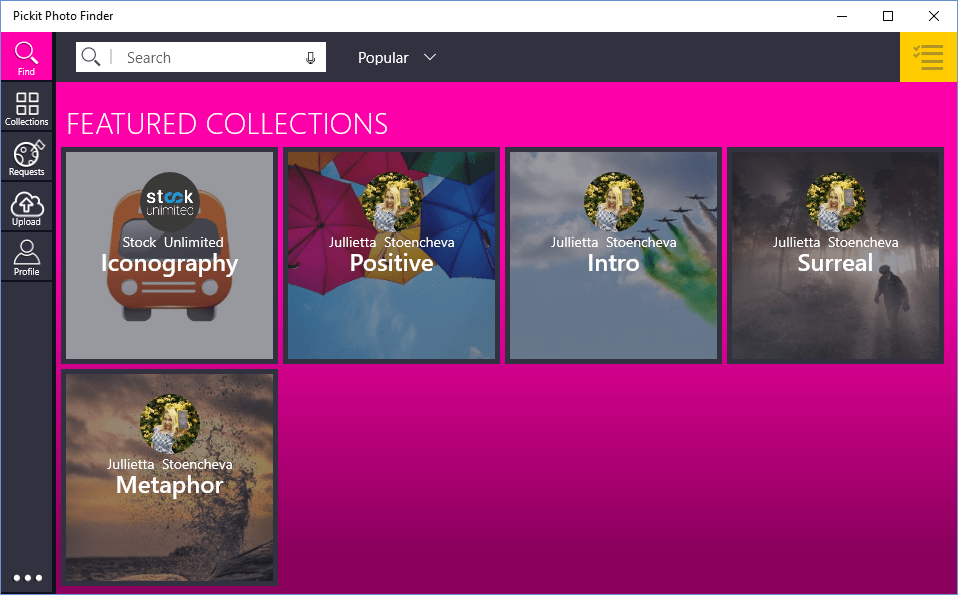 Coming back to the Pickit Photo Finder app for Windows 10, here are the main features you can expect from the app:
Search and find photos
Request the perfect photo from the photographer community
Create collections of your favorite photos
Drag & drop images from the app to your desktop or another windows app (Desktop only)
Snap assist
Share photos
Pickit Photo Finder also offers Cinemagraph support, which means you can add moving images marked with the Cinemagraph icon to create moving images and make the presentations stand out in a crowd. Pickit Photo Finder also plays nice with Cortana so you can simply command Cortana to find images of cute kittens for you and the job will be accomplished.
If the images on stock photo sites are not working out for you, or you don't have time to create your own images, consider Pickit Photo Finder app. You need to be registered to use the free service, but it could just be the cheapest solution that suits your needs.