Wireless earphones and headsets get rid of the cords but quickly run of battery power. Unless you're carrying a ton of them around, you're not going to enjoy listening to long hours of music. Enter Firefly Wireless Earbuds. These tiny buds are not only portable and slick, they deliver up to 16 hours of play time and recharge quickly too. Here's more on the Firefly Wireless Earbuds that are set to launch next month via Kickstarter success.
9 Good Reasons to Buy Firefly Wireless Earbuds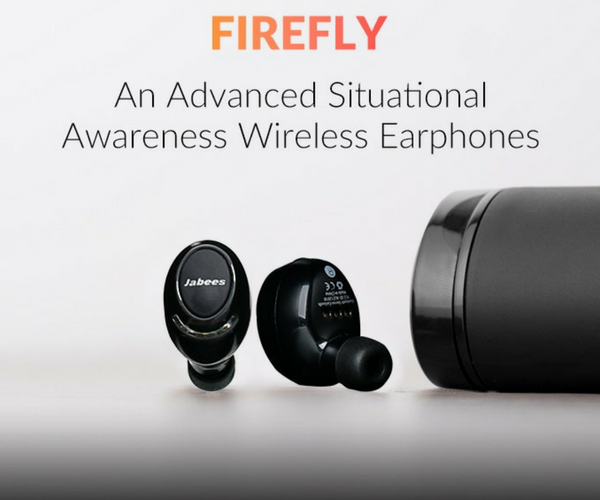 Intuitive Controls
Having audio controls at your fingertips is crucial to a good earbud user experience. The Firefly Wireless Earbud makes this intuitive with actions such as double tap and long press. For instance, you can press the right MF button once to take a call or keep pressing the right button to increase the volume.
Fast Charging
Who doesn't love a good fast charging gadget? The Firefly lets you stay powered for up to 16 hours. A 10 minute charge time can deliver up to 2 hours of playtime. Alternatively, if you leave the earbud in its charging case for 30 minutes, you should get up to four hours of use.
Situational Awareness
It is nice to be lost in the world of music. But the world around you is constantly active, making it essential for you to be aware of what is happening around. Th Firefly earbud is engineered to include a situational awareness feature. This feature enables external sounds to filter in so that users stay alert while still listening to their favorite music.
Voice Controlled
Today, we simply expect most of our tech devices to have some level of AI and the Firefly doesn't disappoint in this regard. It is compatible with Siri and Google Assistant allowing you to find out about the weather in your place or plan a beach trip with friends using a single tap and voice commands.
Great Fit
The Firefly has the best ear tips to perfectly fit your ears without falling even during the most rigorous activities. You can bike, climb, lift, or hike without the fear of losing your earphones. And in case you do happen to lose one of the earbuds, you can always pick up a single piece from the makers.
Graphene-enhanced Sound Quality
Graphene is a material that is 100 times harder than steel with only a fraction of the weight. It has the unique capacity to actually improve sound quality, treble enhancements and noise isolation. The result is the finest sound quality you can get on a earbud.
Stable Bluetooth Connectivity
These earbuds connect to your mobile device via Bluetooth 5.0. This brings with it benefits such as a functioning range of up to 33 ft, 2 times faster connection and data transmission speed. Now you never have to worry about a bad signal, sound latency or losing your podcast halfway through.
Waterproof Too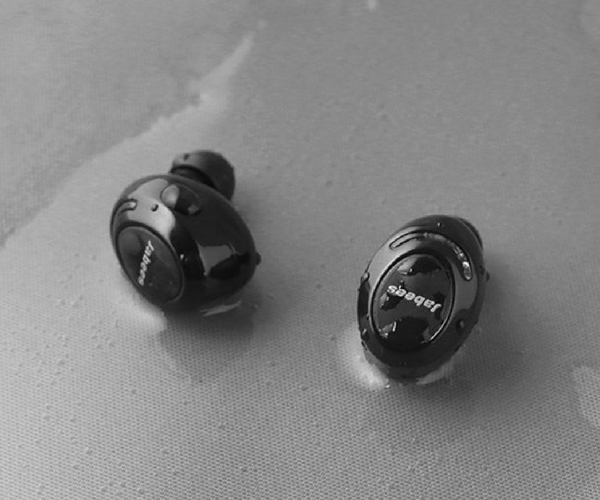 Caught in the rain with the earbuds on? No problem as the Firefly is IPX5 waterproof, allowing you to comfortably remove them before they get soaking wet. The waterproofing will hold for a good 3 minutes.
Also Read: Sennheiser AMBEO Earphones Lets You Record 3D Audio
Great Price
The Firefly Wireless Earbuds with its feature-set comparing better than the Bose Soundsport Free, Jabra Elite Sport and even the Apple AirPods in some aspects is priced just $64 (Kickstarter Pricing).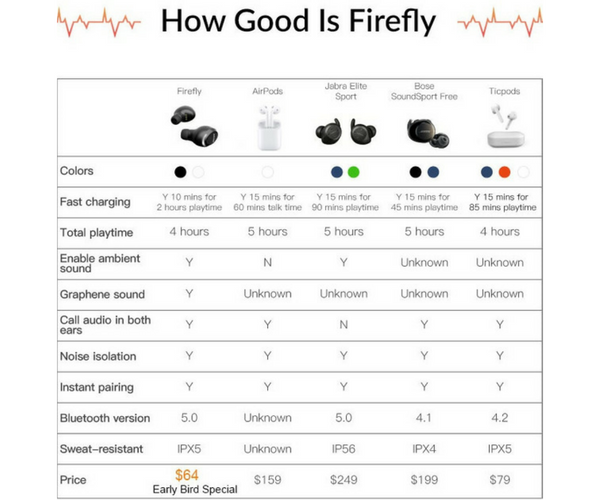 There are still 10 days to go before funding closes but the campaign has already hit $94K+ over its pledged goal of 10K. If you are excited by the Firefly campaign, you can pledge $64 or more to grab the early bird price offer. Firefly Wireless Earbud ships in July 2018.
Of course, just make sure to take necessary precautions when backing a crowd funding campaign.
Cheers,
Adeline