Fitness wearables have taken the world by storm, offering us a simple way to track our daily activities, monitor our heart rate, and help us reach our health goals. These devices come in various shapes and sizes, from fitness bands to smartwatches, and boast an array of features that cater to different needs and preferences. In this guide, we explore the world of fitness wearables for monitoring heart rate and help you choose the perfect device that suits your lifestyle and fitness goals.
Why Monitor Your Heart Rate?
Monitoring your heart rate is crucial for several reasons:
Exercise Efficiency: Keeping track of your heart rate during workouts helps you maintain the right intensity level and avoid overexertion or underperformance.
Health Tracking: A consistent resting heart rate can be an indicator of good health, while sudden changes or abnormalities may signal underlying issues.
Stress Management: Monitoring your heart rate can help identify stress levels and guide you in practicing relaxation techniques or adjusting your lifestyle to manage stress better.
Latest Fitness Wearables Features for Heart Rate Monitoring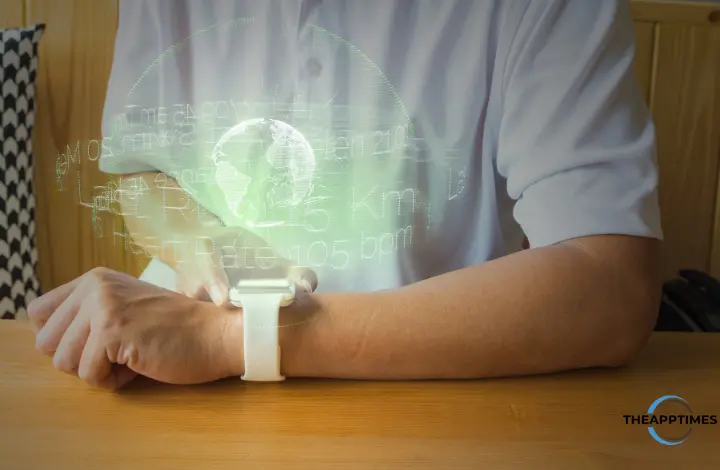 Fitness wearables have evolved to offer a range of features for heart rate monitoring. Here are some of them.
Optical HR sensors
Many fitness wearables now use optical HR sensors to capture heart rate data. These sensors calculate heart rate by shining light into the skin and measuring blood flow. They are less accurate than chest straps, but they are more convenient and comfortable to wear.
Continuous Heart Rate Tracking
This allows for the constant monitoring of heart rate throughout the day, not just during exercise, providing a more comprehensive view of heart health and workout intensity.
Resting Heart Rate Tracking
Some wearables track your heart rate while you're at rest. This measurement can be a good indicator of overall cardiovascular health.
Heart Rate Zones
Devices often include the ability to show which heart rate zone you're in while exercising. This helps users know if they're achieving their desired workout intensity.
Abnormal Heart Rate Alerts
Some wearables can alert you if your heart rate goes above or below a certain threshold while you're at rest.
ECG (Electrocardiogram) Features
More advanced fitness wearables can generate an ECG similar to a single-lead electrocardiogram. This can help detect signs of atrial fibrillation, a serious form of irregular heart rhythm.
VO2 Max Estimation
This is a measure of the maximum amount of oxygen your body can utilize during intense exercise. Heart rate data is one of the key inputs in calculating this metric.
Stress Tracking
By analyzing heart rate variability and other data points, some wearables provide a "stress score" to help users manage their health.
Sleep Tracking
Heart rate tracking during sleep can provide insights about sleep quality and stages.
Recovery Time
Some wearables use heart rate data along with other metrics to suggest how long you should rest between workouts for optimal performance and recovery.
Blood Oxygen Saturation (SpO2) Measurement
While not directly a heart rate feature, the ability to measure blood oxygen levels is increasingly common in fitness wearables and can be important for assessing overall cardiorespiratory fitness.
Overall, fitness wearables are becoming more advanced and feature-packed, offering a range of options for heart rate monitoring. The best one for you will depend on your specific needs and preferences.
Factors to Consider When Choosing a Fitness Wearable
When choosing a fitness wearable for heart rate monitoring, consider the following factors:
Physical Activity: Think about your daily workout needs and how a fitness wearable can benefit your exercise regimen.
Design: Look for a device that is comfortable, stylish, and suits your personal preferences.
Wellness Features: Consider additional wellness features like sleep tracking, daily movement monitoring, and stress management.
Smartphone Compatibility: Find a fitness wearable that connects with your smartphone for call and text notifications and data storage.
Power: Check the battery life of the device and choose one that can keep up with your physical activity needs.
Warranty: Look for fitness wearables that come with a guarantee or warranty, ensuring you get the most value for your investment.
Popular Fitness Wearables with Heart Rate Monitoring
Here are some popular fitness wearables with heart rate monitoring features:
Fitbit Versa 4
Willful Waterproof Smart Watch IP68
Apple Watch Series 8
Google Pixel Watch
Garmin Vivosmart 5
Amazfit GTR4
Garmin Forerunner 55
Polar Vantage V2
Omron HeartGuide
Fitbit Sense 2
How to Choose the Right Fitness Wearable for Your Needs
To choose the right fitness wearable, consider the following aspects:
Cost: Determine a budget and look for devices that fall within your price range.
Customer Reviews: Read user experiences and opinions to get a better understanding of a particular device's performance and features.
Features: List your desired features and prioritize them when selecting a fitness wearable.
Accuracy of Heart Rate Monitoring Watches
Although fitness wearables may not be as accurate as medical devices, they generally provide reliable heart rate readings. Factors that can affect accuracy include the brand, activity level, and sensor positioning on the skin.
Smartwatches for Detecting Irregular Heartbeats
Some smartwatches, such as Apple Watch, Fitbit, and Google Pixel Watch, are equipped with technology that can detect irregular heart rhythms, making them suitable for people with heart conditions or a history of irregular heartbeats.
Fitness Wearables for Specific Activities
Certain fitness wearables are designed for specific activities or populations, such as athletes or individuals with heart conditions. Look for devices that cater to your unique needs and preferences.
Maintaining Your Fitness Wearable
To ensure the longevity and performance of your fitness wearable, follow the manufacturer's care and maintenance guidelines. This may include regular cleaning, battery replacement, or software updates.
FAQs on Fitness Wearables for Heart Rate Monitoring
Q. How accurate are fitness wearables for heart rate monitoring?
A. Fitness wearables can provide fairly accurate heart rate measurements, but they are not as precise as medical-grade devices. Factors such as device placement, user movement, and even skin temperature can affect the readings.*
Q. Are fitness wearables safe to use for heart rate monitoring?
A. Yes, fitness wearables are generally safe to use for heart rate monitoring. However, they should not be used as a substitute for medical advice or diagnosis. If you have a heart condition or other medical concerns, it's always best to consult with a healthcare professional.
Q. Can a fitness wearable detect heart disease or other medical conditions?
A. While certain abnormal heart rate patterns detected by a fitness wearable may suggest a potential issue, these devices are not designed or certified to diagnose medical conditions. Always seek professional medical advice for health concerns.
Q. How do fitness wearables monitor heart rate?
A. Most fitness wearables use a method called photoplethysmography (PPG). This involves using a light source and a sensor on the back of the device to measure the rate at which your blood absorbs light, thereby calculating heart rate.
Q. Where on my body should I wear the fitness wearable for the best heart rate reading?
A. Typically, fitness wearables are worn on the wrist. However, for more accurate readings during intense physical activities, devices worn closer to the heart, such as chest straps, might be more accurate.
Q. Why does my fitness wearable show different heart rate readings at different times of the day?
A. Heart rate can change based on many factors, including physical activity, emotional state, caffeine or alcohol consumption, and even the time of day. Thus, it's normal to see different readings at different times.
Q. Can I use my fitness wearable to monitor my heart rate while swimming?
A. This depends on the specific device. While many fitness wearables are water-resistant, not all can accurately track heart rate while swimming. Check the specifications of your particular device to be sure.
Q. What is a good resting heart rate to aim for and can my fitness wearable help me achieve it?
A. A normal resting heart rate for adults ranges from 60 to 100 beats per minute (bpm). However, trained athletes might have a lower resting heart rate. Regular exercise and a healthy lifestyle can help improve your heart rate over time, and a fitness wearable can help track your progress.
Q. Do I need to calibrate my fitness wearable for heart rate monitoring?
A. Some devices may require calibration for more accurate readings, usually involving a setup process where you enter personal information such as age, weight, and gender. Check the user manual or support resources for your specific device.
Q. What should I do if I get abnormal heart rate readings on my fitness wearable?
A. If you consistently see unusually high or low heart rate readings, and particularly if you experience symptoms such as dizziness, shortness of breath, or chest pain, it's important to seek medical advice. Remember, fitness wearables are not a substitute for professional medical care.
Final Thoughts
As technology continues to advance, we can expect fitness wearables to become more sophisticated and accurate. Future devices may offer features like improved heart rate monitoring, stress detection, and personalized exercise coaching, making it even easier for us to achieve our health and fitness goals.
Fitness wearables for monitoring heart rate are valuable tools that can help us track our physical activities, manage stress, and maintain our overall well-being. By considering factors like design, features, and accuracy, you can find the perfect device that suits your lifestyle and fitness goals. So, get ready to take charge of your health and embrace the future of fitness wearables.