Boomerang for Gmail, the popular Gmail extension to schedule Gmail messages is now available for the Android, iPhone, iPad and other smartphone devices. If you love using Boomerang on your web browser, head on over to http://m.boomeranggmail.com on your smartphone, submit your email address, login to Gmail or Google Apps account and get all your favorite Boomerang features right on your mobile device.
Get Boomerang Mobile to Schedule Gmail Messages on Your SmartPhone
There's no denying the advantages that Boomerang Mobile can offer. You no longer have to worry about remembering to follow up or schedule Gmail messages. What's nice is that it works perfectly on my Samsung Galaxy Tab too! The one disappointing factor is that there is no native Android or iPhone app available in the market as yet, so getting started is a bit of a pain (if you're used to the barcode scanning thing and don't like to keep entering your Gmail credentials and password over and over again.)
Once you've logged in, you can create an app icon to access Boomerang from your Home page. Here's a quick how to.
1. Bookmark the Boomerang Mobile page on your browser. If you're using Dolphin HD for Android, bookmarking is very simple.
2. Go to the home screen, press and hold an empty space to display the Add to Home Screen pop-up.
3. Select Shortcuts and then Bookmark. (Bookmark name may vary depending on the browser you're using.).
4. Tap the Boomerang Mobile bookmark you saved and voilà, it is added to the Home screen.
Here are a few screen shots of Boomerang Mobile on my Samsung Galaxy Tab.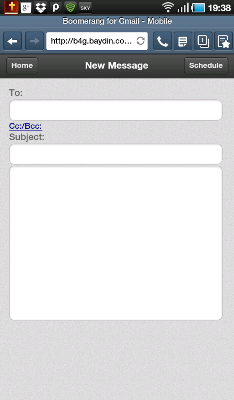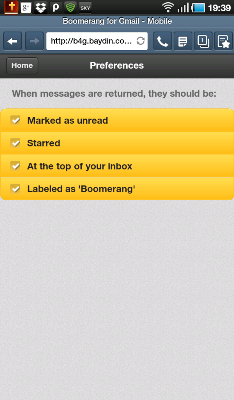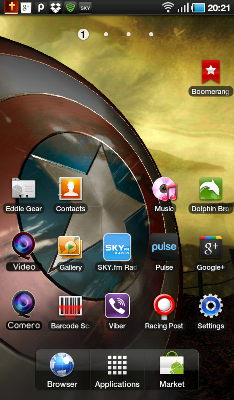 Boomerang Mobile is only available for the Pro version ($14.99/month) but you can try it for free for the first 30 days and then subscribe to one of the paid versions or revert to the Free plan with limited features.