If you have been using Google Calendar Sync to automatically sync Google calendar with Outlook 2010, you know by now that  the handy plugin is no longer supported. If you are one of those lucky people who have a paid Google Apps for Work account, you can make use of the Google Apps Sync plugin to continue synching the two accounts. For the rest of us folks who are left in the lurch, here's another workaround. This time we are making use of a free add-in called SynqYa to automatically sync your Google and Outlook calendars. Let's see the tool in action, shall we?
In order to use SynqYa you'll need to sign up for a free account. Once you do so and verify your email, you will be able to authorize your Google calendar in the online account. The good thing about this tool is that you don't have to install any additional Outlook add-on and you can even sync Apple iCal or other calendar software with your Google Calendar. There are limitations to the software as well. You can only sync one calendar and you don't have the option to check for duplicates, so if you have the same appointment in both Outlook and Google Calendar, you will see two entries after syncing.
How to Sync Google Calendar with Outlook 2010 Calendar
1. Ensure that you are signed into your Google account.
2. Go to the SynqYa website and sign up for a free account.
3. Click the verification email you receive in the registered email address.
4. Now in your SynqYa account, click Allow Google Calendar access and then click Authorize access.
You are advised to use a dedicated calendar for synching as you have better control over it, but for the purpose of this tutorial, we are sticking to the one we've been using for a long time.
5. Now you need to export events to Google calendar so that Outlook events are copied in your Google Calendar.
5a. In the SynqYa web page copy the import events into calendar URL.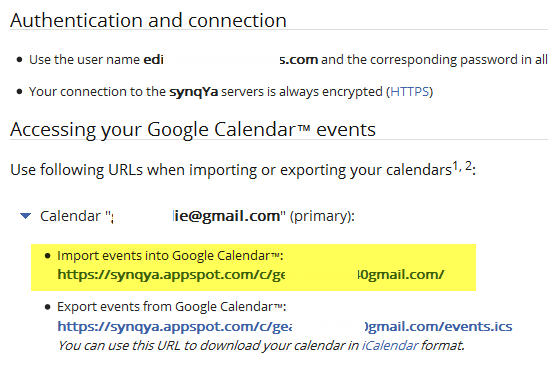 5b. Open Outlook and go to the Calendar view. On the Home tab, in the Share group, click Publish Online and select Publish to WebDAV Server…
5c. In the Publish Calendar to Custom Server window, in the Location text box, paste the URL you copied.
5d. In the Time Span section, from the Previous dropdown list, select 1 day and in the through next dropdown select 30 days.(Recommended)
5e. In the Detail field, select Full Details. If you don't select the Full Details option, some of your events will not be exported. SynqYa only allows for a maximum export of 200 events per export ranging between 7 and 60 days.
5f. Click the Advanced button. In the Published calendar Settings dialog box, change the upload frequency if you want to. At the moment it is set as per the recommendations, so we are leaving things untouched. Click Ok to close the dialog box.
5g.  Click OK to publish the calendar in Outlook.
5h. In the Windows Security dialog box, enter your SynqYa account credentials to allow for publishing calendars.
Your calendar will now be successfully published and you will be asked if you want to share it with people you know. Click No.
You can also configure a new send/receive settings for the calendar and configure it to sync at specified intervals. To do that:
1. Select the Send/Receive tab. In the Send&Receive group, click Send/Receive Groups and then select Define Send/Receive Groups.
2. In the Send/Receive Groups dialog box, click New.
3.  In the Send/Receive Group Name dialog box, enter a name for the group and click OK. You can also configure additional settings for the group here.
You can now start seeing your Outlook calendar items in Google Calendar.
6. To sync Google calendar items in Outlook:
6a. Head back to the Access page and copy the Export events from Google Calendar URL.
6b. In Outlook, in the Calendar view, on the Home tab, in the Manage Calendars group, click Open Calendar and select From Internet.
6c. In the New Internet Calendar Subscription dialog box, in the location text box, paste the URL you copied from above (6a) and click OK.
6d. In the Microsoft office dialog box, click Yes to confirm the calendar subscription. At present, the tool only allows import of a maximum of 100 events ranging from the last 7 to 60 days with updates every 60 minutes.
You will now be able to see an overlay view of both your Google and Outlook calendar in the Outlook Calendar view.
Now that you know how to sync Outlook 2010 Calendar with Google Calendar go ahead and set it up so you can simplify your work.