Want to get more out of your doorbell this Halloween? Well, you're in luck if you own a Ring Video Doorbell. The Home security company has launched Halloween themed additions that can make ringing the doorbell this Halloween great fun. Check out the fun things you can do with your Ring doorbell.
Addams Family Theme Song
Fill your home with the creepy, spooky musings of Morticia, Pugsley and the rest of the Addams family when someone rings your door. Grab the free Addams Family Theme chime tone on your Ring app and enjoy. To get the tone:
1. Open the Ring app and tap the menu bar in the top left corner.
2. Select Devices.
3. Select the Chime or Chime Pro on your account.
4. Select Audio Settings.
5. Select Chime Tones.
6. Select the Addams Family Theme tone.
7. Tap Save Changes. You're all set!
If you don't have a Chime or Chime Pro account, you can still select this new tone as the notification sound for the Ring app on iOS. Learn how to do that here.
The tone is available now through November 30th. Check out what the tone sound like:
Deck Up Your Doorbell with Spooky Halloween Faceplates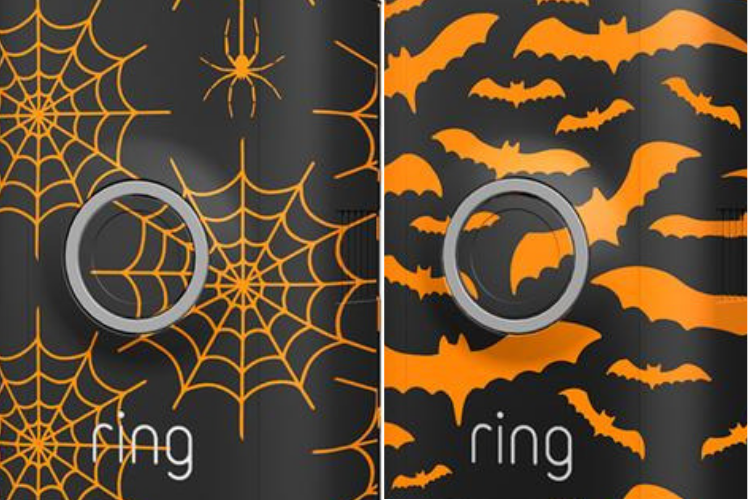 Ring Video Doorbell 2 can now be decorated with a special edition $15 Halloween print faceplates! You can take your pick between festive Halloween patterns featuring bats or spooky spider webs. These faceplates are available for a limited time only. 
They are perfect accessories for Halloween, adding a little more flair to your Halloween decorations. Check 'em out!
Ring Video Doorbells are handy gadgets that allow you to see who's coming to your house when you are not there! If you're looking for a smart security solution for your home, Ring is worth checking out!