Looking for some spooky themed events to get you in the Halloween spirit? Then stock up on these fun Halloween themed games that bring out everything we love about All Hallows Eve: jack o lanterns, monster disguises, scarecrows, spiders, bats and black cats, flying witches and more.
Halloween Games for 2014
Updated 29th October 2014
Monster Flash
This is a fun spooky top down arcade game where you fight off the ghosts and ghouls that are coming at you in the night with your trusty flashlight. There are powerups to make use of and new characters to unlock and is a definite must have for Halloween. Price: Free
Top Gear: Race The Stig
If you enjoyed the official Top Gear game racing the Stig, its time to deck up with a couple of Halloween themed helmets, enjoy a new Halloween themed car plus race some of The Stig's old cars.
Trigger Happy: Halloween
Its time for the zombies, skeletons and other creatures of the dark to rise from the grave and give mankind a chase. In Trigger Happy: Halloween, you are the lone survivor of an apocalypse but with a huge array of weapons at your disposal, you can survive this Halloween. Price: Free
Angry Birds Friends
Rovio gets into the spirit of things with a new spooky Halloween tournament with mummified pigs et al and a global league.
Ruzzle Adventure
There's a new limited time world in Ruzzle adventure with 5 spooky levels from level 2 up, and free coins to pick up as a treat. There are pumpkins decked up everywhere you go and for a real fright, you get to meet and defeat Ztephan the Skeleton king!
Download for Android (will be available soon)
Trials Frontier
The Trials Frontier update bring up the Pumpkin King from his deep slumber, creating havoc on the village and the surrounding lands. You can pick up some new creepy skins and head over to the 4 spooky tracks to take on the pumpkin king and his minions.
Despicable Me: Minion Rush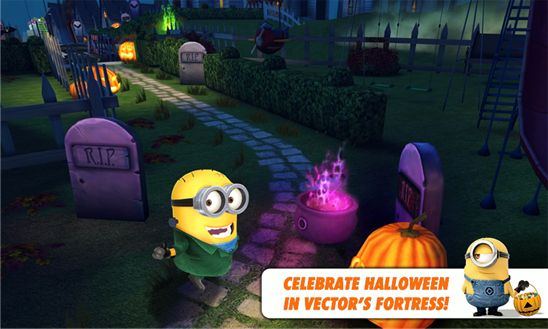 Jelly lab gets some cool Halloween decoration, there's a new Frankenstein minion costume to try out and fun and spooky special events and challenges that are part of the big Halloween update in Despicable me: Minion Rush.
Asphalt 8: Airborne
Its Halloween time on Asphalt 8 and that means you get to terrify other players by infecting them in a Halloween Special Multiplayer Event. There are also new cars and 2 different time limited events to play.
Dead Trigger 2
Dead Trigger 2 is having a Halloween party with lots of presents to unwrap. There are non traditional deco to improve your hideouts, shoot some pumpkin headed zombies and enjoy other additional stuff as well.
Updated 27th October
Angry Gran Run
Endless runner Angry Gran Run has taken to Halloween with lots of fun decorations added to the game environment. Granny now gets to jump over pumpkin patches, dodge spooky creatures and try on several costumes including the MJ thriller costume and a Skeleton.
Download for Windows Phone (Free)
Age of Warriors
From the 25th right through to the 31st, you can try and catch a special candy that drops in from exploring Battle Soul, summoning elements, Battles, and just about everywhere. When you have enough candy you can exchange them for some cool Pumpkin Lord outfits, Haunted Pumpkin avatar, and more.
Halloween Heat
If you're looking for a match-three puzzle game for your Windows phone, Halloween Heat is a good title to pick up.  You have a great collection of Halloween icons including ghosts, witches, bats, skulls, jack-o-lanterns and other spooky creatures that you need to match to pick up top scores. Spooky music and creepy sounds all come part of the game to complete the Halloween makeover.
Download  for Windows Phone (Free)
Updated: 23rd Oct 2014
Pixelbits is all geared up for Halloween as they extend their warmest wishes with a big update to their popular adventure game Junk Jack X. Expect a new spooky biome, plenty of new mobs from Cyan Slime to Witch Zombie and Black Cat. There are also creepy spiders falling off trees, Halloween masks, rare hanging skulls, and other freaky goodies available. You also get to indulge in crafting with the likes of lit pumpkins, Halloween torches, rare wood coffins and such that should truly put you in the Halloween spirit.
Halloween Humble Mo-Boo!-ile Bundle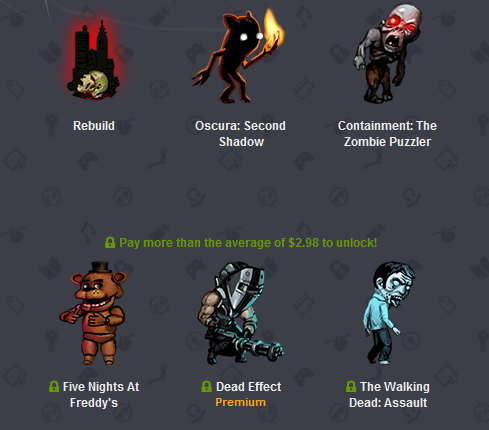 Catch 6 awesome Halloween themed games in this cool Humble Bundle including Rebuild, Oscura: Second Shadow, and Containment: The Zombie Puzzler. Pay more than $2.98 and you can unlock Five Nights At Freddy's, Dead Effect Premium, and The Walking Dead: Assault. And if you are willing to share your email ID, you'll get a free copy of The Spookening. But that's not all. Keep on checking in as more games are expected to be unveiled later in the week. Halloween on your smartphone just doesn't get better than this.
Grab your Halloween Humble Bundle here.
Cloud Raiders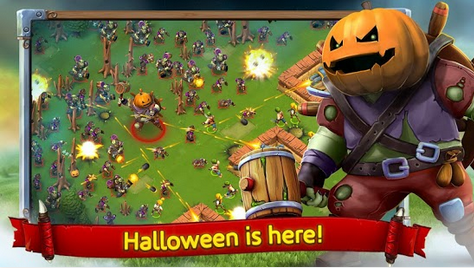 Cloud Raiders have a Halloween update in the Flying Dutchman challenge as swarms of zombies and ghost crew are landing on your base. There's also a new Haunted Island Skin that's bringing back the Kraken and special Halloween buffs and potions that can be bought to tackle the zombie hordes.
Download for Windows Phone and Windows
Spooky Apps Collection
The Windows Phone Store has a special collection of spooky games to get you excited this Halloween and its aptly called Spooky Apps. There are 26 apps in all ( not all of them games mind you) but Knock-Knock, Dark Lands, and Acedia: Indie Horror are some of the games that instantly catch the eye.
Download Spooky Apps collection for Windows Phone
Updated 22nd Oct 2014:
 FarmVille 2: Country Escape
Farmville is throwing a Halloween party so get ready to collect all the Halloween costumes to deck your farm. You can set up a cat cabin on your farm and send the furry fellows out to pick up some rare items. There's also a good chance to win yourself an exclusive Black Cat.
Castle Clash
If you are still playing Castle Clash its time to pick up a new hero, Vlad Dracula with the power to summon swarms of bats for 4 whole seconds to kill enemies. Vlad can cause more damage and inflict fear for 1.5 seconds. There are also plenty of Halloween decorations you'll enjoy using.
The Sims FreePlay
The Sims FreePlay gets a new update with magic and wizardry being the focus of the town. You'll have to conjure new spells with the help of the town wizard and summon your enchanted broomstick and wait for the Witching Hour on Halloween to unlock something mysterious. There are plenty of wizard costumes to try on, sorcery supplies like crystal balls to pick up and frightful things to discover everyday until Halloween. The big event starts Saturday, October 25th.
Updated 20th Oct 2014:
Halloweeen!
This totally fun two button platformer is set on Halloween night when the hero of our game, a ghost named Boo-Boo sets out to collect some candy. You must help him overcome obstacles and pick up the delicious treats along the way. The game has up to 20 levels and is the prefect game for the holiday as you get to trick or treat the last house at the end of the street, if you manage to get there. You have plenty of hats to try on and competition to beat. Enjoy!
Updated on 18th October 2014.
Tiny Tower Vegas
NimbleBit's Tiny tower Vegas gets into the holiday spirit with some new limited time content. There's a Halloween lobby to unlock, a humungous jack-o-lantern on the roof and a Halloween elevator that's chock full of bats, coffins, pumpkins et al. Get involved in themed missions on special floors setup for the purpose and get ready to be spooked.
Boogey Boy
Boogey Boy gets some new improvements by way of global leaderboards and achievements in the latest update, but of course what catches the eye is the Spooky update which brings some cool costumes to deck your boy in. Its also available on sale through to Halloween at just $0.99.
Download Boogey Boy for iPhone
Download Boogey Boy for Android
Fruit Ninja: Ghostbusters!
It seems everybody is celebrating the 30th anniversary of the Ghostbusters including Fruit Ninja who have some new content updates inspired by the franchise. The entire Fruit Ninja crew is equipped with Ghostbuster blades, Ecto Goggles and other iconic Ghostbusters equipment so you can take on those ghostly fruits with unimaginably powerful consequences. This trailer should show off things better!
Smash IT! Adventures
Smash IT! Adventures is a new Halloween themed game that has you helping Agnes the Witch in her mission to rescue her cat who has been kidnapped by the slimy creatures called Blarghinis. With just your fingers you tap or swipe to smash the creatures without getting bitten by them. The game has loads of challenges, missions, characters and spells and the chance to share in the seasonal spirit by competing against friends.
Candy Blast Mania: Halloween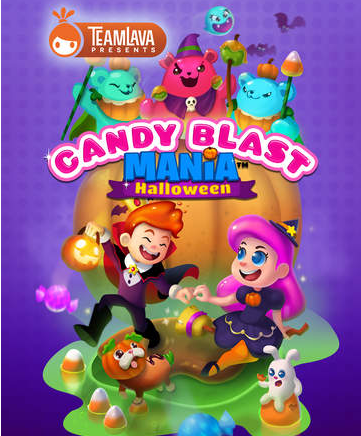 The candy matching game from TeamLava just got a whole lot fun as the gummy bear king and his cronies get set to spoil the Halloween party in candy kingdom. Get ready to put on your spooky costumes and take on the baddies while stocking up on all your favorite sweets and treats. Price: Free
Download for iOS
Bubble Rival – Horror Halloween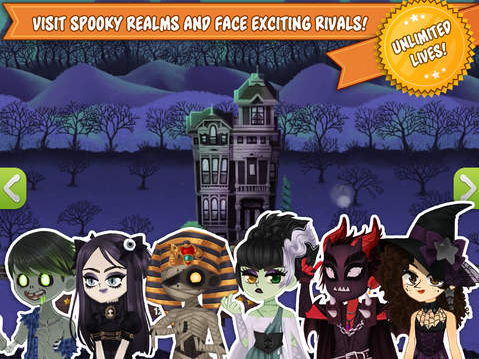 Bubble shooting game Bubble Rival just reached spookyland. Take the express ride to Bubbletopia and enjoy popping your rivals to save the cute Blubbles from the evil Count Weevil in this new Halloween themed game from Rival Games. New types of bubbles will offer plenty of challenges and you can aim for some big scores to take down Count Weevil from the leaderboard with your superior playing. Price: Free.
Subway Surfers
Subway Surfers takes a turn down to New Orleans where the streets are littered with glowing orange jack o lanterns lighting up the night skies and the tunnels you run through. Even the chasing cop gets into the spirit of the event with his Frankenstein monster outfit.
Red Bull Kart Fighter 3 – Unbeaten Tracks
The popular arcade racer Red Bull Kart Fighter 3 – Unbeaten Tracks throws up a delightful Halloween update with 5 new Halloween tracks and a Halloween kart to go with it. The game menu itself carries a festive look and players can step into the Trick or Treat mode which has small boxes strewn around the tracks giving you a rude penalty (trick) or a nice bonus( treat). This special mode will only be available for a limited time.
SpongeBob Moves In
Halloween comes to Bikini Bottom when a spooky ship captained by Lord Poltergeist and his ghost crew crash in. You must help SpongeBob keep those pesky ghosts and ghouls at bay by cooking up some creepy recipes and trick or treating them. Complete the various quests to earn yourself some super cool Halloween costumes and decorations for Bikini bottom and unlock some delightfully funny animations.
3D MMO Celtic Heroes
Celtic heroes brings a new event for All Hallows Eve called Samhain: Web of Urchaid where you'll take on the great spider Urchaid who is determined to make slaves out of unsuspecting humans. There are also loads of arachnid big bosses to defeat, fiendish quests to complete and a Samhain Mystery Chest with bat costumes other scary  masks to pick up. Watch out for the wandering Samhain witches as well!
Big Plants vs. Zombies 2
There's a big PvZ 2 update happening right now called the Big Wave Beach and although this is strictly not a Halloween update, starting October 24th, you can dress up your plants with spooky themed costumes in the Lawn of Doom Piñata Parties.
The Zombies are Coming!
This is not a game but a Windows Store collection of games that i figured might be appropriate to include in this list. Its obviously all about the zombies and you'll find plenty of great free titles as well to choose from the 41 titles that are currently listed. There were also a couple of Xbox Live games for anyone interested.
Download The Zombies are Coming Collection for Windows 8
This list of Halloween games is not final so keep checking in everyday as we add more titles to the list.