Halloween is almost upon us. If you're itching to get into the spirit of the holiday, there's no better place to start  than with a good Halloween game update. Free to play hidden object game Seekers Notes Halloween Update has just arrived. AND its got a ton of spooky surprises and mysteries that you're going to love.
The game is set in Darkwood – a mysterious city that is filled with dark and cryptic secrets and where its inhabitants seemed to be held captive. No one is willing to disclose the secret that's keeping them trapped there and its up to you to find the curse that is holding them back and set them free.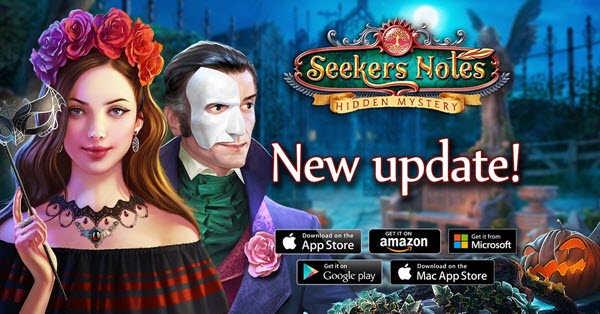 The journey is filled with plenty of perils and adventures with plenty of time bound activities you need to complete to solve the mystery. While there's plenty of fun elements to keep you glued to the game, the game is getting better with the Halloween update.
Seekers Notes Halloween Update
The citizens of Darkwood are starting to see a strange ghostly glow rising above the abandoned Dark square at night. At the same time, Halloween creatures are starting to make an appearance. Citizens have seen the Crazed Pumpkin and the Living Scarecrow, not to mention the witch Madam Grimoire.
The events in the Dark Square seem to have an eerie connection. Its up to you to explore and investigate the event and uncover the mystery. You stand a chance to win special Halloween rewards to win including the Dracula's Chest and the Night Talisman if you succeed. There are also fun new spooky costumes to play dress up with and cool stickers to decorate your desk.
There are 100 new quests so expect the forces of evil to be more stronger and powerful this Halloween to challenge you. Are you game?
Here are the highlights of the update:
Halloween Mystery of the Dark Square event
Gingerbread Ghosts event
Halloween Sweets event
Event rewards: the Dracula's Chest, the Night Talisman, 2 new avatars, and decorations for your desk
100 new quests
Improved location: Café
Download this update if you're a fan of hidden object games, love to go questing, or just want to jump in to some Halloween-flavored fun.
If you like this game recommendation, be sure to visit our Archives section. Its got tons more great Android games and iOS games recommendations.