Email communication may sound like a trivial thing, but losing even one of those email messages can prove to be very taxing later on. Its always best to have your Outlook data backed up in case anything untoward happens to your account that renders it inoperable. All your Outlook data (email, contacts, calendar appointments etc.) is basically stored in a PST file or Personal Folders as it is otherwise called (this is assuming that you are not using an Exchange or Hotmail account) and backing up your Outlook data is a matter copying the PST file to a different location from the one it is actually residing on. In this post, we take a look at the ways in which you can backup and restore Outlook 2010 data.
How to Backup Outlook Data (Outlook 2010)

You can make a backup of your Outlook data by copying the PST file to another location. To do this:
1. Close Outlook if it is open.
2. Navigate to the location of your PST file. In Outlook 2010 running on Windows Vista, Windows 7, and Windows 8 it will be available at C:\Users\%username%\Documents\Outlook Files\. Alternatively, you can go to File->Info->Account Settings->Account Settings. In the Account Settings dialog box, select the Data Files tab, select the desired PST file and click Open File Location.
3. Copy the PST file to the new location. This could be a physical hard drive in your PC, a hard drive on another machine, an external hard drive, a USB memory stick, a CD or DVD, or you can store it in a cloud location such as OneDrive or Dropbox.
4. Close all open dialog boxes.
Backup Outlook Emails by Exporting
Alternately, you can backup Outlook emails by exporting them. Exporting a PST file will not export your message rules, Folder properties such as AutoArchive settings, Send/Receive history in POP3 accounts, and custom views or forms tends to get lost in this process. Exporting a PST file makes sense when you want to backup specific folders such as one you created for all your forwards or your Contacts folder and such. To export a PST:
1. Select the File tab, choose Open and then select Import.
2. In the Import and Export Wizard, select Export to a file and click Next.
3. In the Create a file of type list box, select Outlook Data File (.pst) and click Next.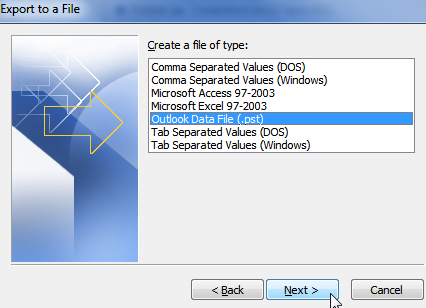 4. In the Export Outlook Data File page, select the folder that you want to export. Check the Include Subfolders check box to export the data in the subfolders of the selected folder. If you want to export all your Outlook 2010 data, select the Mailbox and the Include Subfolders option. Then click Next.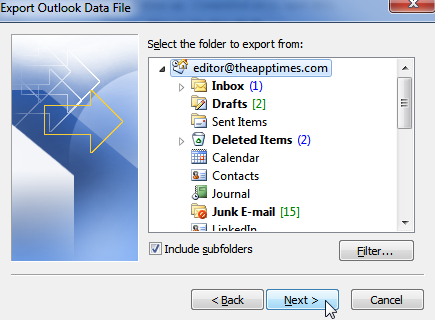 5. If required, click Browse and navigate to the location you want to save the exported data.
6. Specify how duplicate items should be handled and click Finish .
How to Restore Outlook Data in Outlook 2010
To restore Outlook data:
1. Just copy the PST file from the external location and place it in C:\Users\%username%\Documents\Outlook Files\ folder. You can also move it to a location of your choice, but you will have to change the default location via the Registry or Outlook will prompt you for the new location every time you open it.
Important Notes:
If you are restoring the PST file from a CD ROM or DVD, you have to first copy the file to your hard disk and ensure that the Read Only option is disabled.
Never open a PST file by overwriting an existing PST file. This may corrupt your profile and create unnecessary problems.
3. Open Outlook. Select File->Open->Open Outlook Data File.
4. If you're not already there, navigate to the location where your backup copy is located, select it and click Open.
5. Now navigate to your Outlook 2010 Inbox and voila! your Outlook data is restored.
Downloadable: PDF version of Outlook 2010 tutorial
Now that you know how to backup Outlook data and restore it, you can ensure that you never lose your important data ever again.