PDFs are the ultimate business document formats. They are super easy to send to customers or clients, easy to open, scan and print. They are also not easy to edit, which can be a negative if you need to modify its contents. Thankfully there are several tools in the market that allow editing. On tool that works great on the Mac without blowing a hole in your pocket is the PDF Converter OCR from Cisdem. If you regularly work with PDFs, a high-powered software like PDF Converter OCR might just be the solution for you. Here's more on the PDF Converter for Mac.
Cisdem PDF Converter OCR for Mac
If you want to work efficiently with PDFs, you need a tool that does more than just help you create and save the document.
For instance, you may want to extract images from a PDF or convert encrypted files to other file formats. Or you may want to merge multiple documents, but first arrange them in a specific order.
Cisdem PDF Converter OCR for Mac is a feature-rich tool that offers a comprehensive solution for doing various PDF tasks.
It is one of the easy-to-use tools, with a clean interface that lets you convert and create PDF quickly with few clicks.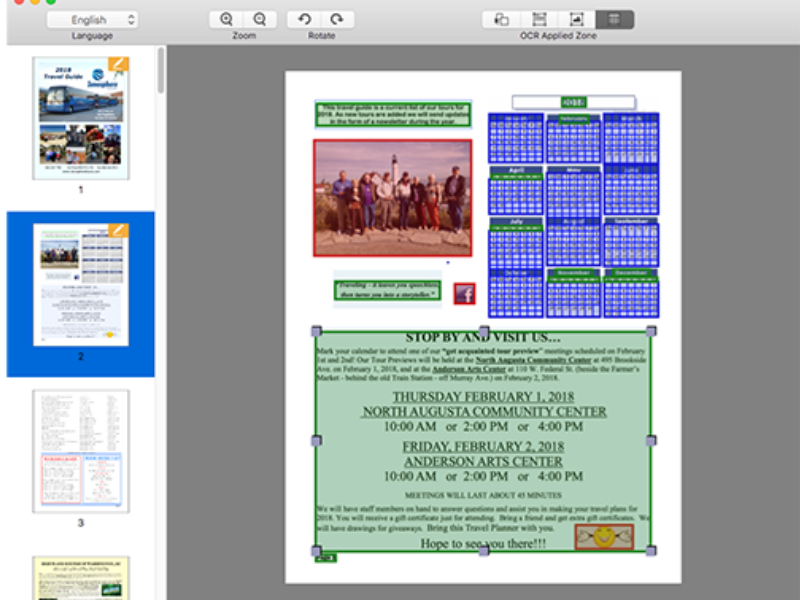 When you open a PDF in the tool, you'll see all its pages listed as thumbnails on the right side of the window. The output formats are on the left side.
The tool allows you to preview the source file or any extracted content in a new window so you know what the PDF will look like before you print it.
If you are working with large files, you can save your work mid-way so you don't lose any of the work should you decide to resume your work later.
OCR Technology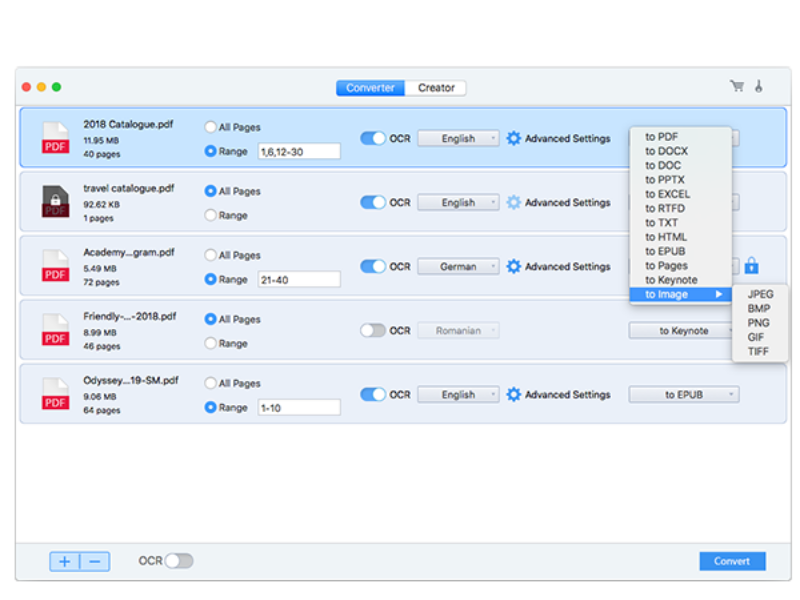 The Cisdem PDF Converter uses advanced OCR technology that can accurately recognize text, images, tables and other content types. It can efficiently convert scanned PDFs into editable, selectable and searchable documents. The full version of the software supports over 200+ languages, which is highly convenient if you are working with clients across borders.
All conversions are done without any loss in the quality of the files. You can convert PDFs to several popular file formats. You can convert PDFs to Word, Excel, PPT, Text, Keynote, RTFD, ePub, HTML, Page, or Images.
Converts Encrypted PDFs
If you must work on password protected PDFs, this tool is capable of unlocking the restriction without data loss and then can convert the encrypted PDFs to other formats.
Creates New Documents
If you create new PDF files, you'll appreciate the fact that you can set the PDF file size (such as A3, A4, Envelope) and the quality of the output before you publish them.
You can also work with multiple files and using drag and drop functionality, designate certain pages to merge into one PDF.
Using OCR PDF on Mac
Cisdem PDF Converter OCR is pretty easy to use. You can download the free trial software to try it out before you buy.
Download Cisdem PDF Converter OCR
Install it on the Mac and run the program.
Run it on mac.
Open a PDF file on the app. You can drag and drop a file or use the + button to add one. You can also open multiple files at one time.
Turn On the OCR button.
You can then select the language, page range and choose the format you want to convert your PDF.
Click Convert to perform OCR on PDF files. The OCR process will be done in a few seconds and the converted file will be available in the output folder.
That's how quick and easy it is to work with OCR in Cisdem PDF Converter OCR for Mac.
Quick Look at the PDF Converter Key Features:
Make PDFs editable & searchable while retaining the original layout
Supports scanning in over 27 languages
Batch convert over 200 PDF files at one time
Easy merging of multiple documents
Preview and select only the specified pages you want to convert.
Easy to Use
Fast Conversion Speeds
macOS Mojave Support
Password protection
Perform offline conversions
Final Thoughts
The Cisdem PDF Converter OCR for Mac is an easy-to-use tool that offers a ton of functionality for working with PDF documents.
The software is free to download and try, while the licensed version is priced $59.99.
Check it out if you're in the market for a dependable PDF converter and OCR tool for your business.
Website/Download Link: CISDEM