There's no point in having a cool smartphone if you don't have a cool ringtone to show off. Although there are ready-to-use ringtones that you can use, there's nothing that identifies you from the rest of the crowd than a custom tune designed to show the real you.  The cool thing about modern phones is that you can set your custom tunes as a ringtone. Although there are several 3rd party apps to help you create a custom ringtone, in this tutorial, I'll show you how to create a custom iPhone ringtone using iTunes in Windows 7.
How to Create a Custom iPhone Ringtone
1. Open iTunes, browse the library and select the song that you plan to set as your iPhone ringtone.
2. Now select the part of the song you want to create as your ringtone. Play the song and note down the start and end times of the song that's going to be played as your ringtone.
3. Right-click the song and choose Get Info.
4. In the iTunes dialog box, select the Options tab.
5. In the Start Time text box, enter the start time of the song that you noted down in step 2.
6. Similarly, in the Stop Time text box, enter the end time of the song that you noted down in step 2.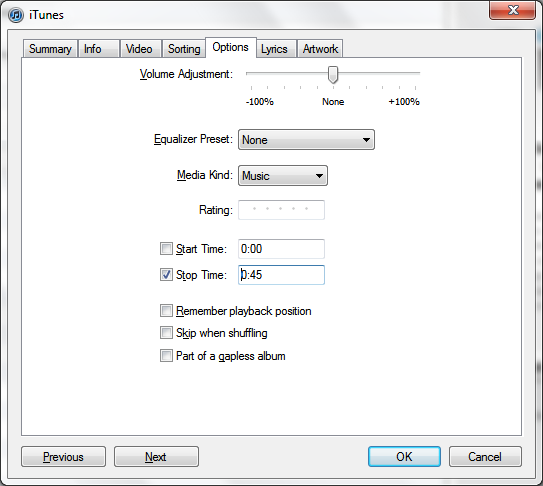 7. Click OK to close the dialog box.
8. Right click the song again and choose Create AAC Version to create a duplicate version of the song.
9. Navigate to your iTunes Music library. By default you should find it in Music->iTunes->iTunes music. If you have moved your iTunes library to another location, remember to navigate to the new location. If you don't really remember where the library is, from the iTunes Edit menu, choose Preferences. Select the Advanced tab. You should find the location of the library in the iTunes Media folder location section.
10. You'll find the newly created song in M4A format. If required, change the name of the song. For instance, append ringtone to the end of the name.
11. Change the file extension to .m4r. In the Rename message box, click Yes to confirm the change.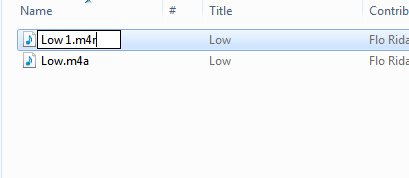 12. When you double-click the ringtone, it will get added to the Tones folder. You can now sync the ring tone to your iPhone.
You can follow us on Twitter or join our Facebook fan page to get tutorials, updates and how-to articles on Microsoft, Google and Apple products.