One of the best ways to create a powerful impression in today's social scene is to make sure that when someone searches your name on Google, they get the best results related to you. Your online identity is important to make a good impression. Whether you are are prospective job seeker, or a business person or entrepreneur, getting yourself noticed the right way is extremely important. One simple tool that can help you create the best impression in Google Search Results is Vizibility.
Use Vizibility to Get the Best Google Search Results
Vizibility is now available as a SearchMe button and if you are a WiseStamp user then you get the added advantage of using the Vizibility SearchMe button as a WiseStamp Email App. You can add the SearchMe button to your Gmail signature and provide instant access to people looking for information about you on Google. Vizibility lets you control what type of information about you is available in online search results so that you can create the best impression the first time someone searches for you online. You also get alerts when someone searches for you, when your business card or resume is scanned, or when your search results change. Vizibility also offers a QR code to help mobile users get instant access to your online identity.
WiseStamp users get a special offer of a free 45-day trial to Vizibility Premier, which offers extra features. To get additional information about the plans and features of Vizibility  click here.
Check out my previous post on How to Create an impressive Gmail Signature with WiseStamp if you're a newbie.
How to Add Vizibility to your WiseStamp Signature
1. In the WiseStamp Editor dialog box, on the Email Apps tab, select Business.
2. In the list box, scroll down and select Vizibility.
3. Click Add App.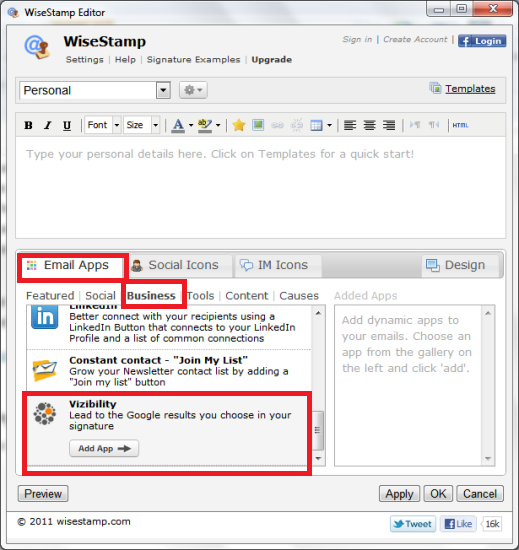 3. Sign up for a Vizibility account and create your Vizibility page. You will get a SearchMe link which looks something like this: http://vizibility.com/YourName.
4. Select an option on the Vizibility design page and click Add.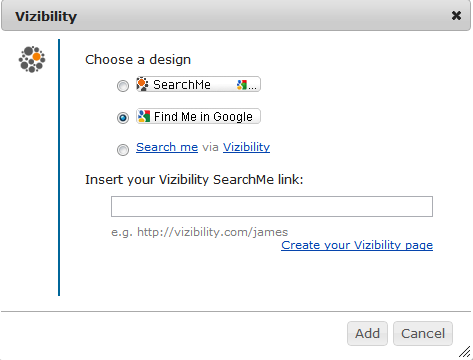 Now you can make a killer impression when anyone searches for you on Google!
You can follow us on Twitter or join our Facebook fan page to get tutorials, updates and how-to articles on Microsoft, Google and Apple products.