Creating and designing a personalized photo calendar for your desk, or for a school project, or as a gift for the holiday season can be done quickly and easily using Microsoft Publisher 2010. In this Office 2010 tutorial, you will learn how to create your own photo calendar.
How to Create Your Own Photo Calendar Using Microsoft Publisher 2010
1. Open Microsoft Publisher 2010.
2. Select the File tab and Choose New.
3. In the Available Templates page, in the Most Popular section, click Calendars.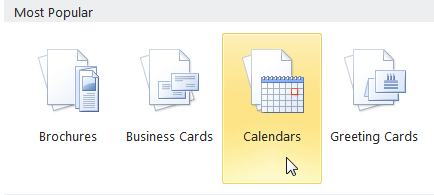 4. In the Templates gallery, select a calendar.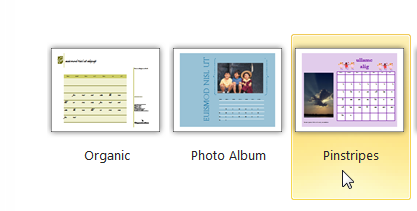 5. If necessary, in the preview pane that is displayed to the right of the gallery customize the calendar by selecting an option.
Click the Color scheme drop-down list and select a template color.
Click the Font scheme drop-down list and select a font.
From the Business Information drop-down list, select Create new and in the dialog box enter details such as job title, business name, business address and so on.
From the Page size drop-down list, select the portrait or landscape view.
In the Timeframe section, select an option.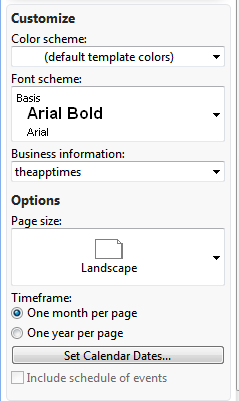 6. In the preview pane, click Set Calendar Dates.

7. In the Set Calendar Dates dialog box, select the year, the start and end dates and click OK.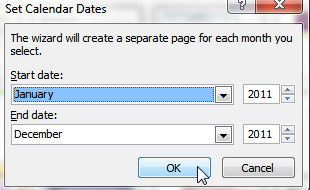 8. If necessary, check the Include schedule of events check box.
9. Click Create.
10. The calendar is now displayed in the Publisher window. Modify the calendar as per your requirements.
Change the color scheme by selecting the Page Design tab and choosing a scheme from the gallery.
Add photos to the gallery by selecting the Insert tab and adding a picture.
Change an existing picture or add your own images/photos by selecting the Picture Tools Format contextual tab and clicking Change Picture.
Add text or captions by selecting the Home page and using the Draw Text Box command.

Once you have made the necessary changes to the calendar, you can print it out. Creating and designing printable calendars with photos can be a fun task for your kids to do during the holidays or as part of their school project. It might also give you the opportunity to spend quality time with your kids and help them design their very own calendars. Maybe you could create one with your Christmas or Holiday photographs. So give it a try and see how it turns out!