When sending email messages using Microsoft Outlook 2010, have you ever found yourself hitting the Send button only to realize moments later that you sent the email to the wrong person? If this situation is familiar to you, you may have tried to quickly recall the message only to realize that the recall feature isn't as reliable as it should be. There's another option that just might help you out in such situations. You can delay the send action by a minute or two so that you can retrieve the email you just sent, fix the mistake and avoid a potentially embarrassing situation. In this tutorial, you will learn how to delay sending Outlook email messages.
Delay Sending Outlook Email Messages Using Rules
1. Select the File tab and choose Manage Tools & Alerts.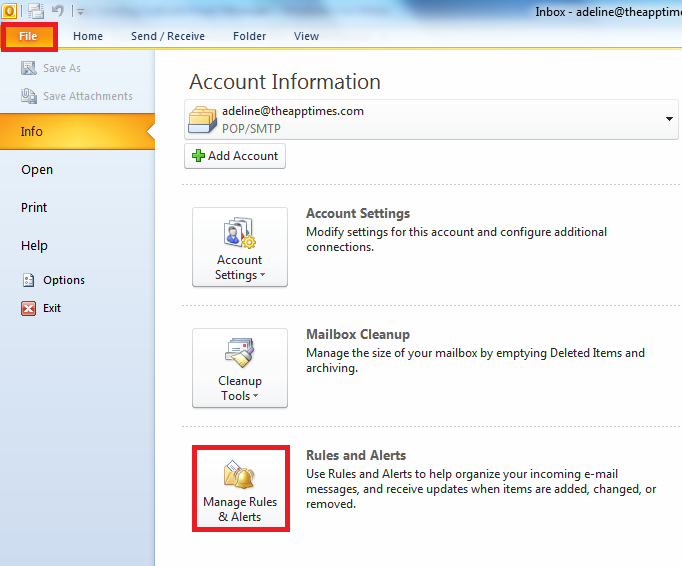 2. In the Rules and Alerts dialog box, click New Rule.
3. In the Rules Wizard, in the Step 1: Select a template list box, in the Start from a blank Rule section, click Apply rule on messages I send, and then click Next.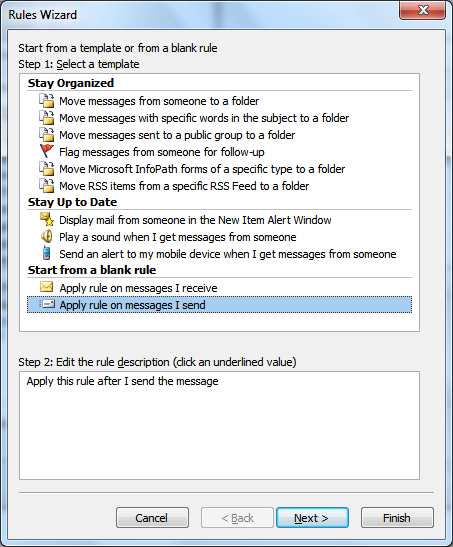 4. In the Step 1: Select condition(s) list box, select an option that best suits you. If you want to set this rule for all your messages don't select any option. Click Next. When you don't select an option a message box is displayed. Click Yes, to set the rule for all messages that you send.
5. In the Step 1: Select action(s) list box, select the defer delivery by a number of minutes check box.
6. In the Step 2: Edit the rule description box, click a number of and enter the number of minutes for which you want the messages to be held before sending.You can delay delivery up to 120 minutes.


7. Click OK and then click Next.
8. In the Step 1: Select exceptions(s) list box, check the options for exceptions that you want and click Next.
9. In the Step 1: Specify a name for this rule text box, type a name for the rule. Check the Turn on this rule check box and click Finish.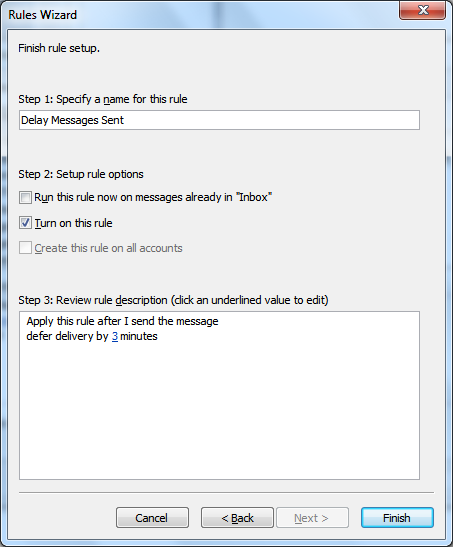 Now when you send a message, it remains in the Outbox folder for the time that you specified. navigate to the Outbox folder, double-click the message that you need to correct, make the necessary modifications and then hit Send again. Remember that when you hit the Send button again, the time delay will still apply. Also ensure that you don't close Outlook for that time period, otherwise you might not send the message at all.