Facebook is gaining a reputation for being indifferent where users privacy is concerned. Although it has made efforts, (after much public outcry,) in keeping users informed of likely privacy concerns that may arise when using new features, the trust factor is still a bit shaky. Take for instance the ability to photo tag users using facial recognition software; that's a sneaky feature that's had everyone concerned about who might end up seeing their photos! Facebook has however, given users the option to prevent auto-tagging. In this tutorial, lets see how to disable automatic photo tagging in Facebook.
How Automatic Photo Tagging Works
When you upload a photo, Facebook uses its facial recognition software to identify faces and automatically suggests that you tag the person. This is a fun way to share images of your friends on Facebook. However, the fun ends when the person does not want a particular photo to be tagged to his/her name. You can prevent automatic tagging of your photos by applying certain privacy settings. This will send a notification to the person who wishes to tag you that you don't want to be tagged in any photo.
How to Disable Automatic Photo Tagging in Facebook
1. Log in to Facebook.
2. Click Account and select Privacy Settings.
3. In the How Tags Work section, click Edit Settings.
4. In the How Tags Work dialog box, click Tag Suggestions. (Notice that it is turned on by default.)
5. In the Tag Suggestions dialog box, click the Enabled drop-down arrow and select Disabled.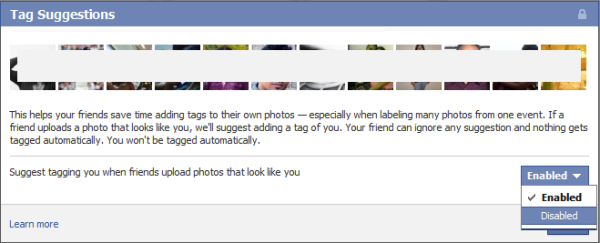 6. Click Okay to confirm the changes.
While Facebook has made efforts to allow you to disable automatic photo tagging, this appears really to be a whimsical excuse of a privacy setting. It still does not entirely prevent users from going ahead and tagging you. Especially if the tagging is done manually. At most, you can open the image and click the text remove tag to disable manually tagged images, or maybe you could call or email people who've tagged you asking them not to tag you, which sounds quite lame.
However, for all the noise being made about Facebook's attitude toward privacy settings, I don't see people moving away from Facebook, for other alternatives such as the YapTime, or Google +, which must be the reason why Facebook still continues to flaunt privacy issues and come out with lame privacy protection features such as this one.
What do you think folks? The comments section is all ears.
If you love reading our posts, be sure to join us on Facebook and share your favorite posts with your friends.