By default, when you close the last open tab in your Firefox browser the entire browser closes. If you find that rather annoying and want a new tab to always display when you close all other open tabs, you can tweak the Firefox settings to make that happen. Here's a step-by-step guide to keep Firefox open when you close the last open tab.
How to Keep Firefox Open When You Close the Last Open Tab
1. In the Firefox address bar, type about:config and press Enter.
2. You will see a message indicating that this action might void your warranty and you should continue only if you are sure you know what you're doing. Click I'll be careful, I promise!
3. In the Search box at the Config screen, type closeWindowWithLastTab. You will see a search result that looks like this : browser.tabs.closeWindowWithLastTab. The Status indicates this is a default function that is set to a value of True. What this does is close the browser when you close the last open tab. You'll want to turn this setting off.
4. Double click the search result browser.tabs.closeWindowWithLastTab. You'll see that the value has now been changed to false and the status is no longer default.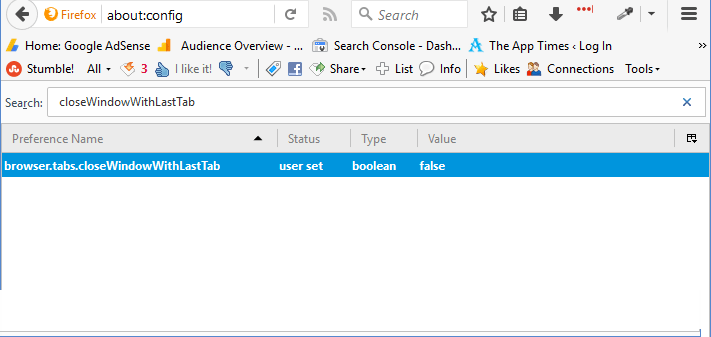 Close the window and any other open window.
You should be able to see a new blank tab open up when you exit the last open tab.
That's it!
You no longer have to be bothered with reopening Firefox when you exit the last tab.
If at any time you change your mind and rather have Firefox exit when you close the last open tab, you can go back to the Config page, search for browser.tabs.closeWindowWithLastTab and double-click it to return the value to true and back to the default status.
For more Firefox tweaks and customization tutorials, be sure to visit our Firefox Tips Archives section.