It' s quite simple, really. What users love most about Firefox, is its ability to use add-ons and extensions while at the same time ensuring pretty quick load times. With the explosion of social media, browsers such as RockMelt have made integration of social media a part of its browser settings. Firefox 4 users can still perform some of the social media functions using the HootBar (formerly TwitterBar) add-on. In this Firefox 4 tutorial, you will learn how to post messages to Twitter and other social networks such as Facebook, LinkedIn, Foursquare, Wordpress, Ping.fm and more.
How to Post Messages to Twitter and Other Social Networks
Install the HootBar in Firefox 4
1. Navigate to the Firefox add-ons gallery and search for the HootBar.
2. Click Add to Firefox.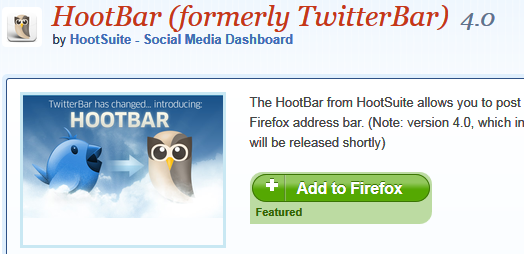 3. Click Allow to grant permission and then click Install Now.
4. Restart the browser to complete the installation.
5. Start your social media integration.
How to Tweet a Page Link in Firefox 4 Using HootBar
1. Display the page link you want to tweet.
2. Click the HootBar Twitter icon in the address bar. A link to the page you're viewing with be posted to Twitter.

How to Tweet a Message in Firefox 4 Using HootBar
1. Type your message into the address bar.
2. Click the HootBar Twitter icon.
How to Tweet Using Multiple Twitter Accounts
1. In the Address bar type the alternative Twitter account followed by –account and you'll be prompted to sign in to that account.via Twitter.
2. Send out your tweet as above.
How to Send Messages to Multiple Social Networks
Well, you need to sign up to the HootSuite app, which has a basic and a pro plan. The basic plan has limited features and is free, while the pro package comes with a lot more features at $5.99/month.
To send messages to multiple social networks:
1. In the address bar, type –hoot.
2. The Create New Message dialog box is displayed. Enter your message and hit send. You can also type the message in the address bar followed by –hoot and then customize the message in the Create New Message dialog box .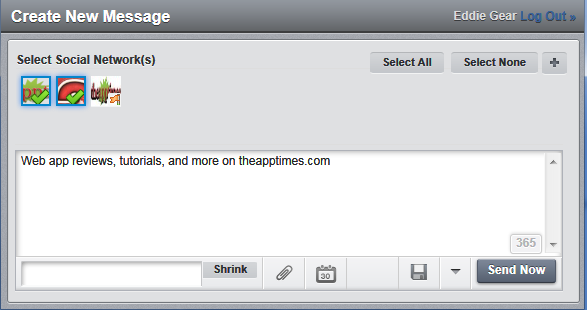 3. Select the social profiles you want to send out the message to and click Send Now.
How to Customize the HootBar
1. In the address bar, type –options.
2. The HootSuite Bar Options Dialog box is displayed. Apply the desired changes and click OK.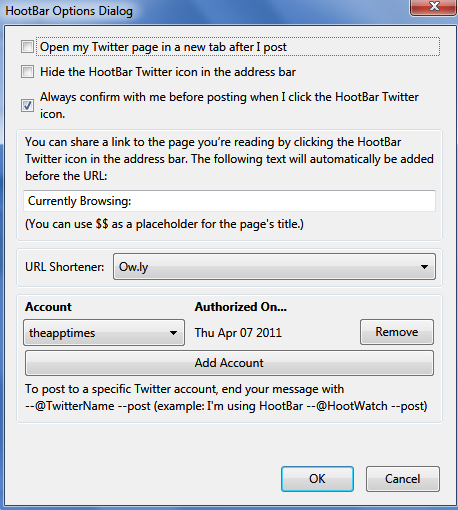 HootBar, combined with HootSuite provides a ton of good solid features that will help Firefox users immensely. If you're a Firefox user, and still haven't tried out this tool, here's your chance.