One of the biggest annoyances with your smartphone contacts is that you always end up having one or more duplicate contacts, with different phone numbers. This is because when you set up your Android phone, you import your contacts from a previous phone backup, from another email account or from a social media account, with the result that the same contact is synced multiple times, creating duplicate entries. If you're facing this issue time and again, this guide will show you how to remove duplicate contacts on Android.
How to Remove Duplicate Contacts on Android
Most Android smartphones that don't run stock Android offer their own custom de-duplicator solution to remove duplicates. For instance, if you're using a Samsung smartphone, the Contacts app has a setting called Manage similar contacts that lets you find and merge duplicate contacts with ease. If you have a HTC device, the People app has a Manage Contacts setting that lets you merge and remove duplicate contacts. Xiaomi's smartphone also offers a similar option to merge duplicate contacts.
In fact, stock Android also has an option to merge contacts in its Contacts app, but its just way too tedious to use, so let's take a look at some other options.
How to Remove Duplicate Contacts Using Google Contacts
If you have a Google account and have saved all your contacts in your Google account, you can remove duplicates using your web browser.
1. Make sure you are signed into your Google account.
2. If not, go to Google Contacts Preview and sign in with your Google credentials.
3. You will be taken to the Contacts Book in your Google account and if you have any duplicate entries in your book, it will show up right away with a message on the top of your browser indicating that you have duplicates.
4. On the left pane, click Find duplicates.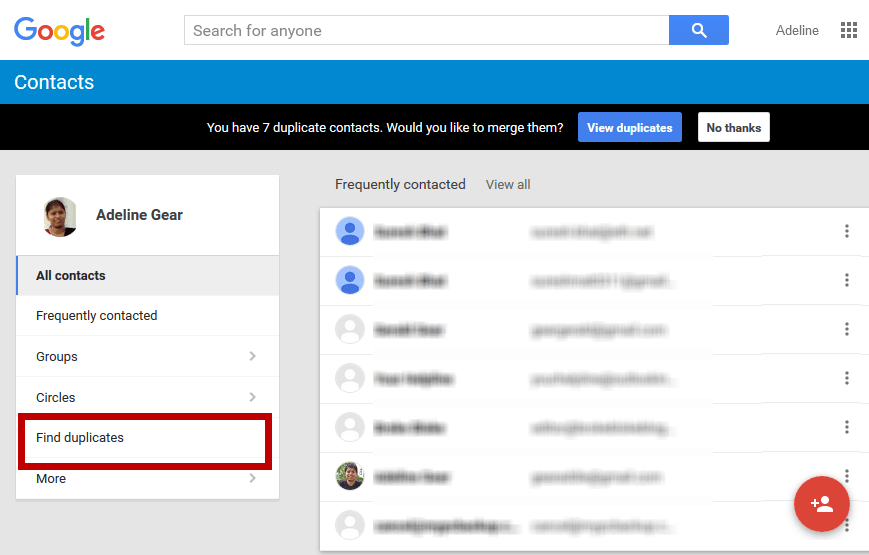 Alternatively, click the View duplicates button on the Ribbon to view all the duplicates and take action on them individually. If you want the name to be merged, click Merge at the top right corner of the screen or click Dismiss.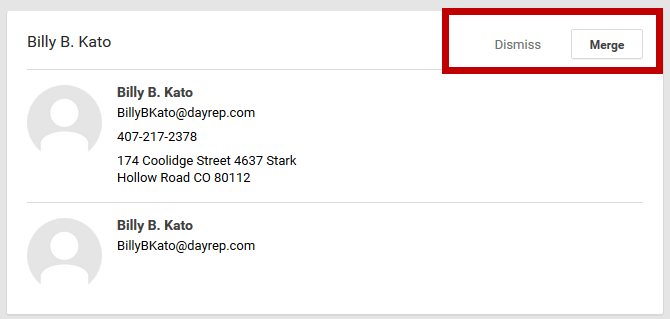 How to Remove Duplicate Contacts Using Duplicate Contacts Manager
You can also use a third party app to remove duplicate contacts from your Android. One note of caution though. Make sure that you make a backup of your contacts before using any third party app. You can do this by opening your Contacts and from the settings, select Import/Export and exporting to a .VCF file.
The Play Store offers a number of third party apps but the one that did the job for us quite easily is Duplicate Contacts Manager, which you can pick up from the Play Store by clicking here.
1. Install Duplicate Contacts Manager and open up the app.
2. On the home screen, select your country with country code and hit Start.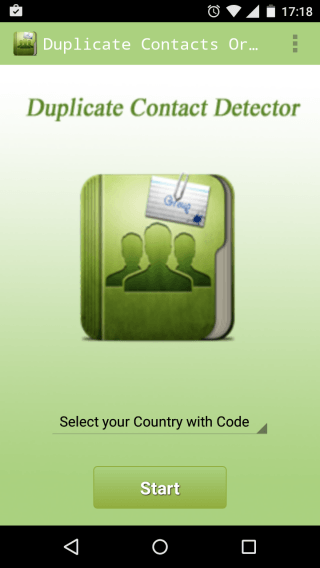 3. The app will automatically advise you to create a backup of your contacts. Go ahead and tap Yes.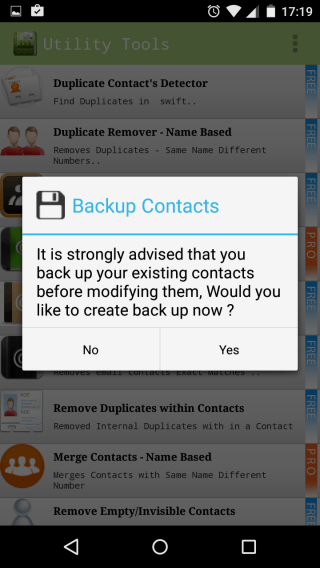 4. When the backup is completed, you will receive a message stating that the backup is complete.
5. You will now see a list of options by which you can remove duplicates. Options include removing by name, number, unused email contacts and so on.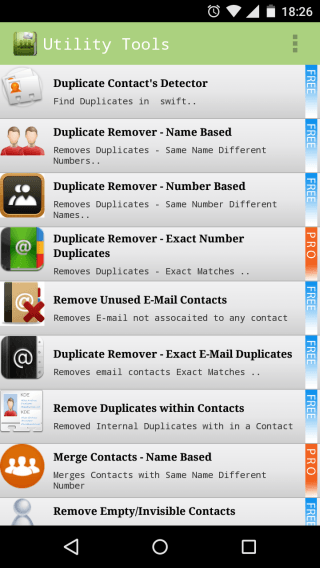 6. Select an option. For example, select the option to remove by number. What this does is look for duplicates with the same number but different names. The app will quickly run through all the contacts and list out the phone numbers that match the search.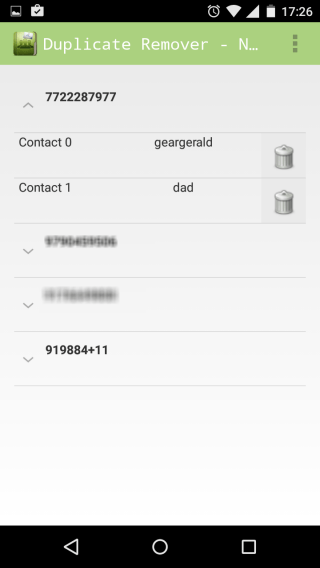 7. Select each number and then remove the duplicate entry.
Other Features of Duplicate Contacts Manager
Duplicate Contacts Manager has a number of great features, some of which are accessible only if you purchase the Pro version. Here's a quick look at the feature list.
Duplicate Contacts Detector (Free): Detects all duplicates contacts on your phone;
Duplicate Contacts Remover (Pro) : Removes exact number duplicates
Duplicate Contacts – Email Based (Free) : Removes exact email contacts duplicates
Duplicate Contacts – Number Based (Free): Offers the option to remove the duplicate name and retain the correct name of your choice
Duplicate Contacts – Name Based (Free): Offers the option to select and retain the correct name – number combination
Merge Contacts (Pro): Allows you to merge multiple contacts with same contact name but different numbers
Email Contact Remover (Free): Remove email contacts you synced with Gmail or Outlook
Contacts Exporter (Free): Option to export all your contacts details in PDF,CSV and Txt Format.
Import Contacts from Excel and CSV (Free): Option to auto import contacts from a xls , csv .
Contacts Remover :(Free) Option to remove all contacts in bulk
Duplicate contacts within contacts (Free): Removes duplicate data within a contact
Remove Invisible Contacts (Free): Removes invisible contacts
Do you have duplicate contacts on your Android? Try these simple methods to remove duplicates and clean up your contacts list. If you have a better solution, please do share them with us via the comments.