WhatsApp is one of the most popular applications in use today. If you are someone who cannot live without it, then you'll probably have a hard time accessing your WhatsApp data when you get yourself a new smartphone. MobileTrans is a handy software designed to help you transfer WhatsApp data between Android and iPhone without too much effort. Here's how you do it.
How to Transfer WhatsApp Data from Android to iPhone
MobileTrans lets you transfer WhatsApp messages, photos, videos and attachments across phones in just a single click. It works on phones running Windows, Android or iOS so data transfer is not limited to just Android and iPhone. The best part is that you can not only move WhatsApp data across devices, you can move other stuff too (such as memos, apps, notes, photos, videos, messages and contacts).
1. Download MobileTrans on to your PC. (Click here to download.)
2. Connect your Android and iPhone to the computer.
3. Launch MobileTrans on your PC.
4. On the MobileTrans home screen, select WhatsApp Transfer.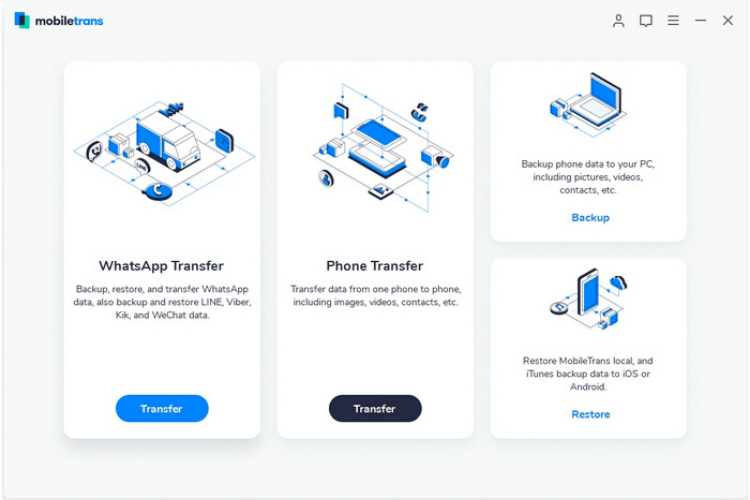 5. In the next screen, on the left pane, you will see a list of chat apps such as KIK, LINE, Viber and WeChat. Select WhatsApp.
5. On the right pane of the MobileTrans UI, you will see 3 options including Transfer WhatsApp Messages, Backup WhatsApp Messages and Restore WhatsApp Messages. Select Transfer WhatsApp Messages.
6. In the next screen, Mobile Trans will display both your mobile phones along with a list of WhatsApp data that is to be transferred. MobileTrans will automatically detect and select a source device and destination device.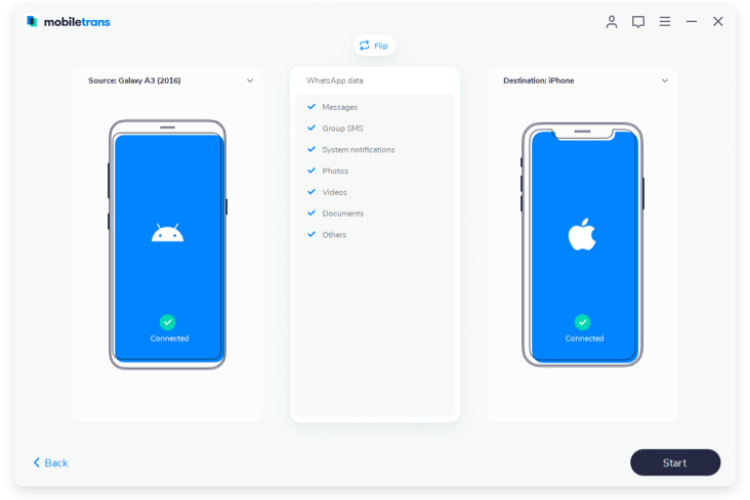 If you want the data to be moved from the Android to iPhone, but MobileTrans displays iPhone to Android, just click Flip to switch phones. Then, click Start to begin the transfer process.
7. Wait for a few minutes. A pop up will be displayed when the transfer is complete.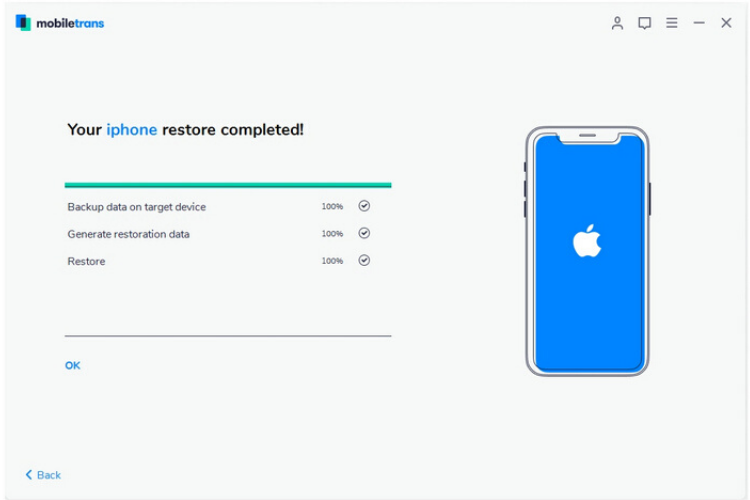 You can now safely disconnect your phones and check if all data has been moved.
Just remember, when you transfer data from one phone to the other, all previously existing data on the iPhone will be wiped clean. If you have used WhatsApp on your new iPhone, all the data will be deleted. If necessary, you can use MobileTrans to back up that data for later viewing.
That's it!
Quick Look at the Key Features of MobileTrans
Backup to Computer
If you want to retain a copy of your mobile data on your computer or an external hard drive, MobileTrans makes the process easy. You can free up storage space on your phone and read WhatsApp messages on your computer without having to put them back on your smartphone.
Supports Multiple Devices
MobileTrans works on a wide range of Apple devices, including the iPad, iPod Touch and the iPhone. It also works on Android and Windows phones.
And it doesn't just help to transfer data from WhatsApp, it also works on other popular chat applications such as WeChat, Viber, LINE and Kik, among others.
Restores WhatsApp Data Across Devices
If you choose to move WhatsApp data from one phone to another and then for whatever reason, want to restore the data back on the old phone, you can do that too! Again, this is a straightforward, one-click process.
Final Thoughts
MobileTrans offers a hassle-free way to move or transfer WhatsApp data from Android to iPhone or across mobile devices. The software is priced between $29.95 and $39.95 depending on what features you need. If your WhatsApp data is very important to you, you may find value in picking up MobileTrans. Check it out and tell us what you think!