If you have a number of Excel workbooks saved on your computer and need to open up a specific workbook, say a workbook containing sales data for the last three years, would you be able to select exactly the right document the first time around? To make it easier for you to select the right document, Excel provides a simple option that lets you save the workbook as a thumbnail. What this does is that it enables you to view a thumbnail preview of the file before opening it. This saves you the trouble of having to open one or more files before picking up the right file. In this Excel tutorial, you will learn how to save thumbnail preview of Excel workbooks.
Note: This activity was performed on a device running Excel 2016.
How to Save Thumbnail Preview of Excel Workbooks
1. Select the File tab.
2. If necessary, select the Info option (in Excel 2016) in the Backstage view and click Show All Properties.
3. From the Properties drop-down list, select Advanced Properties.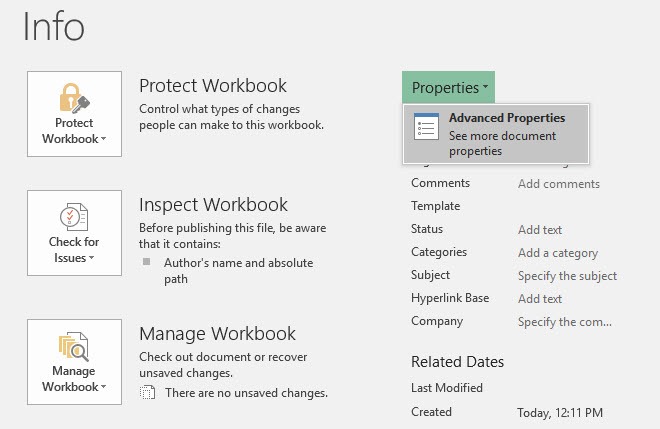 4. In the [File name] Properties dialog box, select the Summary tab.
5. Check the Save Thumbnails for All Excel Documents check box and click OK.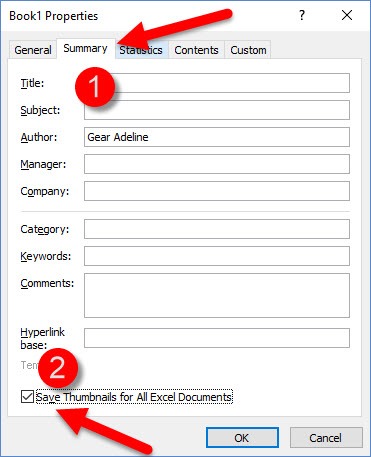 6. In the Backstage view, click Save or Save As to close the file.
7. Navigate to the location where you saved the file. You will now be able to view the thumbnail image. This thumbnail preview will also be available when you use the Open dialog box to open the worksheet.
If you have not used this neat Excel feature, check it out and let us know if it has simplified your search for the right document.
If you found this tutorial helpful, be sure to read all our tutorials in the Learn Excel series. If you want to learn Excel from scratch, consider taking up our Udemy course, Excel 2016 for Beginners, which is available at a nominal price of just $10.