When you're working on the go, the one thing you cannot do without is a powerful battery pack to power all your mobile gadgets. Hyper whose Apple accessory HyperJuice made a big splash on Kickstarter last year is finally available for purchase. Here's more on the world's most powerful battery pack that will ensure you never run out of power wherever you work from.
HyperJuice Battery Pack – One to Own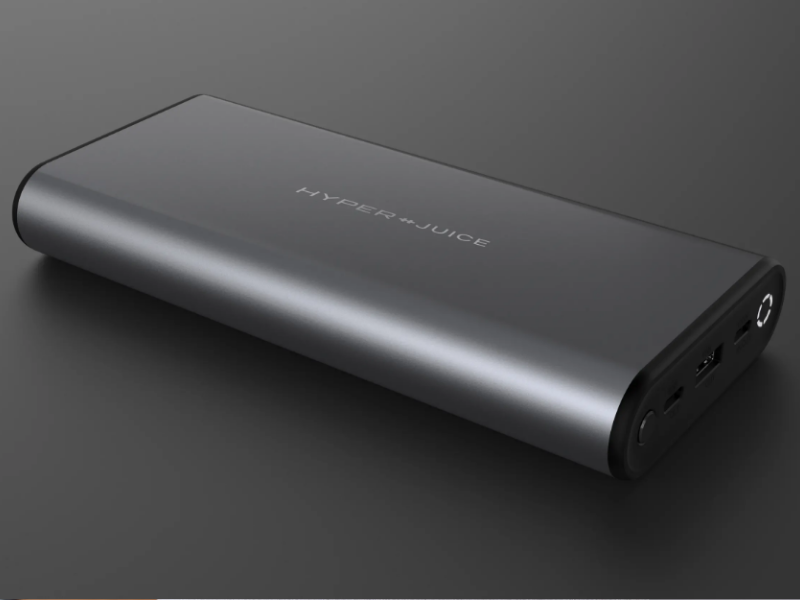 The HyperJuice is a powerful 27000 mAh capacity battery sporting two USB-C Power Delivery 3.0 profiles (100W and 60W) in a single battery pack. It also offers a powerful 18W USB-A Qualcomm Quick Charge 3.0 port for mobile devices. That's 3 powerful fast charging ports in one device.
Simultaneous Quick Charging
The HyperJuice can Quick Charge a large laptop like a 15″ MacBook Pro, a midsize laptop like the 13″ MacBook Pro and a mobile device like the iPad or iPhone, all at the same time.
It can also charge other devices like cameras, GoPros, headphones, speakers, VR headsets, Nintendo Switches and drones. It is also the only external battery pack in the world that can power the Wacom MobileStudio Pro 16, which requires 100W of power.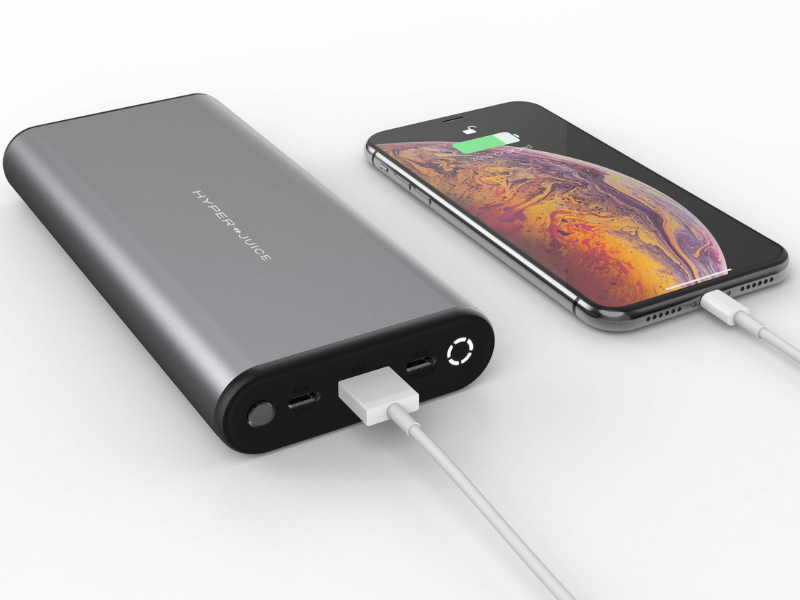 The battery pack has the maximum 27000mAh battery capacity, but it is TSA/EASA approved, meaning that you can safely take it with you on your air travels.
For all its capacity, HyperJuice only weighs 550g, making it the only accessory need to carry to power all your devices wherever you go. It easily fits into a pocket and you can carry it in one hand comfortably.
Recharging HyperJuice
HyperJuice takes about 1 hour to fully recharge the 27000mAh capacity battery from empty to full. It also supports pass through charging, allowing you to charge your devices and HyperJuice at the same time through a single power outlet.
Compatibility
HyperJuice is compatible with the MacBook Pro 2016 or later, MacBook Air 2018 or later, 12" MacBook, iPad, iPhone and any USB-C or USB-A device.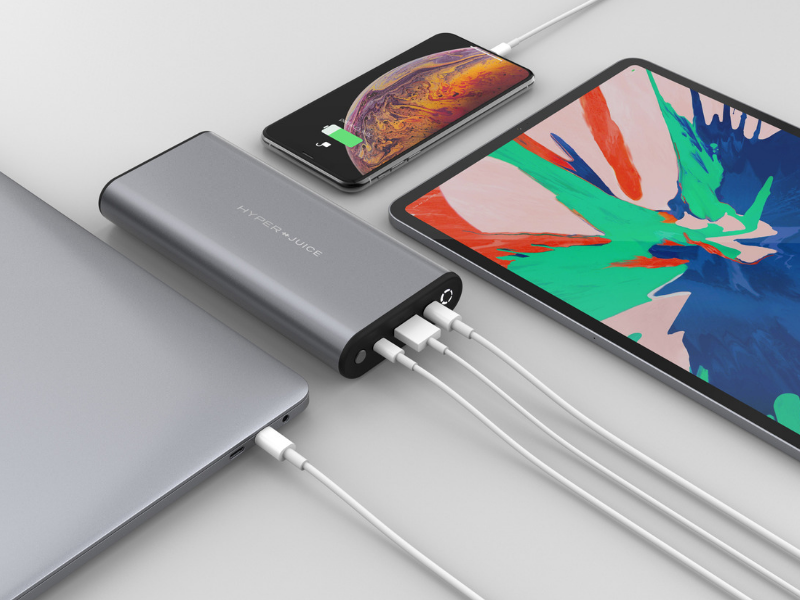 Key Features of HyperJuice
Sports 2 USB-C PD ports (one 100W output, another 60W output)
100W USB-C port is both input and output
One 18W QC 3.0 output USB-A port
27,000 mAh capacity
Maximum Power Output: 130W
Maximum Power Input: 100W
Recharges a 15-inch MacBook Pro twice
Can simultaneously charge MacBook Pro, iPad Pro, and iPhone
Time to full charge from empty: 1 – 1.5 hours
Dimensions: 7.2″ x 3″ x 0.84″ / 183.2 x 77.1 x 21.3 mm
Weight: 19.4 oz / 1.2 lb / 550g
Aircraft grade aluminum enclosure
Airline safe
Safety: Over current/voltage/temperature, short circuit protection
Summary
The HyperJuice is retailing for $249.99 on the official website. Check it out if you are looking for a one stop solution for charging all your Apple devices and other tech gadgets.
Buy the HyperJuice Battery Pack