Browser extensions are great customization tools that enhance your web browsing experience. If you're using Google or Firefox online, chances are you already have handy extensions plugged in to the browser to help you read something later or save your passwords with ease. You can do the same with your default iOS browser too. In this post, I'll show you how to install Safari browser extensions on your iPhone so you can enhance your mobile web browsing experience as well.
How to Install Safari Browser Extensions on Your iPhone
To install a Safari extension on an iPhone, you need to download the relevant app from the App Store. You'll find all of Safari extensions available in the Safari Extensions Gallery, or you can search for them in the App store from your iPhone itself. The extensions are categorized into the following categories mentioned below:
Productivity; Social Networking; Security; Entertainment; Bookmarking; Search Tools; Developer; Shopping; News; Translation; Photos; URL Shorteners; RSS Tools and Others.
The process to install an app extension differs in each case, but I'll show you an example of how to install a few of them.
How to Install Pocket Extension for Safari
Pocket is a fantastic app that allows you to quickly save, discover, and recommend interesting stories to your followers.
1. Open Safari and tap the Share button on the bottom center of your screen. It's an icon with an upward facing arrow inside a box.
2. Swipe to the end of the sharing app icons at the top and tap More.
3. You will see a list of activities, some of them enabled and some disabled. Toggle the Pocket button to green to enable the Safari extension.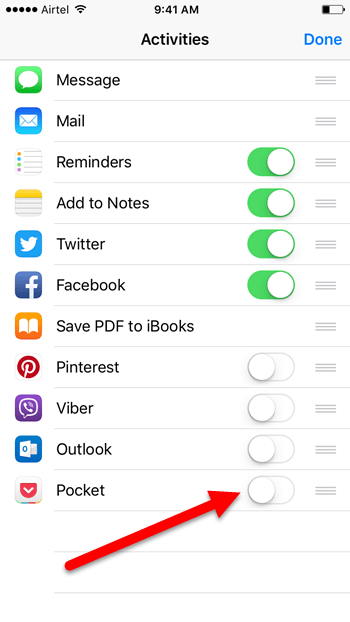 4. Tap Done.
You can do the same process for other Safari extensions like Buffer, Evernote Web Clipper and Pin It.
How to Install 1Password Extension for Safari
1Password is a password manager app that remembers all your passwords and other sensitive information using the concept of one master password that only you know. Once you have the 1Password app installed on your iPhone:
1. Go to Safari and tap the Share icon.
2. Swipe to the end of the icons in the second row and tap More.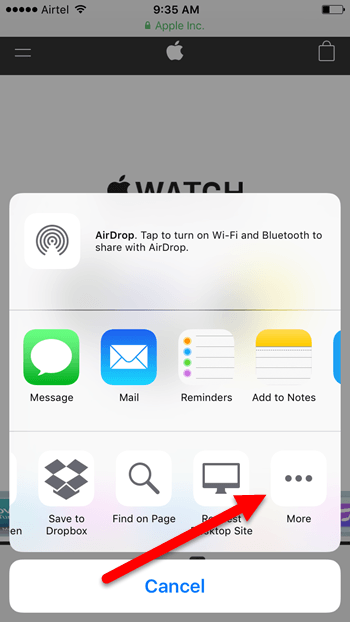 3. The 1Password extension will be available. Toggle it to green to activate it.
4. Tap Done.
How to Manage Safari Extensions from iOS Settings
Some Safari app extensions can be managed from the iOS Settings. One example is Adblock Plus, which is an app that lets you browse the web securely, killing those annoying ads that spoil your browsing experience, while saving data and battery. If you have Adblock or similar type of content blocker installed:
1. Go to Settings, scroll down and tap Safari.
2. Tap Content Blockers and wait for a few seconds to enable Adblock Plus.
How to Install DuckDuckGo Extension for Safari
Search tool extensions like DuckDuckGo and AnySearch can also managed from the iOS Settings.
1. Go to Settings, Safari and under Search tap Search Engine.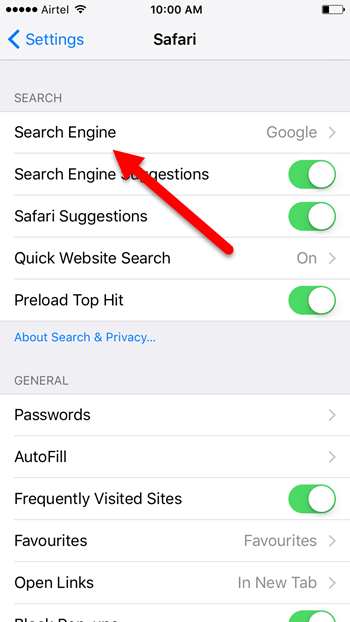 2. Then tap your preferred search tool, in this case DuckDuckGo.
And you're done!
So you may have extensions available by default on your iOS device, which you can just activate or you can use the options in the Share section and settings to activate them.
Check out our Archives section for more cool iOS tutorials.