Apple fans looking for a replacement for their older devices can now celebrate the launch of the iPhone 7 and iPhone 7 Plus. Apple launched the feature phones yesterday along with the Apple Watch Series 2 and a set of wireless headphones called AirPods.
The iPhone 7 comes with a 4.7-inch screen while the iPhone 7 Plus features a 5.5-inch display. Both phones have some new features including water and dust resistance, a major camera upgrade with a Dual Lens system on the iPhone 7 Plus that lets users take improved long-range photos, and a redesigned pressure-sensitive home button.


The headphone jack has lost ground to earbuds that will connect through the phone's charging port. Apple also announced a set of wireless headphones called AirPods that won't be part of the iPhone package but can be purchased separately at an additional cost.
The iPhone 7 will prelaunch on September 9th and become available on September 16th. It costs about $32.41/mo. with the iPhone Upgrade Program or you can pay in full from prices starting from $649 for the 32GB model.
In UK, the iPhone starts at £599 for the 32GB model. India will get the device a week later on October 7th at prices starting Rs. 60,000.
There will be no 16GB variant.


Best Features of the iPhone 7 and iPhone 7 Plus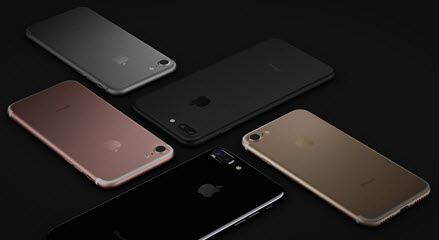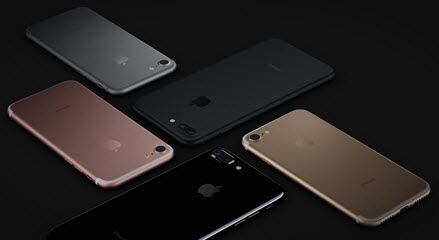 Stereo speakers twice as loud as previous models
Dust and water resistant
Longer battery life: iPhone 7 battery betters the iPhone 6 by 2 hours while the iPhone 7 Plus battery bests the 6 Plus by at least 1 hour.
New color variants: Jet black, black, gold, silver, rose gold
A10 Fusion chip with a 64-bit four core CPU
Storage: 32GB, 128GB, 256GB
Cost: Starts from $649
Dates: Ordering begins on Sept 9, shipping on Sept 16
Camera : Comes with optical image stabilization and a 6 element lens with f/1.8 aperture. The iPhone 7 has a single lens camera while the 7 Plus has a dual lens camera. The iPhone 7 Plus also includes a new Portrait effect to give more depth of field to captures.
Headphones : Headphones will connect via the Lightning port. A free set comes with the phone, along with an adaptor for traditional 3.5mm jack headphones.
New AirPods – These wireless headphones come attached with a microphone. They have infrared sensors that can detect when they are in your ears to start playing media. A W1 chip will connect the AirPods to other iOS  devices. The AirPods battery life is expected to last 5 hours. However a charging case that comes along with the wireless headphones can hold an additional 24 hours of charge.
Apple Watch Series 2
Apple also launched Series 2 of Apple Watch bringing GPS connectivity and a more powerful processor to boot. Here are its top features.
Water resistant up to 50 meters
Dual core processor making it 50% faster
Two times brighter display
Built-in GPS so you can run without your phone
Pokemon Go Apple Watch app
Stunning white ceramic special edition model
Prices starting $269
Apple AirPods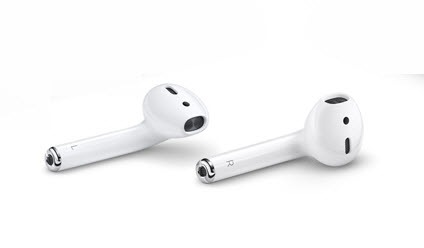 Apple didn't just stop with announcing the new iPhone 7 and Apple Watch Series 2,. It also unveiled a set of wireless headphones called AirPods. The Airpods will not be part of the iPhone 7 shipment. Instead, users will receive headphones that will connect to the Lightning port along with an adapter that makes the phone usable with traditional earphones.
But users can also pick up AirPods, which are a set of wireless headphones that come with an attached microphone to allow for hands-free calling.
AirPods require a one-tap setup. Then they are automatically on and always connected. To use them, you simply place them in your ears. They can sense when they're in your ears and will pause when you take them out. You can also double-tap an AirPod to activate Siri and dish out your voice commands.
AirPods offers up to 5 hours of listening time on one charge. They also come with a charging case that contains several additional charges that will offer more than 24 hours of listening time. If you need a quick recharge, you can pop it in the case for just 15 minutes and get 3 hours of listening time.
If you need to check the battery levels, just hold the AirPods next to your iPhone or ask Siri "How's the battery on my AirPods?"
AirPods will become available starting October.


For more information visit the official website of Apple.
What do you think of the iPhone 7 and iPhone 7 Plus? Will you be pre-ordering your device this year?