The 6th digital expansion pack for Star Wars The Old Republic has finally arrived. Its called Knights of the Eternal Throne and it continues the story from the previous expansion, Knights of the Fallen Empire. Here are all the details.
Knights of the Eternal Throne Pack Details
For the first time ever, in Knights of the Eternal Throne, players get to chance to fight to rule the galaxy. As the Outlander, you get to hand pick your team of allies and fight against the powerful and dangerous families of the Eternal Empire. You must make choices that will determine who lives, who dies, who rules the galaxy. Your fight will influence the galaxy for the light or dark side of the Force.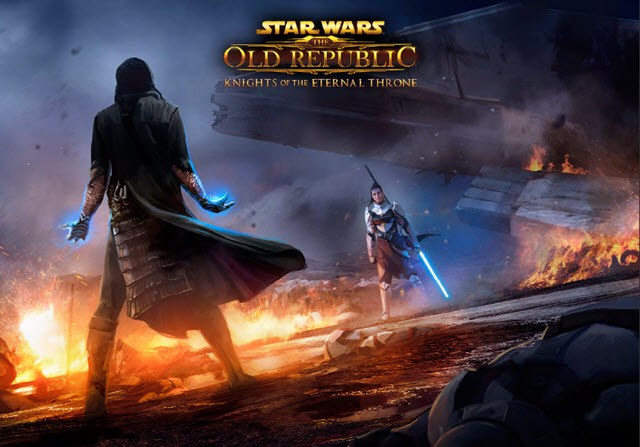 But taking control of the throne is just the beginning of the plot. Once conquered, players must battle hard to keep the throne. They must exercise their power and influence using a brand new feature in the game called Galactic Command. This is a progression system with fast paced combats and multiple challenge modes.
Another new feature in the expansion pack is Uprisings, where players can join 3 allies to confront and battle enemy factions. Plus the feature awards players the opportunity to earn rare and powerful rewards. Players must take sides and choose to battle on the side of the dark or on the side of the light. Depending on their choice and which side reigns supreme, the battles will play out accordingly across the galaxy.
Uprisings gives players the chance to come together to take part in big group battles. Such gameplay can shift the balance of the Force to whichever side they are on.
Here's the brilliant cinematic trailer for Knights of the Eternal Throne.
Knights of the Eternal Throne features nine chapters and includes three new challenge levels – Story, Veteran, or Master mode. If you are a huge fan of the franchise, and are a premium player, you can download the expansion pack for free.
Visit the official website to learn more about the game.