Helldivers 2, the highly anticipated sequel to the critically acclaimed cooperative shooter game, is set to launch this year on PS5 and PC. The game promises to deliver even more frantic action and intense gameplay than its successful predecessor. Developed by Arrowhead Game Studios, Helldivers 2 will once again let players team up with friends to take on massive alien forces in a fight for the survival of Super Earth. Here's everything you need to know about this exciting release, including its story, gameplay, weapons, cooperative elements, and much more.
Helldivers 2: A Battle for Super Earth's Future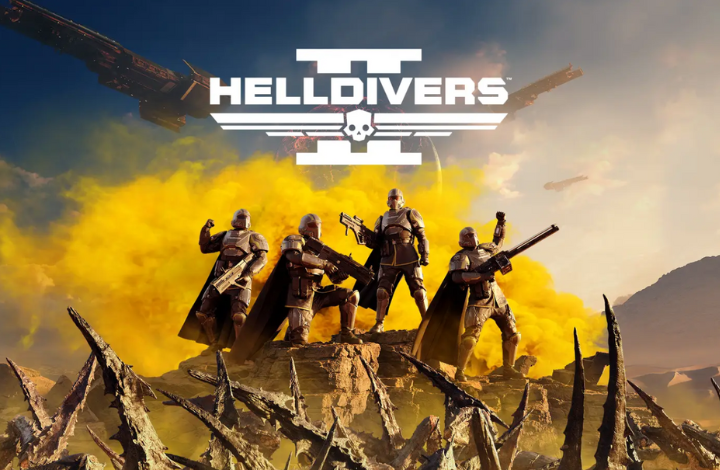 In Helldivers 2, players continue the fight for freedom, peace, and Managed Democracy, which are the key pillars of the Super Earth civilization.
This time, even more dangerous alien civilizations are conspiring to destroy Super Earth and its values. As an elite soldier, your mission is to spread peace, liberty, and Managed Democracy across the galaxy while combating the alien menace that threatens the safety of your home planet.
The Galactic War Rages On
The Helldivers' role as galactic peacekeepers is more important than ever in this new installment. Players will need to protect Super Earth, spread the message of Democracy, and liberate hostile alien planets by force. The stakes are higher than ever, and the success of the Helldivers' mission will determine the fate of the entire galaxy.
Overwhelming Foes and Overpowered Weapons
To ensure victory against the relentless alien forces, players will have access to an impressive array of powerful weapons and customizable loadouts. Not only will you have various superpowered primary weapons at your disposal, but you'll also be able to call on stratagems during play, providing even more firepower and tactical options.
Stratagems is the Key to Victory
Stratagems are powerful abilities that can turn the tide of battle in an instant. Whether you're facing a massive onslaught of alien Terminids or need to lay down a defensive perimeter, stratagems offer the perfect solution. From dropping a 500KG bomb to deploying an Anti-Personnel Mine Deployer, players will have a multitude of offensive and defensive tools to choose from.
Upgrading Your Arsenal
As you complete missions and progress through the game, you'll be able to upgrade your ship and build an even more impressive arsenal of weapons and stratagems. Everything from shield generators to turrets to large-scale airstrikes can be used to give your team the upper hand against the relentless alien forces.
The Importance of Cooperation
At its core, Helldivers 2 is a cooperative shooter that emphasizes teamwork and collaboration. Arrowhead Game Studios has made sure that the game features their best cooperative gameplay yet, allowing up to four friends to join forces and wreak havoc on the alien scourge.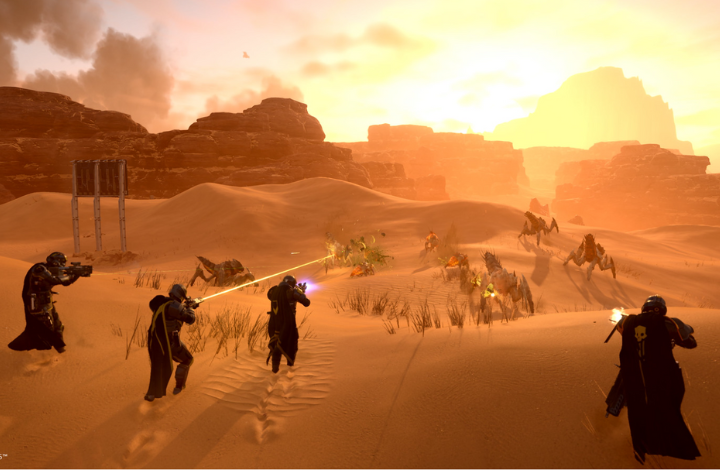 Synergize Loadouts and Strategies
In Helldivers 2, players will need to work together to devise the best strategies and coordinate their loadouts for maximum efficiency. By combining different weapons, stratagems, and abilities, teams can create powerful synergies that will help them dominate the battlefield.
Communication Is Key
One unique aspect of the Helldivers series is the inclusion of friendly fire. In Helldivers 2, friendly fire is always on, making communication and coordination even more crucial. Players will need to ensure that their stray bullets and mines only take down the real adversaries and not their teammates.
PlayStation 5 Enhancements
As a cooperative shooter launching on the PS5, Helldivers 2 will take advantage of the console's powerful hardware to deliver stunning graphics and improved performance. Players can expect faster load times, ray tracing capabilities, and support for up to 4K resolution, making the frantic action and intense battles even more immersive.
DualSense Controller Features
The PS5's DualSense controller will also enhance the Helldivers 2 experience with its advanced haptic feedback and adaptive triggers. Players will be able to feel the power of their weapons and the impact of their actions like never before, further immersing them in the chaotic world of Helldivers.
PC Release and Cross-Platform Play
In addition to launching on the PS5, Helldivers 2 will also be available on PC. This opens up the possibility of cross-platform play, allowing friends to team up and fight for Super Earth regardless of their chosen platform.
Launch Date and Availability
While an exact release date has yet to be announced, Helldivers 2 is confirmed to launch on PS5 and PC this year. Players can expect more information on the game's release and pre-order details in the coming months.
Conclusion
Helldivers 2 is shaping up to be an exciting and action-packed cooperative shooter that will delight fans of the original game and new players alike. With its frantic action, intense gameplay, and emphasis on teamwork, Helldivers 2 is set to become a must-have title for PS5 and PC gamers. Stay tuned for more updates on this highly anticipated sequel as we approach its launch later this year.
Source: Sony