Now guitar lessons are available on your phones and iPads as well. Latest hits and their chords are available at just a swipe of a finger. Downloading the app and installing it in the device is all that one has to do. CoachGuitar is specially a good and useful app for the beginners as it provides with the basic lessons as well as the popular easy to play tunes, just in the best interest of the user. This app is an entertaining app for children also as they enjoy playing the keys on the virtual guitar and in turn learn how to play the right notes and keys to create music of their own.
CoachGuitar App Review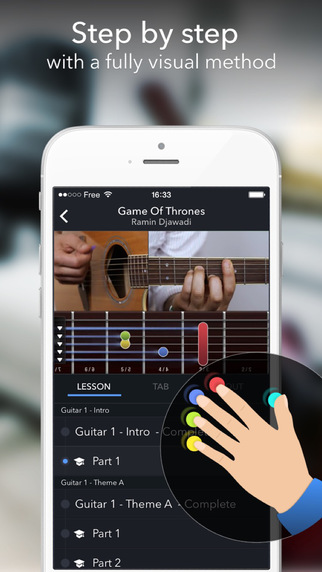 CoachGuitar has certain popular features such as it does not take up time telling your stories or theories in music; it just provides you with lessons, video lesson as well so that it becomes easier to get the grip on the instrument. It also provides with a black fret board with colorful dots that represent the player's fingers, its correct positions and also which string one has to strum so that it is easy to differentiate for beginner.
The five fingers are denoted by five different colors so that one can understand which finger has to be placed on which fret. Chord diagrams are available just like proper lessons, slow paced step by step approach to each lesson by professional guitarists are also provided. The lessons can be viewed both for left-handed as well as right-handed players. Certain popular songs such as 'Stairway to heaven', 'hotel California', 'yesterday', etc. are available for free; others are to be paid for.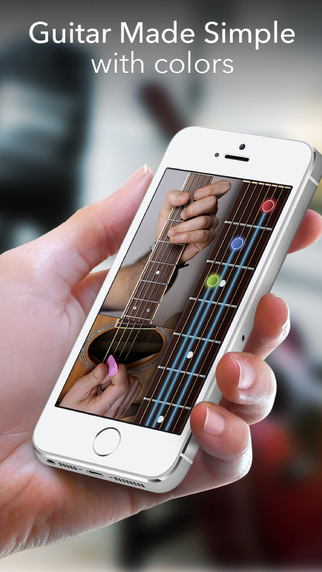 This is not only an entertaining but also a very useful app. The creators have got good response and this app has been approved and appreciated world over, but it has certain negative aspects as well. Such as in case you are unable to understand any lesson you have no one to clarify with. All you have to do is practice more and more to be acquainted with the right notes. Also many a times it becomes difficult for the left handed players as the diagrams for placing of fingers may be faulty.
This app is especially aimed at those people who are fond of music and love guitars. So if you are interested in learning guitar and want to do it in a very convenient way hurry, download this free app on your iPad or iPhone and install it to have an enjoyable time learning the instrument. This app required iOS 4.3 or later available in various languages and is compatible with iPhone, iPod touch and iPad. Coach Guitar requires 13.2 MB free space to work properly.
Get CoachGuitar from App Store