Hallmark's beloved, yet cranky character Maxine comes to mobile in the fun food themed three match puzzle game Maxines Snack Attack. If you're in the mood for some food matching action and wisecrack anecdotes from Maxine herself, unwind with the game. Here are some more details.
Maxines Snack Attack Features and Gameplay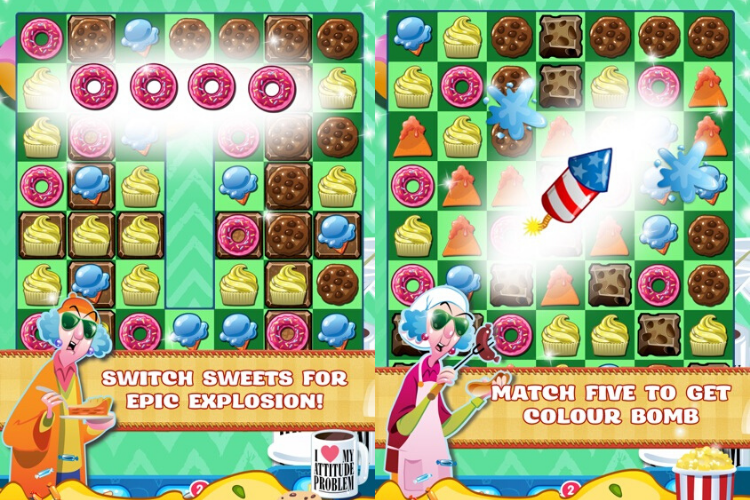 Typical of all match three puzzlers, this one features a board full of mouthwatering delicacies. You need to match 3 or more foods by dragging across the items. Lines can be drawn horizontally, vertically and diagonally. The longer you extend your food match, the better.
If you match 6 or more items you create some special powerup tiles. Matching the special tiles will enable you to wipe off rows and columns of food and help you reach your goal faster.
As you make your way through the different levels you can collect boosts and gold coins. These resources are great if you are stick at some point in the game, especially towards the end. They help you replace some colors, add special tiles, give you extra moves or help you destroy specific areas on the board.
The game throws in 100 challenging levels, each with its own objective. You may need to pick up three stars within a certain number of moves or need to destroy a certain number of tiles. And throughout the game, you will be treated to the opinionated Maxine's witty humor.
There's also a bit of social engagement here as you can enable Facebook sharing and see your friends on the map.
Sometimes, you simply need a casual, light hearted, colorful game like Maxine's Snack Attack to lighten up the mood.
NOTE: The App has been removed from the App Stores.