Monitoring your blood pressure doesn't have to be a worry anymore. MocaCare, makers of the heart monitor MocaHeart are out with a new tool called MocaCuff that can help users monitor their blood pressure easily. The device is available for preorder at $49 and. You can also pick it up from a store near you next month (Dec 2016) for $69. Here are all the details about the compact, user friendly BP monitor.
MocaCuff BP Monitor Features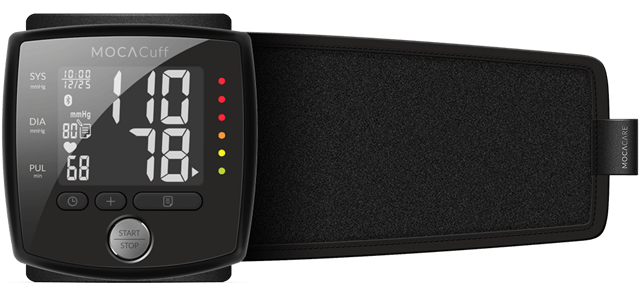 MocaCuff BP Monitor is a compact device designed for comfortable blood pressure monitoring. The small Cuff wraps snugly around your wrist and you only need to tap the button at the bottom of the device for it to start taking your readings. You need to keep your wrist in front of you at your heart level or hold your arm across your chest at the heart level to take the readings.
MocaCuff measures your heart rate as well as your blood pressure and displays the readings instantly on the device screen.  The readings are color coded to match the categories adopted by the American Heart Association's (AHA).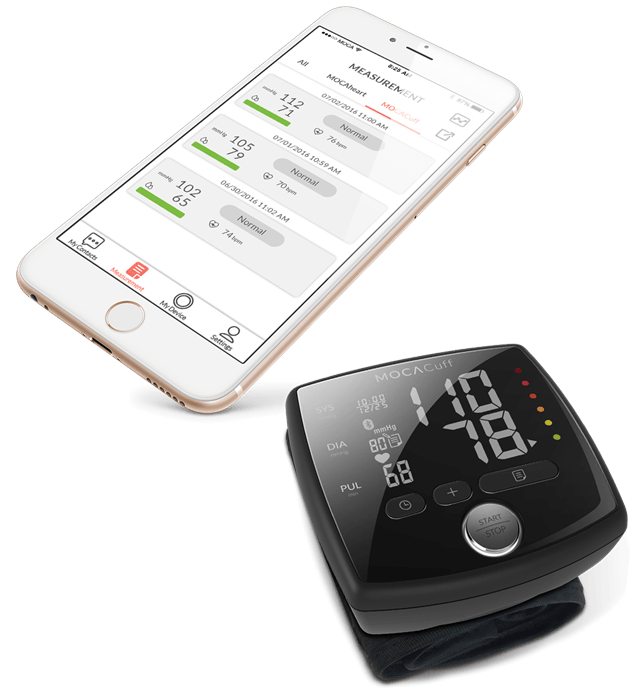 If you want to keep track of all your BP readings, you can sync MocaCuff with your iPhone. You'll need to download and register yourself on the MocaCare app. Then simply pair MocaCuff with your iPhone via Bluetooth and tap the button on the device to start syncing the readings. Once the sync is complete, you can share the test results with your doctor or loved ones via a HIPAA-compliant messenger. MocaCare guarantees your medical related data is stored securely ensuring full privacy.
MocaCuff Teaser
The Trends screen on the app offers easy to understand charts indicating the progress of your health on a daily, weekly, monthly, or yearly basis. The MocaCare app also offers health tips and recommendations from experts in AHA.  If you want to sync your health data with Apple's Health app, that's possible too!
MOCACuff's design matches the strict medical standards adopted across the world.  The device has FDA approval in the U.S and is CE compliant in Europe.
If you want an easy to use device to measure your blood pressure, consider the MocaCuff. If you want a more comprehensive snapshot of your heart health, you can pair the MocaCuff with MOCAheart monitor.
Visit MocaCare For More Details
Download MocaCare App from App Store
Download MocaCare App from Google Play