If you love keeping track of all the latest news on your favorite websites, you'll need an app for it. No doubt, there are a dazzling array of apps that can keep you updated with news and events from around the world. But one app that comes with a simple, neat interface that I recommend you check out is News Grid. This app is available for Windows mobile and PC and we have all the details.
News Grid For Windows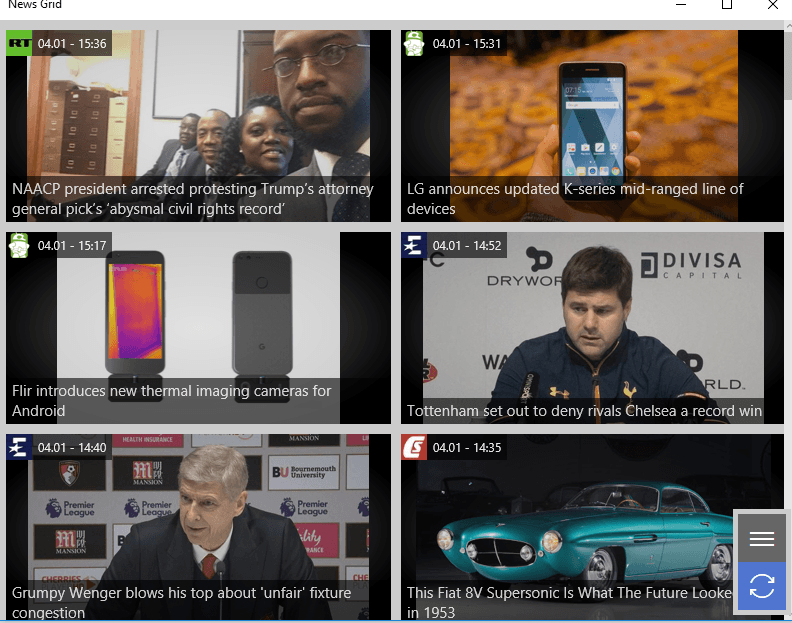 News Grid is a no-fuss app that starts displaying news tiles the moment you launch it. There is no login required, and absolutely no ads to drive you crazy.
You can see the main news headline at the bottom of the tile, while the source of the story and date and time of publish is displayed at the top left corner. To read the story you simply click on the tile. The news story opens up in your preferred web browser. News Grid includes ad-blocker support so if you've added one to your browser, the app won't override your preference.
News Subscriptions
To refresh the news manually, you can hit the Sync icon on the left pane of the browser window. By default, the app includes subscriptions from popular websites and you can find all of them in the Subscriptions window. Just click the tick icon in the left pane and you can then see and manage all your subscriptions in one place.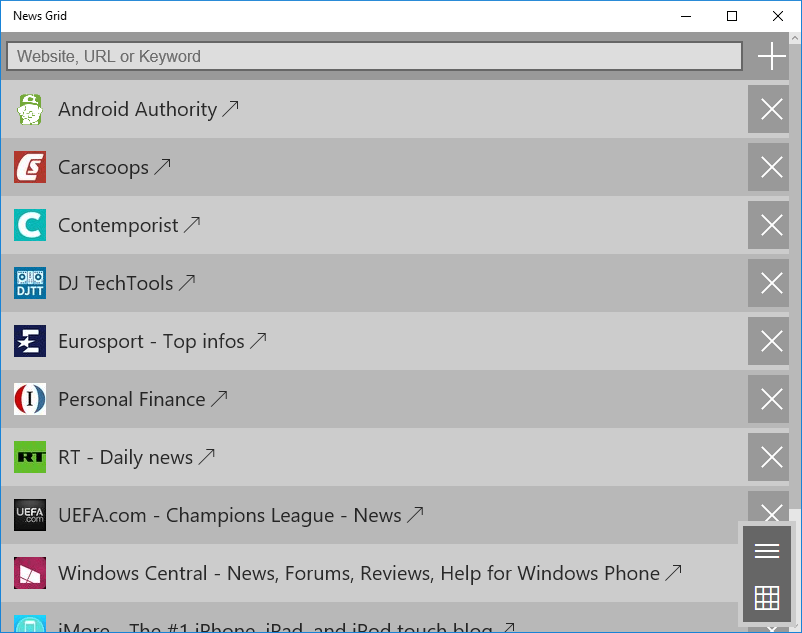 Hit the X button to remove a web feed you don't like and add one of your choice by finding one from the Search box. You can search using the website name, URL, or keyword. When you find your website in the Search results, you can click the + button to add it to the list. Its all pretty straightforward and clean.
The Settings page has a few options to customize your news grid. You can choose how many articles you want to see from a website. It can be 3,5 or 10. You can choose whether you want to see the date of publish and set the time format if the default option is not to your taste.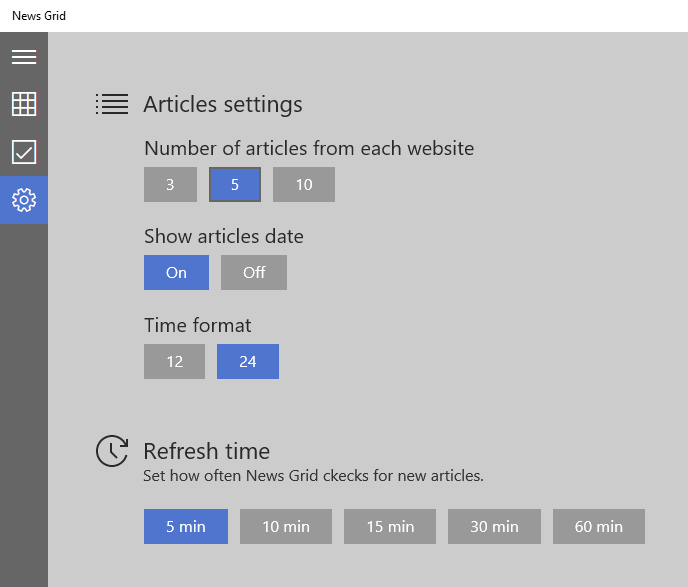 By default, the app checks for fresh feeds every 5 minutes. However, you can change the refresh rate to 10, 15, 30 or 60 min depending on your requirement.
If you want to check your feeds on multiple devices , simply sign in to your Microsoft account to sync your stories.
What's Missing
If you are a power user who wants to do more with the app such as link it to Feedly, create folders, set up categories, mark as read or unread, this app won't meet your needs, as least for now.
One feature that most of us have gotten used to is reading a news story inside the app. If you are expecting the same with News Grid, you're likely to be disappointed. A built-in reader would be nice for sure.
In all, News Grid is an app that I truly like. It offers live tiles and badge notifications and is a simple, clean app that lets me check on news and happenings on my favorite sites. I don't have the time to save my stories for reading later and I don't care too much about organizing news stories for consuming later. So this one works perfectly for me.
If you want an app that delivers news stories from your favorite websites without all the extra frills, News Grid is an app you'll enjoy using.
Do check it out on the Windows Store. Its available for mobile and PC and its absolutely free to use.
Download the app from the Windows Store
If you liked this app recommendation be sure to check out our Windows Apps Archives section for more cool apps.