Windows users still don't have the luxury of choosing from a big collection of apps in the Windows App Store unlike their Android or iOS counterparts. But that doesn't mean great apps don't launch on the Windows Store. Take for instance the latest app launch from MaxN – Newsflow. The app is a gorgeous looking free RSS Reader for Windows 10 that comes with a fantastic UI and a ton of great features that would make you want to use this as your default RSS reader for Windows 10 right away. Here's a closer look at Newsflow.
Newsflow RSS Reader for Windows 10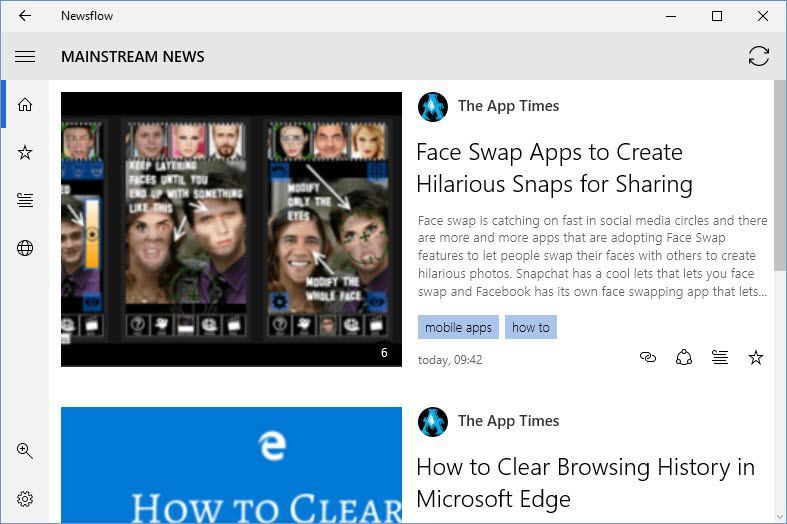 Newsflow is available on Windows App Store as a free download. Once you download and launch it on your device, you will be taken to the main screen where you are asked to add RSS feeds for reading. The left pane contains quick links to all the main aspects of the app. You can add a news feed, save favorites, add for reading later and keep track of your sources apart from tweaking your setting preferences.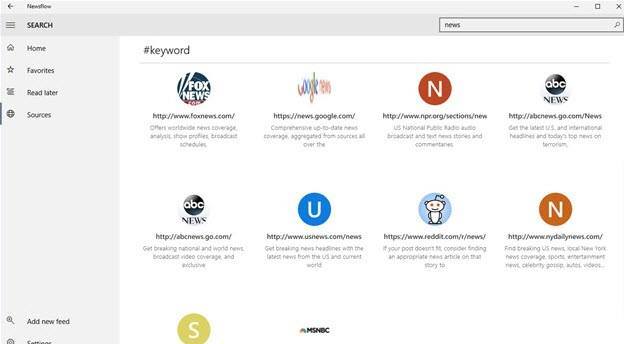 Feeds can be added by searching using keyword, site address, or direct link to the RSS channel. Clicking the + icon at the top right corner of the screen will display additional details about the feed such as the title and link to the website and what notifications you want to see related to that feed. Once you save the settings, the RSS feed will show up on the Home screen.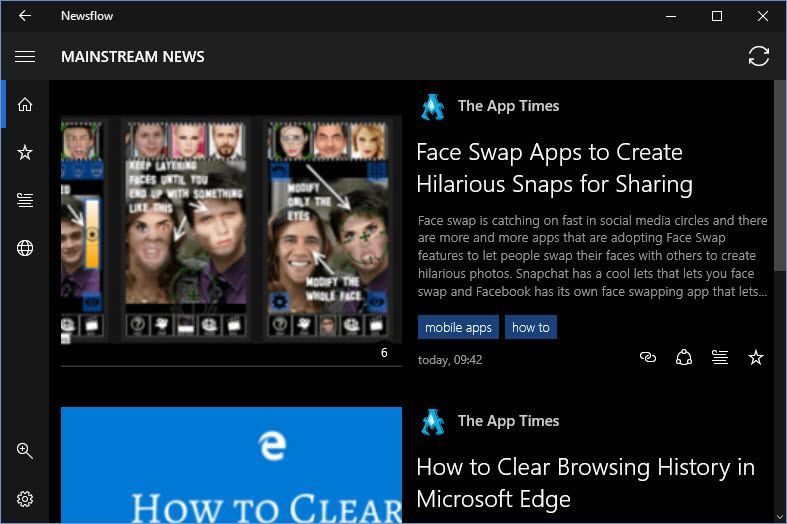 From the Home screen, you can scroll down to see the articles, and interact with the post by opening it in a new link, sharing the news with friends, adding it to the Read Later section, or favoriting it. If you want to delete a feed, you go to sources, right-click the Feed tile and select Delete. The Settings section of the app lets you choose between a light or dark theme, change the font size, show images in the feed or article, turn off push notifications and so on.
Features of Newsflow RSS Reader
Save for reading later
Add to favorites
Pin live tiles on Start screen
Push notifications and alerts on new stories
Browse stories by keywords
Choose whether to view images in articles or not
Extended readability to read stories without opening them in the web browser (if feed has that option)
View in portrait or landscape view
Share with friends
RSS, ATOM, RDF support
OPML export and import
Own Web content formatter
If you are enjoy collecting and reading RSS feed stories on your Windows device, and have not been completely satisfied with many of the external RSS feeds readers that are available for Windows, consider giving Newsflow a try. The app is easy to get started with, has no advertisements for distraction and offers a convenient and cool way to catch up on all the stories from your favorite RSS channels.