Nomad has a new battery cable for iPhone users who are always on the go and need to have their device powered and running all the time. The new battery cable replaces the older version that came with a 2,350mAh battery pack and plastic casing. Read on to learn more about the new Nomad Battery Cable and whether it is an accessory that would simplify your lifestyle.
Nomad Battery Cable Features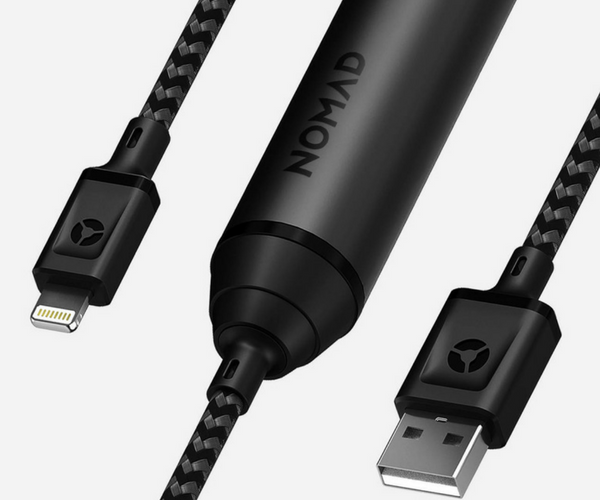 2-In-1 Cable
The Nomad Battery Cable is a durable, nylon wrapped, MFI Certified Lightning Cable with an integrated high capacity 2800mAh portable battery. The battery has a robust aluminum exterior to protect it from damage. The cable is made from a 500D nylon woven in a ballistic weave pattern. This pattern was initially developed to protect military forces from shrapnel and bullets.
Silicone Cable Tie
The battery cable sports a custom designed Liquid Silicone Rubber (LSR) cable tie for convenient cable management. This tie is to keep that the cables from getting into a tangled mess.
How It Charges
Just connect the 1.5 meter (about 5 feet) long USB-A to Lightning cable to the phone to start charging. If you want to plug it directly into a wall plug or your computer, that works too as it supports pass-through charging. The cable first charges the phone. When the phone is fully charged, it recharges its battery.
Now, this is not the fastest charger in the world. It could take anything between 1.5 to 2 hours for a full charge, but when you are on the go and hard up for a wall outlet, this tiny device can give you a lot of juice.
Charging Status
A lighting indicator on the battery tells you how much charge the battery has at any time. When the battery is 30-100% charged, it displays a white light. Once the charge drops below 30%, it changes to orange. At 5% charge, a blinking orange light warns you that the battery is almost depleted.
The white light will also flash when it is being charged. Once the light becomes solid white, it is a sign that your battery is at 100%.
The cable is compatible with iPhone 5 through iPhone X but does not work on iPads.
Tech Specs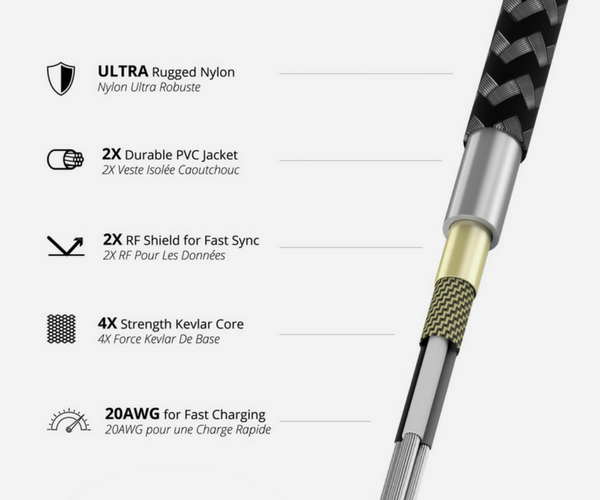 Battery Capacity: 2800mAh
Input: USB A 5V/1.5A
Output: Apple Lightning 5V/1.5A
Length: 1.5 meter
Price
The Nomad Battery Cable costs $49.95. It is slightly on the pricey side, but may be worth its cost, considering you can charge on the fly without lugging an external battery and cable with you.
If you like the new battery cable from Nomad, you can pick it up from the official website for $49.95.