There may be instances when you share secured information through your email and would like to ensure that the receiver of the message does not have the option to print, forward, or copy the contents of the message. In such situations, you can set email permissions in Outlook to restrict other users from misusing the contents of the email. In order to set such permissions, you need to have the Windows Rights Management Services (RMS) Client Pack 2 (SP2) or a later version installed. Computers running Windows 7 or Windows Vista will have the client installed by default. However computers running on Windows XP must first install it before starting the configuration. In this Outlook 2010 tutorial, you will learn how to prevent users from forwarding email messages sent to them.
How to Install the Windows Rights Management Services (RMS) Client in Windows XP
1. Click the Start button and on the Start menu select Control Panel.
2. Click Add or Remove Programs, and then click Add or Remove Programs.
3. Click Add New Programs and from the program list select Windows Rights Management Services Client.
4. Click Add.
How to Prevent Users from Forwarding Email Messages in Outlook 2010
1. Compose the email.
2. In the message form, select the Options tab, and in the Permissions group, click Permission.
3. From the drop-down list, select Do Not Forward.

4. If you are setting up the IRM service for the first time, the Service sign-up dialog box is displayed. Select the Yes, I want to sign up for this free service from Microsoft option and click Next.
5. In the Windows Rights Management dialog box, select Yes if you have a Windows Live ID. If not, register for a Windows Live ID and then click Next.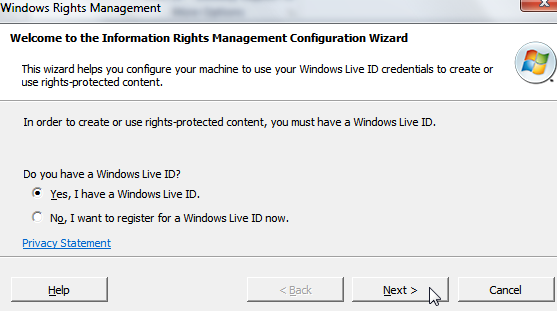 6. In the next page, enter your Windows Live credentials and click Sign in.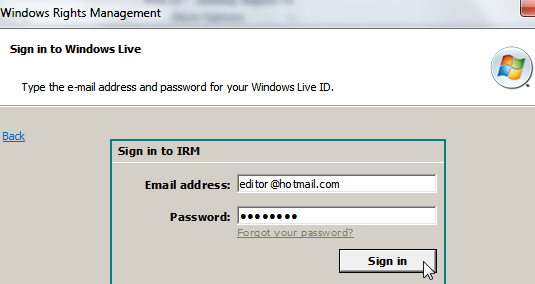 7. In the next page, select a computer type and confirm the terms by clicking I accept.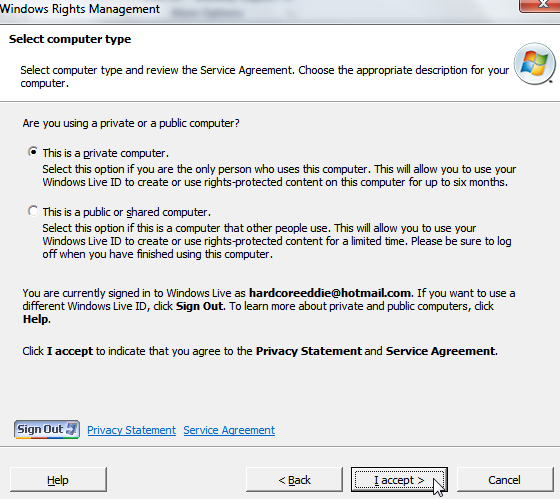 8. In the next page, click Finish to complete the configuration process.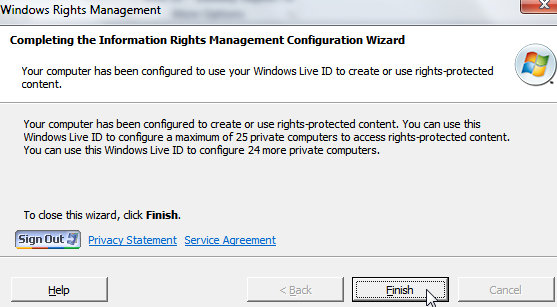 9. In the Select Users dialog box, select the recipient's email address and click OK.
10. Observe that the message bar at the top of the email message states the permission levels available for the email message.

You can now share confidential email messages with other recipients. This feature is great when you do not want other users to forward your email messages. However, it does not prevent the email contents from being manually typed or photographed.
If you have not used this feature, try it out and let us know how it has benefited you.