Twelve South make some of the most stylish accessories for Apple devices. Their elegant BookBook case, stylish CaddySack and classic TimePorter are just a few accessories that stand out from the crowd. Now there's a new addition to the family that is equally eye-catching. It's the PowerPic Wireless Charger for iPhone that is made to look like a photo frame. Interested? Here's more on the iPhone accessory that will blend in with your home décor and look perfect on your desk.
PowerPic for iPhone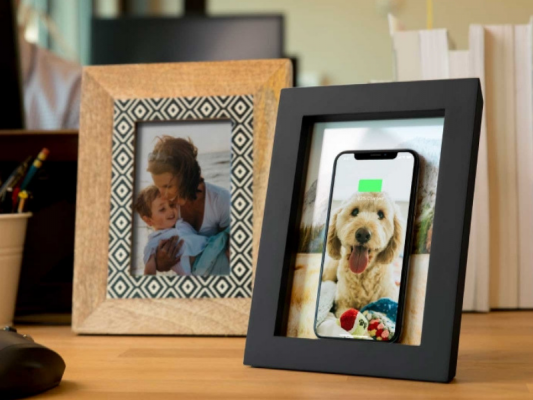 Most charging devices look like a dreary old gadget hogging up your desk space. Twelve South's PowerPic isn't one such device. It is a contemporary picture frame that holds any 5×7-inch photo.
But, hidden inside it is a Qi charger that can deliver up to 10 watts of fast charging power. It is made of New Zealand Pine that comes in two colors – black and white. It also comes with a couple of photos included, that you can use right out of the box.
Charging the PowerPic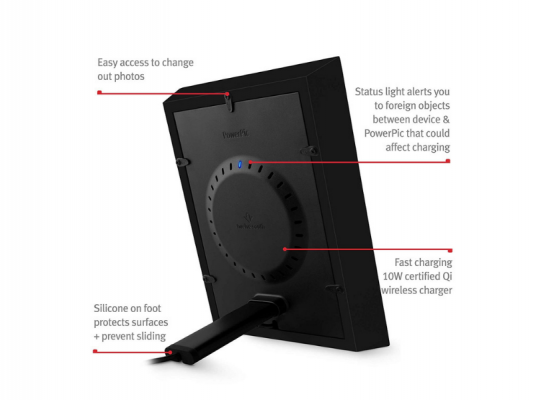 PowerPic can charge though most iPhone cases, but make sure they are not more than 3mm thick. The included 5 foot USB cable uses a standard USB-A connector for charging. However, you need to have your own USB power source for charging, which is a bit of a let-down.
That said, you can plug PowerPic into a computer or USB-equipped wall outlet for charging.
To start charging the iPhone, just place it inside the frame. The charging status will be displayed at the back of the frame.
If, for some reason the phone is obstructed from charging, such as if you accidentally placed an object inside, like a bank card or keys, you will be instantly alerted to the fact.
Key Features of PowerPic
Compatible with all Qi-enabled smartphones (iPhone, Pixel, Galaxy)
Works with cases up to 3mm thick and up to 6.5-inches tall
Qi-certified fast charger delivers up to 10W wireless power
New Zealand pine frame holds any 5″ x 7″ photo
Final Thoughts
Wireless charging eliminates the need for long winding cables, but it still doesn't make a desktop any more elegant. That is why the PowerPic makes a great choice. A photo frame gives off a more natural look, whether it is at home or at office. You not only get to display your favorite family picture, you also get to have your phone charged wirelessly.
PowerPic is a simple, yet clever way of making the wireless charger more attractive, It is priced at just under $90, which may be a tad expensive. But if you're looking for a thoughtful gift for an iPhone owner or simply want a wireless charger that will fit unobtrusively in your living space, PowerPic is just what you need to buy.
Check it out on Amazon