Are you a gaming enthusiast on the lookout for the best deals on gaming hardware? Look no further! Amazon Prime Day 2023 is just around the corner, and it brings with it a plethora of exciting discounts on games and gaming accessories. Among the many early deals available, one particular offer stands out – the 1TB WD Black SN850X NVMe SSD at an unbeatable price of $55 USD. With a whopping $105 off its regular price of $160, this deal is a steal! But hurry, as this offer is only valid for a short time up to Prime Day on July 11-12.
Super-Fast and Versatile Storage Solution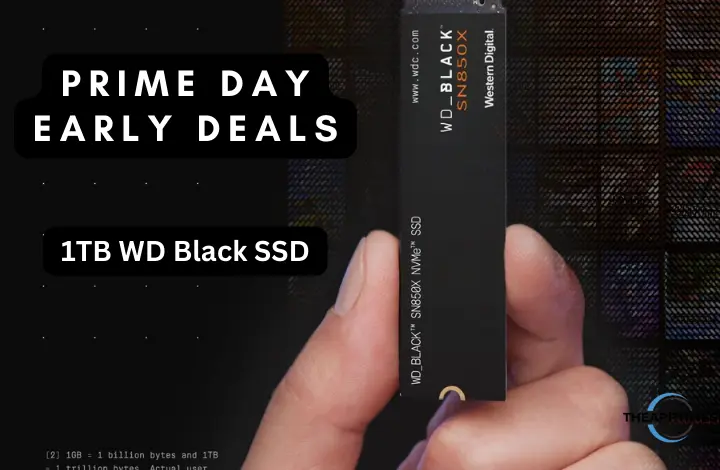 The 1TB WD Black SN850X NVMe SSD is a high-speed solid-state drive that is sure to enhance your gaming experience. If you have an open m.2 slot in your PC or are in need of more storage space, now is the perfect time to take advantage of this incredible offer. The WD Black SN850X is not only compatible with PCs but also with the PlayStation 5 as an expansion drive. For just $55, you can add an extra 1TB of super-fast storage to your PS5, alleviating the scarcity of storage space that many PS5 owners face.
Blazing Fast Performance
The WD Black SN850X boasts impressive read and write speeds of up to 7,300 MB/s, pushing the limits of what PCI-e Gen 4 slots can handle. This translates to lightning-fast load times, quick bootups, and seamless file transfers. Even if you're currently using a SATA III SSD, the difference in performance will be noticeable. On the PlayStation 5, this NVMe SSD will outpace the console's internal drive, making it a must-have for gamers who crave speed and efficiency.
Other Storage Options
In addition to the 1TB version, the WD Black SN850X is also available in 2TB and 4TB capacities. However, it's worth noting that these larger capacities do not feature as deep of a discount as the 1TB model. The 2TB version is priced at $140, while the 4TB version goes for $300. If you require even more storage space, these options are still worth considering, albeit at a slightly higher price point.
Prime Day Gaming Hardware Deals
Amazon Prime Day is not just about SSDs; it offers a wide range of deals on gaming hardware. There are massive discounts on Samsung gaming monitors, catering to gamers of all budgets. For those willing to splurge a bit more on an SSD, the new Samsung's 990 Pro is worth exploring, as it offers speeds comparable to the WD Black SN850X. Keep an eye out for these and many other gaming deals during Prime Day!
Conclusion
If you're in need of high-speed storage for your PC or PlayStation 5, the 1TB WD Black SN850X NVMe SSD is an unbeatable deal during Amazon Prime Day. With its ultra-fast performance and compatibility with both PCs and PS5, this SSD is a gamer's dream come true.
Don't miss out on the opportunity to grab this incredible offer and enhance your gaming experience with lightning-fast load times and seamless file transfers. If you're not a Prime member, now is a great time to join. Then be sure to visit Amazon on July 11-12 for bigger discounts. For now, you can take advantage of the huge discount on the 1TB WD Black SN850X NVMe SSD. Happy gaming!