If you're like me, you've probably downloaded a ton of apps on your Android device and have to constantly scroll up and down the screens to find that specific game or app that you need to use. It is pretty annoying, no doubt, but I discovered an app in the Android market called Speedlauncher, which solves the problem. What Speedlauncher does is to Quick Launch Your Android Apps effortlessly.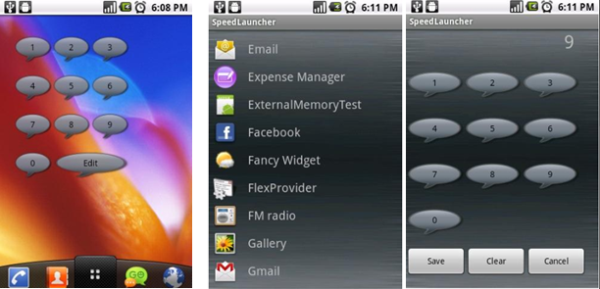 Speedlauncher is an app launcher widget that enables any app by pressing a 1 or 2 digit code. Once you download the app, you will need to add the Speed Launcher widget to the home screen.
How to Add Speedlauncher Widget to the Home Screen
1. Press the Menu button on your home screen and tap Add.
2. Tap Widgets and then tap Speedlauncher.
3. The widget will now appear on your device's home screen.
How to Quick Launch Your Android Apps Using a  Shortcode
4. On the Home screen, tap Edit.
5. A list of all the apps on your device will be displayed. Tap an app and select a number to assign a shortcode.
The next time you want to access an app on your device, just hit the shortcode. It doesn't get easier than this!
You can also remove shortcodes if you no longer want them.
How to Remove a Speedlauncher shortcode
1. On the Home screen, tap Edit.
2. A list of all the apps on your device will be displayed. Long press the app with the shortcode to remove the shortcode.
3. Tap Remove shortcode and then tap Remove.
Minus points for me… I'm just not too good with numbers, so it's going to take a bit of time remembering if my BBC News app was a 21 or a 23, or was it 25 ??? Wish there was an easier system to quick-check the shortcode. Also, don't particularly like the grey clouds on my home screen. Maybe options to customize the colors?
Nevertheless, Speedlauncher is good at what it does. It's an extremely useful app for users who like to hit a number or two to open up an app. I checked out the app on my Samsung Galaxy Tab running Android 2.2, and it worked like a charm.
Speedlauncher is free and can be downloaded from the Android App market.
Give the app a try, folks and share your feedback in our comments section.