Are you looking for a better way to record videos and share them with the world? Here's a gadget that might just make it possible. SELDI Wearable Video Rig combines 6 camera accessories into one compact device to let you capture live events, create videos for your vlog, or make memorable home videos like a pro. Here's a closer look at one of the most promising gadgets to launch this year and how you can get one.
Why Buy SELDI Wearable Video Rig
You can create first-person perspective videos hands-free.
Use it as a tripod to capture stuff at elevated angles.
Shoot non-shaky videos that come out smooth and steady.
Use it like a selfie stick for vlogging, group shots, and solo videos.
Take low angle perspective shots or film above a crowd easily.
Mount it anywhere you like to capture shots (doors, trees…)
Get the benefits of adaptability, functionality, practicality, and adjustability.
Enjoy the benefits of easy installation and use.
Carry it easily with you on your adventures.
Note: If you're into vlogging, be sure to also check out JOBY's smartphone accessories kit for vloggers.
SELDI Modes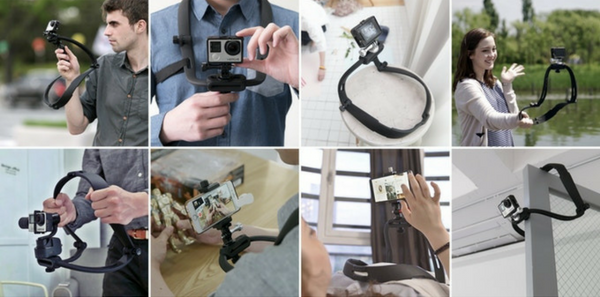 SELDI comes with 6 modes for recording videos and 1 entertainment mode for watching content on your smartphone hands-free.
Recording Modes
Wearable POV – You can record first-person point-of-view (POV) videos hands free by wearing the SELDI
Mini Tripod – This mode will stabilize your shot by setting your camera on a flat surface
Hand Grip – You can hold SELDI in your hands to record low & high angle shots, pans, and close-ups
Selfie Stick – This mode is perfect for capturing a selfie or taking a fantastic group shot
Stabilizer – This recording mode helps reduce shakiness and smoothens out your videos
Multi-mount – This mode is perfect for capturing content from a mounted position
Entertainment Mode
In this mode, you can watch videos, read a book or engage with the content on your smartphone in a hands free manner.
Getting Started with the SELDI Wearable Video Rig
SELDI is made of ABS plastic and is coated with a soft rubber material. It weights about 300 grams or 11 ounces.
Setting up SELDI is super easy. The developers claim it takes just 30 seconds to do it.
Insert the mounting bolt.
Attach your smartphone/camera to it.
Adjust SELDI and the camera to get the right point of capture.
That's it!
Using SELDI
There is no one way of using SELDI. You can wear it over your head and strap it to your chest to capture first person videos. You can carry it around to capture low angle shots. Or, you can mount it to a tree, on a wall, or on a window still to take videos from a specific point of view.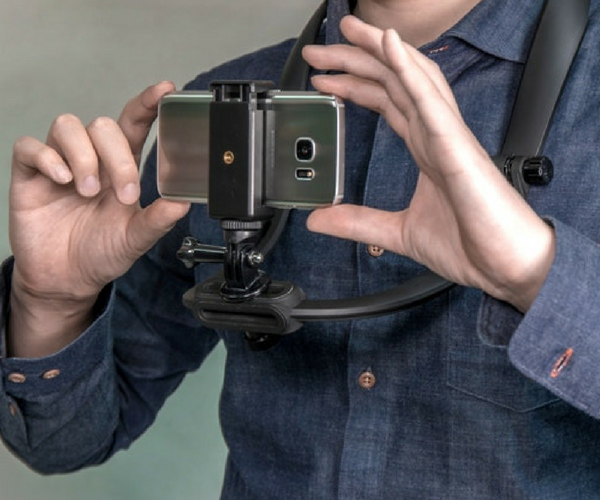 SELDI is great for creating how-to and unboxing videos, cooking demos, live streaming events, recording FaceTime video chats, and Skype calls. If you frequently share videos on Facebook, YouTube, Instagram, and Snapchat, you'll love the ease with which you can create professional looking content for these platforms.
SELDI works with any smartphone with adapter. It also works with cameras that use 1/4" – 20 mounts and weigh less than 1.1 lbs/500 grams. You are free to attach lights, microphones, or any other accessory that uses 1/4" – 20 mounts to create the ultimate portable video rig.
Also Read: Capture Non Shaky Videos on Your Smartphone with Fancy Camera Stabilizer
Availability
If you are impressed with what SELDI has to offer, you can check 'em out at their Kickstarter page. They have easily crossed over their pledged goal of $10,000 and have plenty of time left in the campaign. SELDI is expected to ship in June 2018.
Don't forget to drop in a line and tell us what you think of SELDI.
Preorder the SELDI 7-in-1 Wearable Video Rig – Kickstarter