OneNote is a fantastic note taking application lets you take web clippings from the Internet, embed YouTube and Vine videos, publish content to your WordPress blog and do plenty more while creating your digital notebooks. Although you do need a Microsoft account to use it, its a handy application that lets you access your notes and notebooks any time and from any place.
However, if you're worried that you may not be able to share your OneNote content with other users who don't have a Microsoft account, fret not! This quick guide will show you how to share OneNote files in other formats with users who don't have a Microsoft account.
Note: Before getting started, please be aware that these steps will work only if you are using the desktop version of OneNote 2016. The OneNote app in Windows 10 lacks the ability to share OneNote files in other formats.
Click here if you want more OneNote tips and tricks.
How to Share OneNote Files in Other Formats
1. Launch OneNote 2016 and navigate to the notebook that has the information you want to export.
2. Select the File tab and click Export.
3. In the Export Current section, select whether you want to export the current Page, the current Section, or the entire Notebook. We'll choose to export the entire notebook.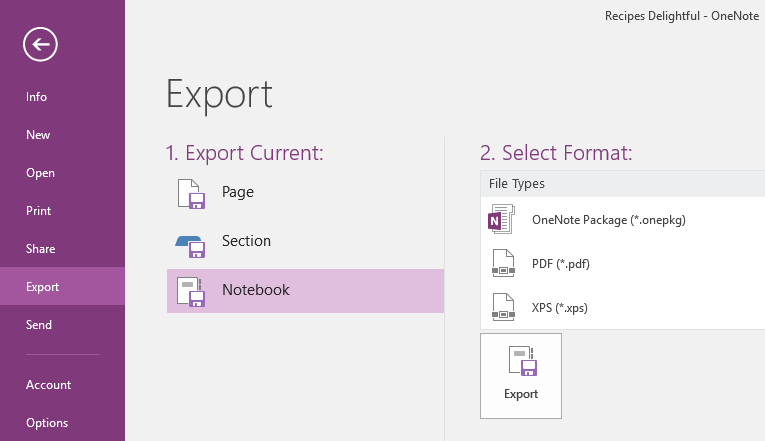 4. In the right section, you will be given options to choose a file format to export. You can choose from 3 options here – a OneNote package file format, a PDF format or an XPS format. Since a PDF file works best, I'll choose PDF and click Export.
NOTE 1: If you choose to export only a page or a section, you have a number of file formats available for export including a Word document (both DOCX and DOC file formats), PDF, XPS, and Single File Web Page (MHT) formats.
NOTE 2 : A OneNote Package file comprises text, images, embedded files, audio and video in your notebook in one file, similar to what a ZIP file does. It has a .onepkg file extension and can be opened directly in OneNote 2016.
5. The Save As dialog box will open up and you can give the exported copy a name and save it in a location of your choice.
So the next time, you are worried about sharing a OneNote file online or want to share a file with someone who doesn't have a OneNote account, try the steps in this tutorial and get the job done.
You can discover more useful OneNote tips and tutorials in our archives section.