In today's crazy world, we simply cannot live without a note taking application. The App Store, Play Store and Windows Store are teeming with all kinds of note taking applications but one tool that's available for free and can do so much more than others is OneNote. If you are using the app to manage all your lists, to-dos, notes and more, here are some handy OneNote tips that will help you utilize the app to its fullest capabilities.
Use OneNote Like a Pro With These OneNote Tips
1. You don't have to open OneNote to start jotting down your notes. Just hit Win+N to open up a Quick Note or hit Win+Shift+S to snag a screenshot. Whatever you have noted down or captured will automatically get saved to OneNote. If you like you can even send yourself a quick email using [email protected]
2. Use the Clip to OneNote browser extension for Firefox, Chrome, Thunderbird and Opera to clip web pages or selected portions of a web page into OneNote.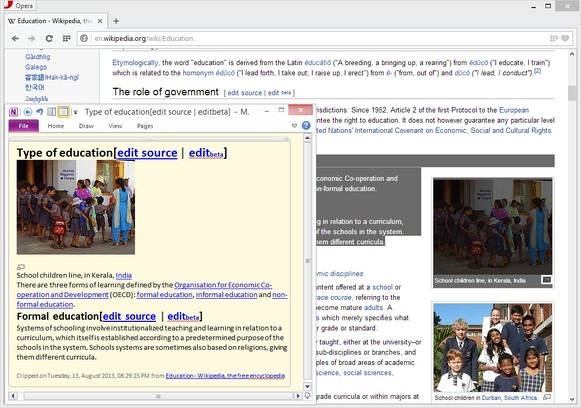 3. Make use of the OneNote drag and drop functionality to move images and text from other applications directly into OneNote. No more copy and paste.
4. Use add ons like Office Lens, Onetastic and OneCalendar to extend the capabilities of OneNote. You can create desktop shortcuts for your most frequently used notes, crop images, customize the styles of your text, use macros and many more with Onetastic. OneCalendar allows you to view your notes in a calendar while Office Lens lets you capture clear screenshots of whiteboards.
5. If you are sourcing content from other websites, copy and paste content from the site. OneNote will automatically do the bibliography for you.
6. You can customize the OneNote workspace to match your working requirements. The View tab offers options to change the screen to Full Page View for distraction free writing, but if you want to view your notes while you work on something else, you can dock it to your desktop as well. You can also change the background color of your Notes page, and add rule lines to keep your lines neat and tidy and attractive.

7. Take advantage of the Inking feature in OneNote to add notes or annotations to an existing page. If you have a stylus or pen device, such as when you are working with OneNote on a Surface Pro, you can select a line color and weight and quickly markup items that need instant attention. The highlights only appear above the image and in no way affect the quality of the original image.
8. OneNote isn't just a simple note taking application that revolves around textual content, you can also throw in a few files, images, audio and video recordings, math equations and scanned notes on to your pages. While that's the easy bit, finding specific stuff may become a pain. Luckily, OneNote offers options to search images, audio and video recordings for words.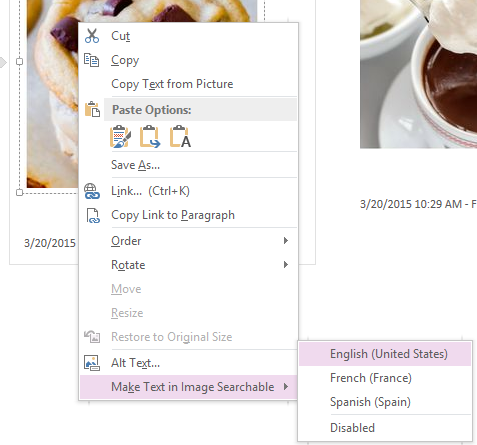 Enable this by going to Files->Options and then in the Audio and Video tab, checking the box that says "Enable searching audio and video recordings for words." For images, right-click the image and choose Make Text in Image Searchable. You can also select an appropriate language from the list.
9. Make use of keyboard shortcuts to get things done faster. While it is simply not possible to remember them all, you can practice shortcuts for tasks that you often use on the program. If you are interested in picking up the entire shortcuts list, you can download a PDF copy of ONENOTE SHORTCUTS at the end of this article.
10. OneNote has a host of smart page templates, which you can access from the Insert tab, Pages group. Just make use of one of these predefined templates to get things done faster. If none of the templates tickle your fancy, customize one that fits your needs and save it as a template for future reference. You'll be surprised how much time you save yourself with a well designed template.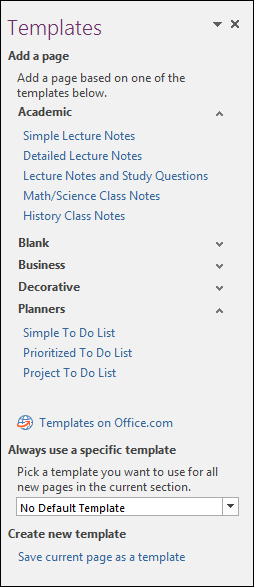 11. If you want to move data from a main page to a different page, don't go about creating another new page and dragging and dropping content from one page to the other and then hyperlinking that page to the master page. Instead, on the master page, type 2 square brackets, add your new page title and then close it with two right brackets. OneNote will throw out the brackets and create a hyperlink to the new page. This will save you a ton of time moving back and forth between pages.
12. Use tags to get your notes organized. Tags comes in handy when you need to quickly find notes related to a particular subject. You can group tags by title, date, text and section and further customize it as important, as a contact, phone number, address, book to read and so on. You'll find the link to customize tags at the bottom of the Tags Summary window.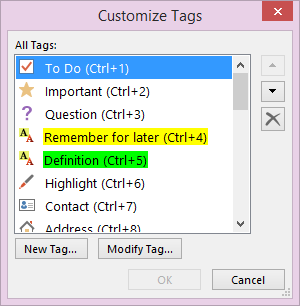 13. While we are on the subject of tags, make use of the Summary Tags feature to pull together links grouped under different tags to a separate page. You'll find the Create Summary page at bottom of the Summary Tags pane. You can quickly find all related tags in one page making your search faster.
14. Although the OneNote app for Android does not offer a native option to dictate texts, you can still take notes on your app by voice by using the microphone button on the device keyboard.
15. If you are working with audio notes on the desktop version, you can add notes and annotations at specific points in the audio for action later on. Simply play back the audio symbol to the left of the note and you can jump straight to where you placed your notes in the recording.
16. Creating tables in OneNote is as easy as apple pie. Just type in your headings and press tab to start creating columns. Hit Enter and voila….you have a new row. OneNote tables are also quite interactive as you can sort out the data in ascending or descending order. Just right-click the column and select Table->Sort Selected Rows. In the Sort dialog box, from the Sort by group, select the column data you want to sort and click Ascending or Descending to sort the data.
17. There may be times when you want to share only part of a page with someone. OneNote allows you to do that easily. Just right-click the specific container or paragraph and select Copy Link to Paragraph. This will now be on your Clipboard. You can copy the link and share it with whoever you want.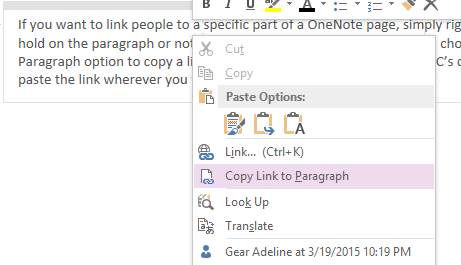 18. If you do a lot of pinning and jotting on your Android or Windows Phone OneNote app, you can pin pages you use regularly to the home screen. That way, every time you need to jot down something quickly, you don't have to find the app, scroll through and open the page and then make your recordings.
19. Make use of the list feature in OneNote to create your to-dos. You can start a list by entering the items and clicking To Do from the tags list. Or you can simply press Ctrl+1 and start typing. You can also set a deadline or reminder for each of the list items by right-clicking and choosing an option from the contextual box.
20. You get more than enough free space on OneDrive for all your notes, so be sure to sync your OneNote data to OneDrive. Your data will not only be safe, you can also access it anytime, anyplace and from any device.
21. OneNote is part of the Microsoft Office suite so it is well integrated with Outlook, Excel, PowerPoint, Visio and Word. Take advantage of this integration and work seamlessly with your OneNote data. For instance, you can create tasks in Outlook just by opening up the Outlook Tasks pane in OneNote. Or email a page you are working on to yourself.
22. Always password protect your data so that unauthorized hands don't get to it. Just right-click the section tab and select "Password Protect this Section".
23.OneNote has a built-in OCR (optical character recognition) technology that can recognize your handwriting. Use the Ink to Text command in the Draw tab, Convert group to convert your handwriting to text.
24. One of the common issues with jotting down notes on a OneNote page is that it all tends to look a bit clumsy after a point of time. You may have added and deleted containers or just randomly placed stuff leaving your page looking spacious on one end and crowded at the other end. To get rid of the unwanted spaces and move/stack your containers in a more organized fashion, make use of the Insert Space command on the Insert tab, Insert group. Click the command and drag the dark line up to remove unwanted space and create more room below for your new notes.
25. Collaborating on a project using OneNote can sometimes become so hectic that you may discover that you've accidentally deleted stuff you shouldn't have. Make use of the History tab to find page versions so you can go back to prior versions of a page.
OneNote is a highly powerful digital notes application that can help you manage your projects with ease. You can also encourage your kids to use OneNote to do their school projects or get them to work on a family project and enhance their skills.
If you use OneNote right, you'll be surprised how efficient and productive you can be. If you want to master this easy to use tool, you can also take up this short online course at Udemy called "Smart and effective notes using Microsoft OneNote 2010"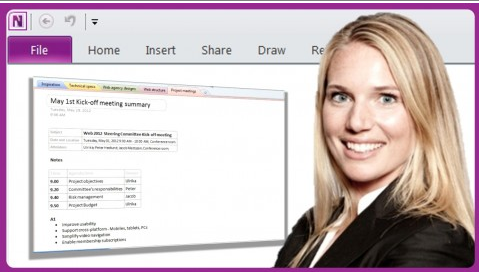 This course teaches you how to:
Organize your notes, ideas and research to get a good overview of your data
Find notes and items that need follow up
Save time by converting handwriting into text
Use shared notebooks and keep everyone in your team up to date
Prepare and conduct professional interviews
The course costs $49 with over 450+ students having benefitted from its skills. Some of the reviews for the course include this one from Christina Burkett, who says:
"There is a lot of useful information in this training, and the instructor is very clear and easy to understand. Just a few of the items that I know that I'll be using include: making a To Do List for other people and emailing them out, summarizing my To Do List across notebook/sections, password protecting sections, sharing notebooks on SharePoint, and recording audio."
and David Hill who says:
"Professional delivery with real-time business examples – Highly Recommended
The course will show you how to utilize the functionality within OneNote to enhance your productivity. Certainly an enabler for personal and business effectiveness. I have used Onenote in the past and thought I knew a lot. Ulrika's course opened up a lot more capabilities than i thought possible. The delivery was superb, realistic and practical. Backed up with simple, but useful examples. Thank you for sharing Ulrika. The minutes section is exactly what I needed."
If you haven't given OneNote a try, click here to begin your download.
BONUS READING
Grab all the shortcuts you'll ever need to become a OneNote power user.
DOWNLOAD ONENOTE SHORCUTS PDF GUIDE