Dedicated gaming PCs and consoles are optimized to deliver the best gaming performance. But if you own a PC you use for general purposes, chances are, you may not get the best gaming experience. That's because your PC may be running certain operations in the background, such as downloading files or running software updates that results in lags and crashes. One way to improve your PC gaming performance is to get yourself a good game booster utility. In this post, we take a look at Smart Game Booster, an efficient game optimization utility that delivers a smoother gaming experience in one click.
Smart Game Booster – How it Works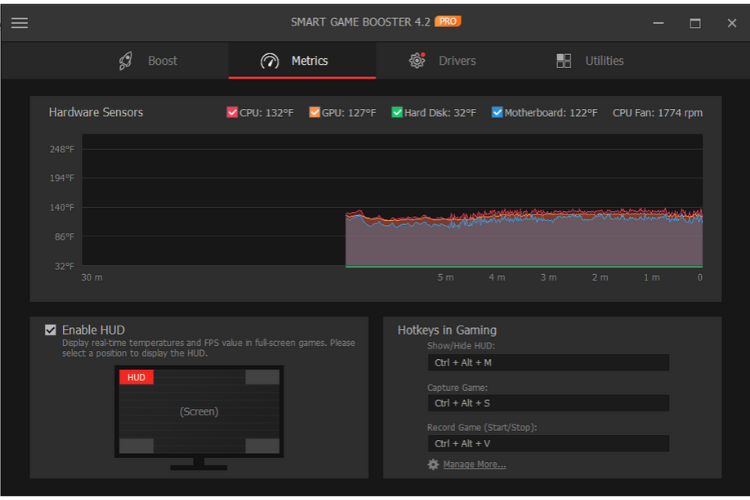 Playing games on a PC requires a lot of resources to ensure a smooth, enjoyable experience. But every time you want to start playing a game, you shouldn't have to be bothered with manually closing unwanted programs and processes.
That's where an optimizer such as Smart Game Booster comes in. It frees up the RAM, minimizes disk activity and CPU load by killing processes, services, programs and other background operations that are not needed while running the game. The result is you have more resources to enjoy a smoother gaming experience.
Smart Game Booster makes this optimization an easy process – in just one click, it ends unnecessary processes and boosts the FPS rate so you can enjoy a lag-free game.
Overclocking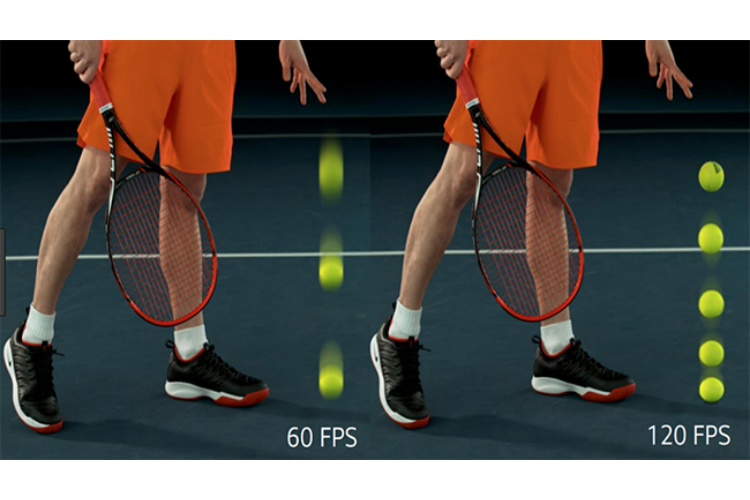 Smart Game Booster also improves gaming performance by overclocking the GPU. Overclocking has the effect of acting as an FPS booster, increasing the frame rate by up to 50% and optimizing the graphics card performance.
Temperature Control
Another key aspect to consider while gaming is ensuring that your PC CPU, GPU and fans don't get overheated. Smart Game Booster has a real-time GPU temp monitor that lets you see the temperature of your CPU, Graphic Card and fan speed. You can use hotkeys to see this data and even choose where you want it displayed on the screen.
Game Launcher
Smart Game Booster also lets you instantly launch your favorite games so you can play them without any delays. Just add your games to the optimizer and they will show up at the bottom of the screen in the library. You can then right-click the game and Select Boost & Launch to automatically launch the game after boosting.
Driver Updater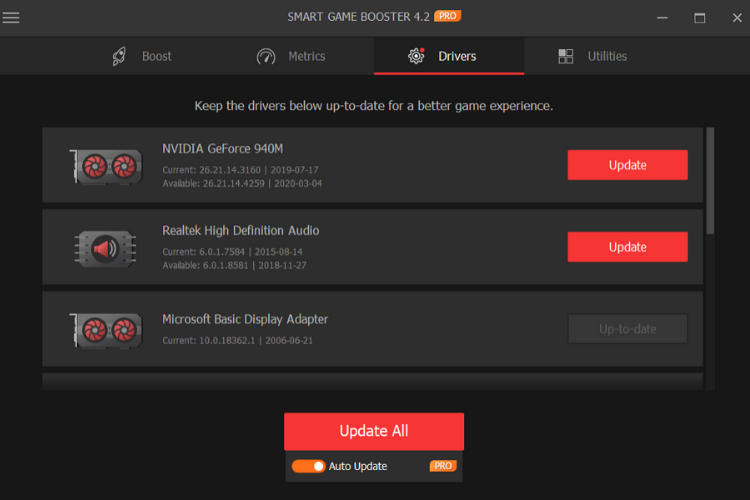 Having the latest graphic drivers is must for ensuring a stable performance. If you have outdated drivers, the built-in driver updater in Smart Game Booster detects and updates them.
Faster Loading
Screen freezing is another common problem with PC gaming. This optimizer's smart Disk Defrag feature analyzes and defrags your disks to free up more space and run games faster.
Record Games
If you love to capture your finest gaming moments, Smart Game Booster lets you do that with ease using hot keys. You can set your own hot keys or press Ctrl+ Alt+ V to record in-game moments.
Other Utilities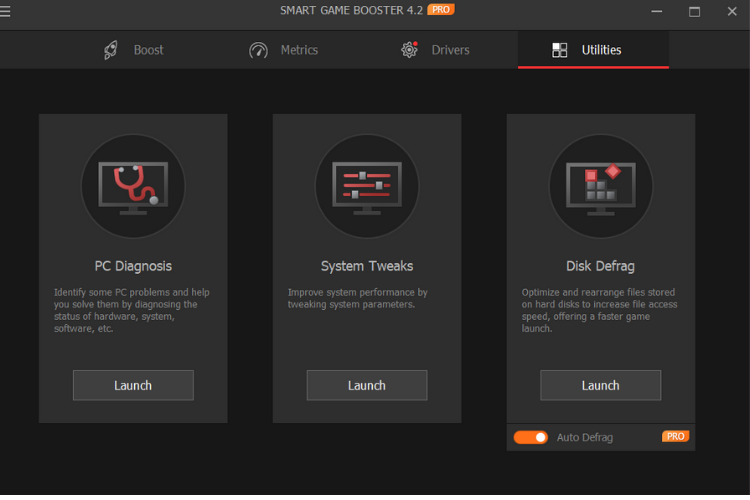 Smart Game Booster also offers 3 additional tools to optimize your PC for gaming. PC Diagnosis helps to identify and resolve problems in your PC; System Tweaks tunes the system parameters for better performance and Disk Defrag regularly optimizes your disks to increase the access and game launch speed.
1 Click Restore
Restoring the PC back to the normal mode is also easy with Smart Game Booster. Just hit the Restore button and in a few seconds, the PC will get back into the normal mode. Or, you can simply exit a game.
Key Features of Smart Game Booster
User-friendly UI
Customizable
Hot Keys support
Overclocks most Nvidia and AMD graphics cards
Automatically updates drivers
Automatically defrags hard disks when system is idle
Do Not Disturb keeps away notifications when needed
Auto detects games from popular platforms like Steam, Origin, Epic
Lets you capture screenshots and in-game videos
Final Thoughts
Game boosters basically make it easy for you to close background programs and free up resources so you can enjoy a smooth gaming experience on your PC. Although you can do this manually, by making it a 1-click experience, Smart Game Booster makes your job easy.
When it comes to actual benchmark performance, chances are you'll see an improved performance if your PC is program- intensive, but if you don't use too many programs, you may not see any drastic improvements.
That aside, other handy features like temperature and heat tracking and in-game video recording makes this a tool worth checking out.
If you are tired of system lags and slow performance when playing your favorite PC games, give Smart Game Booster a try.