If solitaire is your game of choice and you just can't get enough of it, it is time to look into Spider Solitaire. This game takes the classic game and intertwines it with new themes and challenges, with intriguing twists that makes every game feel like a completely new one.
Spider Solitaire App Review

It is set up just like classic solitaire, but at the start, you play one or two suit games. This keeps things simple so you can learn the game and catch up on all the rules. Your aim, as is always the case in solitaire, is to stack up cards in descending order with one stack for each suit.
Get past a few levels and you graduate to more than one suit and things get a bit more interesting.
The solitaires that we all know and love already starts you off with playing four suits; but believe me, you will be relieved to be playing one and two suits when you start. It helps you understand the game a little better and play quicker.
What I liked about this particular solitaire gaming app is the themes. There are the already existing ones and then there are new ones that the creators add from time to time. It mixes things up and prevents the onset of boredom. My favorite is the Spring theme, which is fresh and a nice change from the New Year theme.
Another neat feature is the Daily Challenge. If you complete the Daily Challenge, you receive a crown, and after gathering enough crowns, you can earn trophies.
On the gaming side, I was very appreciative of the fact that there are unlimited undos. I have gone down the wrong path so many times, and looking back, realized I should have placed a card in a different way. Well, now I can go back and fix that mistake, taking the definite path to success.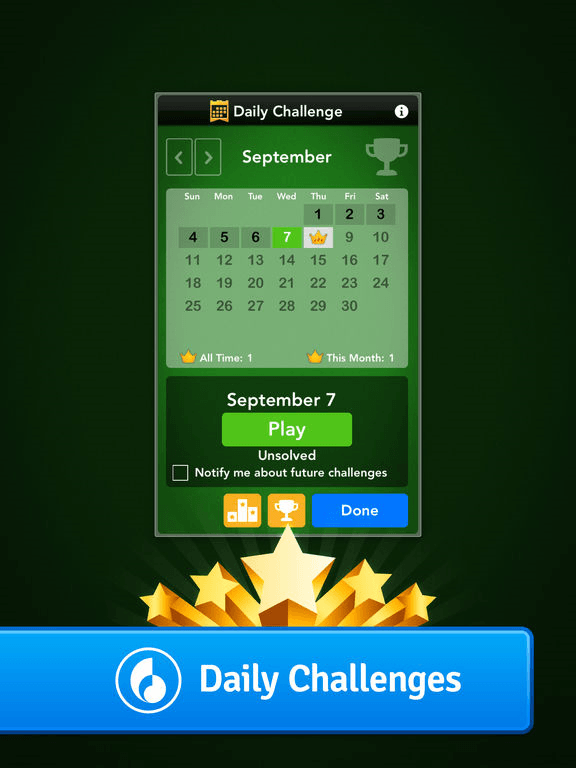 What is also a bit different about Spider Solitaire is that it offers tips to win. Not many games do, but I guess this app has nothing to lose because it's not giving out anything.
I would say that one thing the app could stand to improve on is the rewards. Maybe if there were some, you'd have something to keep you going and look forward to achieving. Trophies are great, but can you share them?
Spider Solitaires weaves a fun web of entertainment and challenge, if you are up for it. Start off slow and make your way through the games to see if you can master this game of cards.