Microsoft Outlook is a powerful email client that can take care of all your business communication needs – from email correspondence to scheduling meetings and appointments, setting up to-do lists, and reminders and managing your contacts. However, just like any other feature-rich tool, Outlook can sometimes become overbearing and unmanageable.
After all, nobody wants to spend their most productive hours in the morning sifting through a ton of email, analyzing which ones need to be replied to urgently, which ones need to be junked and which ones can be replied to at a later time.
This post is designed to offer you highly effective tips and best practices that will help you take control of your Inbox. In return you will reap the benefits of becoming more organized, saving time, and increasing your productivity. Let's get started.
Achieving Zero Inbox
Use Folders Judiciously
Folders are the most sensible way to get things organized. Outlook comes with a default set of folders to group related items such as Drafts, Sent Items, Deleted Items and such but you can also create custom folders to file stuff that flows into your Inbox.
Creating folders is easy so it is natural to fall into the bad habit of creating more than you need. Before you know it, you'll end up with more folders than you can manage, stifling Outlook's ability to process your email efficiently.
Keep in mind the following points when setting up folders:
Create folders for topics where you tend to receive more email such as a specific client, or a specific project. You can create a folder for personal email, one for collating newsletters and subscriptions and a miscellaneous folder for individual, unrelated items.
Organize your folders in the order of priority. Folders in Outlook 2010 are arranged in alphabetical order, but you can prioritize them by adding a number 1,2,3 before each folder name. That way you can quickly get to the folders you want, without having to sift through the various names.
Folder Shortcuts
If you are big on using shortcuts to get things done faster, make use of the default shortcuts to Outlook Today and Microsoft Office Outline, displayed at the bottom of the Navigation pane.
You can also create shortcuts to frequently used folders by clicking the Shortcuts icon. Then in the Navigation pane, right-click the Shortcuts heading and select New Shortcut. In the Add to Navigation Pane dialog box, select the folder you want to add a shortcut to and click OK.
You can create shortcuts to personal folders and work folders to organize them effectively.
Create Quick Steps
Quick Steps is a feature that lets Outlook carry out a series of predefined tasks on incoming email. Outlook offers a few predefined quick steps by default such as marking selected email as Done, forwarding a selected email to the manager, or creating a new email to send to your team. That aside, you can create a Quick Step from scratch to tell Outlook what you want it to do with incoming email.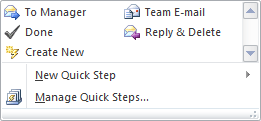 Once you create a Quick Step, all you need to do is click on the Quick Step button (in the Quick Steps group) and Outlook will carry out the task for you. If you prefer using shortcuts, you can assign one of 9 shortcut keys available and get things done faster.Learn more about how to create Quick Steps here.
Use Email Templates
When using Outlook over a period of time, you may have realized that you're sending the exact same email to a ton of people over a period of time. Why then, should you create one from scratch, or worse still, search for that older email to copy paste its contents into the new one?
In times like this, it is best to make use of templates. Templates are not complicated stuff to dabble with. They are basically email messages that contain repetitive information. When you save it as a template in the Outlook Template file format, you can retrieve it any time you want, add new recipients, if necessary, and send it out.
You can learn more about email templates by checking out this article on our blog and take advantage of a few ready-made templates we created for you here. Just as you use templates for email messages, you can also create a few signatures to use for responding to different types of clients.
Additionally, you can make use of Quick Parts to quickly insert reusable content, including images, hyperlinks, text, or shapes into a message body. Quick Parts is very easy to use, and is a big time saver. You can learn more about Quick Parts in #9 here.
Make Important Email Stand Out
You can stay on top of important email in your Inbox by making use of Outlook's tags system, using alerts, and by taking advantage of conditional formatting rules. Outlook's main tags include marking an email as unread, categorizing them using color codes, and following up with flags or reminders.
You can access all these features and more by right-clicking any email message. Additionally you can apply conditional formatting to modify the font, font styles, and colors of the incoming messages.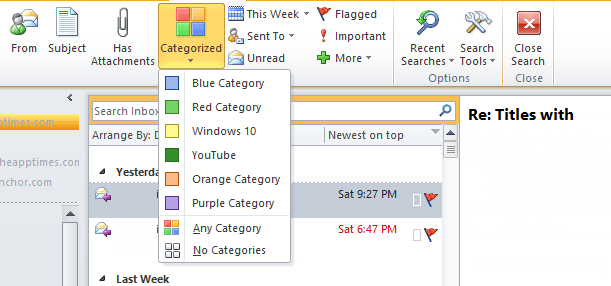 Categorizing email is another great way to quickly measure the status of an email message. Color code email to visually help you determine if a task is due or done. Sort email by category and quickly take action on a group of email, such as move it to another folder or delete it.
Marking important email to stand out will help you prioritize them and take action more effectively.
Create Rules
Outlook Rules are a great way to bring order to your email filing system. Outlook has packed plenty of options in its Rules wizard and it will take you very little time to set up rules to manage your incoming email.You can set rules to copy, delete, forward, redirect, and assign categories to incoming email and you can clone, import and export rules to speed up the job. You can learn how to organize email messages automatically by creating rules in this post.
Clean Your Mailbox Regularly
Outlook Cleanup feature is great when you want to weed out duplicate email from your folders. It is best that you begin your cleanup process on folders that are heavier first and then move on to the lighter ones. You can also automate Outlook to clear out the garbage every time you exit the application. This way, all unwanted email messages are automatically discharged.
1. Select the File tab and choose Options.
2. In the Options dialog box, select the Advanced tab, and select the option to Empty the Deleted Items Folder when Exiting Outlook.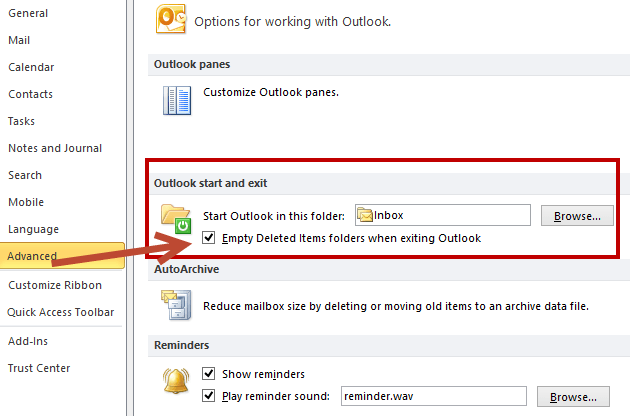 Just remember, you cannot undo this step so make sure only items you don't need are pushed to the Deleted Folder.
Archiving PSTs is another way of ensuring that your data file doesn't bloat and clog your system. You can set Outlook to auto archive older email or specific folders that you no longer use.
You can configure the Auto Archive options by selecting the Folder tab and choosing Auto Archive from the Favorites group.
You have a number of options in the dialog box ranging from running AutoArchive every n number of days to deleting expired items.
Choose the options that work best for you. You can learn more about archiving Outlook here.
Managing Junk Email
One of the biggest annoyances with Inbox management is dealing with spam. The Outlook Junk Mail Filter is set to filter only the most obvious spam mail. You can set this to High, or opt to send only email from Safe Senders List to your Inbox. Both these methods suffer from the obvious problems of marking genuine email as junk and is therefore not recommended.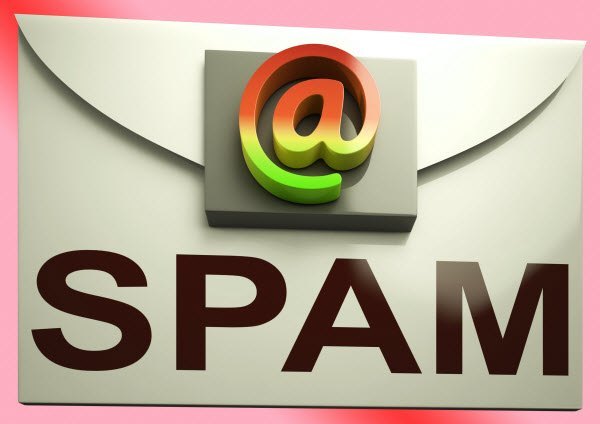 You can take some additional measures to deal with junk:
Turn off read and delivery receipt notifications as spammers use this technique to verify your email address.
Avoid using your main email address in public forums, chat rooms and online networking locations where it is likely to be picked up by spammers.
Similarly avoid using your main email when signing up for newsletters and other online subscription services.
Create a secondary email in Gmail, Yahoo! Or Hotmail for such purposes.
Do not reply to suspicious looking email messages, especially ones that purport to come from genuine companies asking for personal information.
Avoid forwarding chain email and this may lead to an increase in email volume and the chance for your email address to land up in the hands of people unknown to you.
You can also make use of Rules to route email from a particular sender or domain to Junk. However, Outlook Junk Email Filter can only do so much, as spam can easily outnumber the rules you create and filters you set. That's why using a third party plugin helps. We have covered some of the top plugins, which you can refer to if you want stronger protection.
Get a Snapshot of Your Daily Activities
The best way to start off your day with Outlook is to get an eagle eye's view of all your day's activities. Outlook lets you see just that with its Outlook Today screen. Open up Outlook and on the Mail view, simply click the root folder of your email.
Outlook Today will display all your calendar appointments, meetings, events, tasks, unread email, email in your Drafts and how many of them are still in your Outbox at a glance, not just for the day, but for the rest of the week as well.
The Outlook Today view, doesn't just let you view the day's activities, you can also take action of them right from within the window.
Other Methods to Achieving Zero Inbox
Use Zappos CEO Tony Hsieh's Yesterbox Technique
Tony relies on his trustworthy Inbox to get things done but started feeling the stress when it became unmanageable. So he decided to do something about it and came up with this unique email management strategy.
The basic premise of this method is to leave all your day's email for action the next day. Handling all of yesterday's email today has a couple of advantages; you know exactly how many email messages you have to action and you can allocate time accordingly.
Plus, you will be guaranteed to take action on all of them instead of putting one or more in cold storage and never getting to it in the end. Tony suggests closing the Today section in Outlook to stay focused on the previous day's messages and not jumping the gun.
It may take a bit of mental disciple to make this work, but it is not impossible.You can learn more about his technique here.
Don't check your email first thing each morning
One of the most natural things to do the first thing in the morning is to check our email. And sure enough, there is bound to be something in there that can throw your whole day's schedule out of gear.
Once you start working on that email, you 'll end up following it up with something else and that will lead to something else and before you know it, you've lost a hell of a lot of time…time that you could have otherwise used to complete high priority items.
To avoid such disasters, you could make it a point to never check your email at least a couple of hours after you check in to work. Or you could start the day by doing the most important task of the day and then after an hour or or when you're done with the task, you can look into your Inbox.
Avoid Email When You Can Talk in Out
Email is not the only way to communicate. Whenever it is possible to talk to someone and get things done do it. Just head over to their desk, have a quick meeting to discuss team matters whatever…just avoid chain email whenever you can.
Use RSS
Typically our Inbox gets clogged with email subscriptions. Instead of pulling them into Outlook, why not use a service like Feedly or Pocket. If that's not something you want to do, why not use a service like Unroll.me.
Unroll.me rolls all your email subscriptions and newsletters into a daily digest so one email will give you a bird's eye view of all your subscriptions. You can also unsubscribe en masse to lists you no longer want to be part of.
Reframe Your Out-of-Office Message
When vacation time nears, you're always feeling a high, but have you ever stopped to think about the dread you feel when you have to get back to your work…more specifically your email.
You can save yourself a heap load of stress on your first work day after the holidays by carefully framing your Out-of-Office message. Let your email recipients know that you WILL NOT have access to your email during this time and therefore to send their queries/messages when you get back on so-and-so date.
Also let them know that if the matter is extremely urgent they can connect with one of your team mates for assistance (with their permission of course!)
You can also set your Inbox to move all incoming email to Trash. This way, even if you do end up with email during that time it will be moved to the trash. If the email is important the recipients will email you again after the date you mentioned.
Avoid Email Forwarding
One of the habits that have developed over time at the workplace is forwarding of viral emails or fun stuff. Try and discourage your team mates from sending you such email to your work email.
Or forward such email to your personal email or move them to a Fun Stuff Folder in your Inbox. You can browse through them when you have free time such as when you are waiting to catch a flight.
CONCLUSION
There isn't one right way of Achieving Inbox Zero. What works for one may not work for another. Develop a pattern of doing things that you are most comfortable with and one that brings results. Then stick to the plan.
Make this a regular habit and don't break the pattern…EVER. Within a week or two, you will start to see the results. If you can improve upon your existing plan, go ahead and implement it one step at a time. Improvise, adopt, implement and you will eventually become email efficient.