We've all seen how the impressive new MacBook Pro fared last year. But the most recent development, Apple's vaunted 13-inch Macbook Pro, is finally in the hands of reviewers who are ready to put it through the paces and see exactly what this lightweight laptop- only a couple of inches larger than your standard 10-inch tablet- could do. In fact, it may even function as a tablet. Could Apple have managed to pack the same powerful computing performance of the MacBook Pro into a laptop almost the size of a tablet?
Macbook Pro with Retina: Features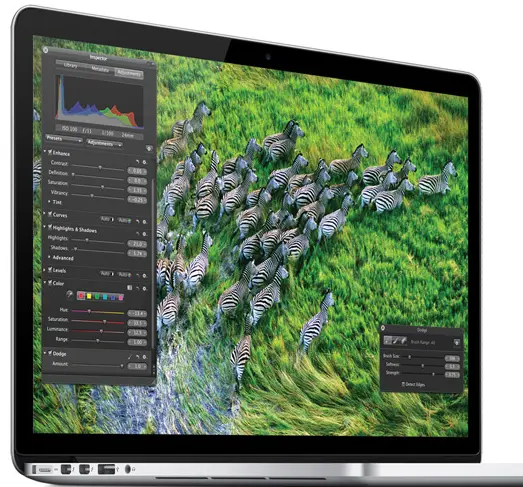 OSX 10.8 Mountain Lion
The new Macbook Pro arrives to users with the latest incarnation of OSX, Mountain Lion, guaranteeing the latest updates and features available.
2560 x 1600 display, at 227 PPI, 13.3 inches
The virtues of the Retina display are not lost even to the casual user. The incredible resolution as well as the heavy pixel-per-inch ratio guarantees dazzling display, crispness, and sharpness.
128 GB SSD
Regardless of being only a couple of inches larger than the iPad, it holds twice the largest iPad storage capacity. Now while this is indeed impressive, it pales in comparison to other Ultrabook capacities like Western Digital's newest 2.5-inch hybrid with 500GB capacity. Toshiba has also reached the 128GB mark.
Intel Core i5 processor
The 2.5GHz processor guarantees high performance even for the slim and svelte size of Mac's "ultrabook". The processor will allow users to enjoy the excellent display along with the exemplary computing performance at high speeds, even with the Macbook's miniature size.
The 13-inch Macbook Pro with Retina : Pros and Cons
At best, this is Mac's successful foray into a portable computing device that fits well between Ultrabooks and fully-fledged laptop computers. Its incredible Retina display, computing capabilities, as well as its fast performance easily make it desirable over other ultrabooks of the same size in the market and more so against full-size laptops which will be more unwieldy to carry. It's a happy balance between power and size. However, its starting price is at 1,699 USD, which might give some future buyers pause.
It's easily more expensive than the other 13-inch laptops that Apple has produced. Some would consider, nevertheless, that it's brand new features and capabilities far surpasses its predecessors and is therefore well worth the price. In addition to its other capabilities, it has two Thunderbolt outputs, two display outputs and HDMI. This makes for easier and faster data transfers, which is essential in an ultrabook meant to be carried around as a small extension of a larger computing device.
The 13-inch Pro also has all the connectivity capability of the 15-inch, which makes it excellent for high speed internet work that ranges from viewing videos to seamless communication via a VoIP provider. In comparison to the larger MacBook Pro, it is not quite as impressive, but Apple has packed far more in the 15-inch Pro than is possible in the 13-inch (at the moment). Nevertheless, the 13-inch Pro well surpasses the other ultrabooks on the market, even for its price.
Conclusion
While true, it does not compare to the 15-inch Macbook Pro of last year, this 13-inch Macbook Pro with Retina is more than a formidable competitor for the current ultrabooks in the market today. It is fully capable of standing on its own as a working laptop, especially for travel and field work.